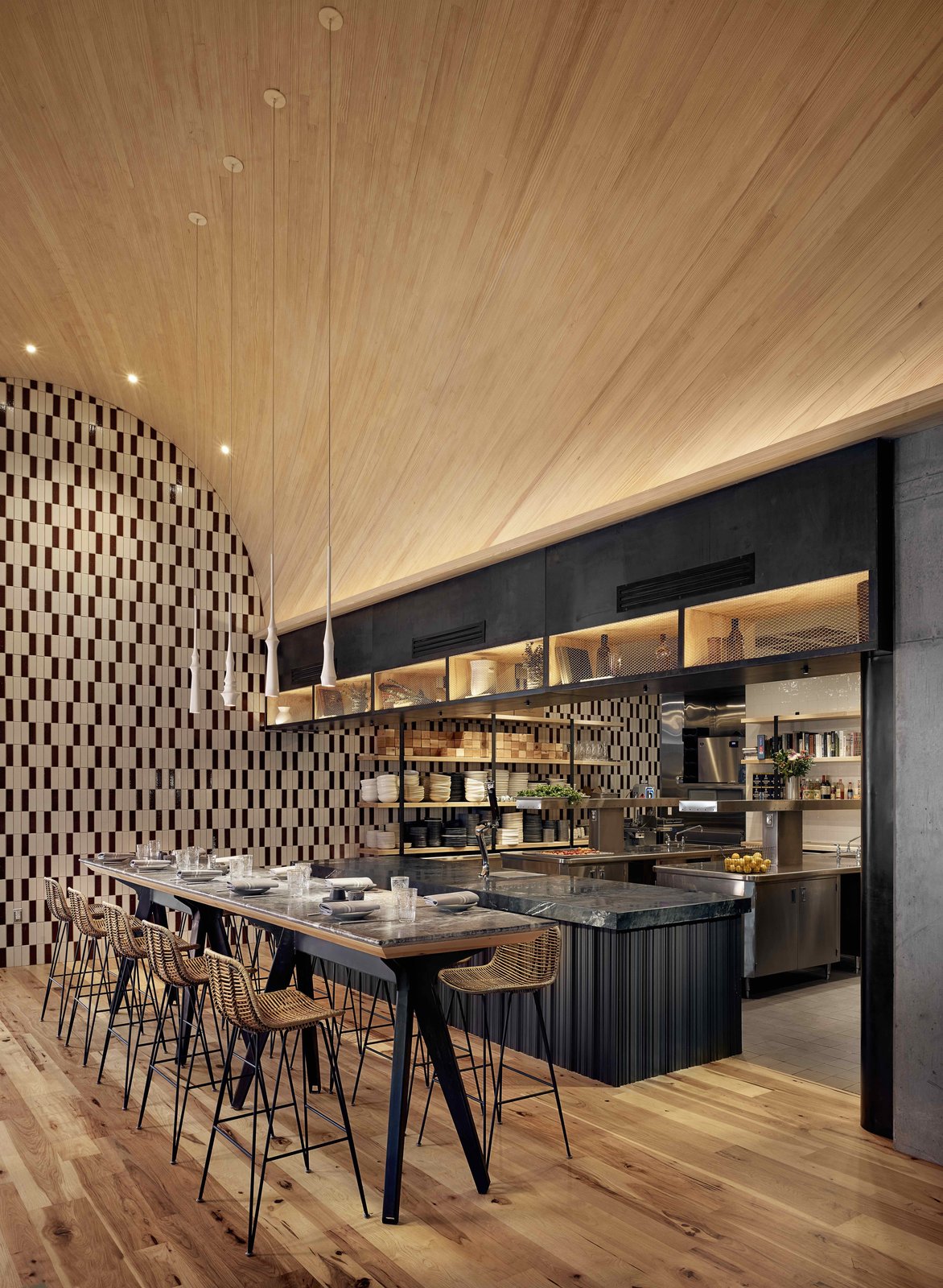 Located at the base of a residential complex in Downtown Austin, ATX Cocina is a commodious and lofty Mexican restaurant designed by locally based practice Michael Hsu Office of Architecture.
The restaurant features floor-to-ceiling windows and light wood surfaces.
To enhance the pre-built space, the restaurant interior features consistent use of wood detailing and geometric shapes.
"The project was given a glass facade that could not be changed, so we focused our attention on the ceilings, two small enamel steel interior greenhouses and furnishings to create intimacy, layers of space and warmth," said Hsu.
To add charm and character to space, the arched ceiling is covered in lightly toned hemlock and pine.
A geometric pattern of rifled panelling adorns part of the ceiling, while large built-in-glass spans across the section of the dining room, creating a more private eating area just beyond.
The restaurant is furnished with darker-toned pecan tabletops and floors, while vetiver green-wire mesh, blackened-steel cabinetry, copper accents, and peppery reds from fabrics add contrast to the raw wood found throughout.
Colourful, geometric art on the walls is created by local artist Aaron Michalovic.
In addition to an open kitchen, other spaces include the wine counter, crudo area, and an outdoor dining section shaded with large oak trees.
Taupe and cream-coloured upholstery covers the benches, with a vibrant striped fabric used on the backs. Darker tones of black, grey, and green can be found as you move closer to the kitchen.
Hsu collaborated with other designers; including design and fabrication studio Drophouse Design, lighting studio Warbach, and designer Brandon Mike.
Images: Casey Dunn (https://caseydunn.net/)