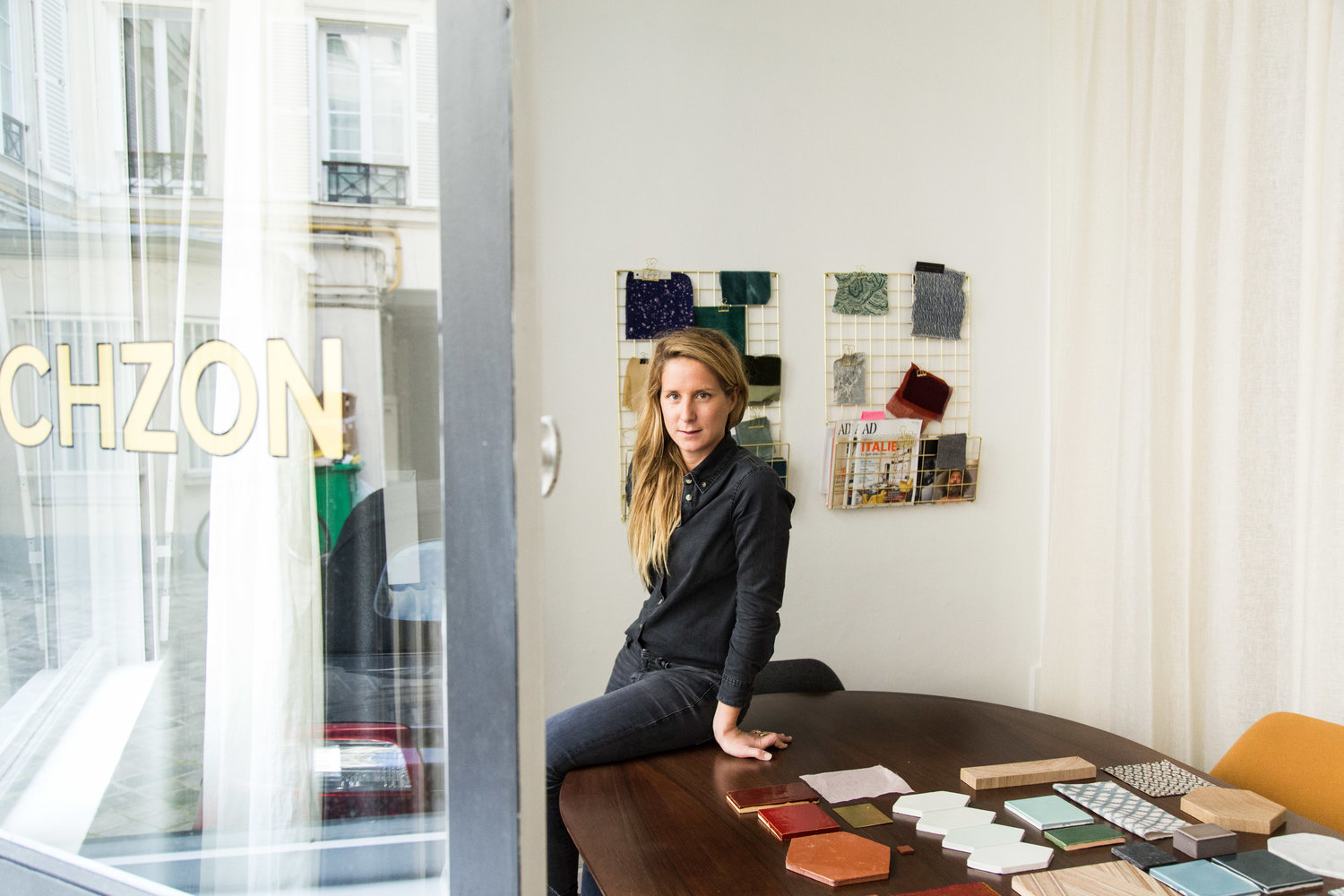 Dorothée Meilichzon has gained a reputation in the French capital's hospitality industry — embracing rich, bold textures, colours, and prints in the rooms she designs. A true perfectionist with a researcher's mind, at just 27 she decided to set up her Paris-based studio, CHZON — now a global agency specialising in hotel, bar, and restaurant design projects.
Since then, her name is linked to some of France buzzworthy addresses, including Grand Pigalle Hotel, Hotel Panache, Hotel Paradis, Hôtel des Grands Boulevards, and so many more must-see destinations.
The award-winning Parisian designer is also responsible for conceiving London's playful yet sophisticated Henrietta Hotel — as well as a list of exquisite projects in Ibiza, Basel, Venice, Cannes, Monaco, and New York.
Her intentions for the spaces she design is finding the right intrepid mix of textures, patterns and a pastiche of shapes in a way that creates a warm and unpretentious atmosphere. In fact, these peculiar details find their way onto her floors, walls and furnishings.
Rather than subscribing only to the traditional French aesthetic, Meilichzon designs exude genuine personality and an incredibly welcoming appeal that invites people to exchange, share, and make discoveries.
Each project she touches ensure that the interior exist in harmony with its environment. This, for example, is evident in the Hotel des Grands Boulevards — set in an 18th century building erected during the French Revolution years. The interior presents a rustic-chic style, featuring whitewashed walls, reclaimed timber beams and Versailles parquet flooring — a clever nod to the Petit Trianon château at Versailles.
For a traveller that's seeking distinctive Parisian experience, Hotel Bachaumont is a worthy choice that will live up to your expectations. And if you're a lover of glam retro, you'll truly be mesmerised by its individual architectural characteristics.
The hotel's lounge boasts a colour scheme of navy blue, beige and white, bevelled mirrors, fabric chairs in playful prints, backgammon-inspired table-tops, handsome detailing of dark wood and black marble at the bar, and medium-light brown floorboards.
The hotels brightly lit 49 rooms, four of which are apartment-sized suites, house a palette of deep blues, teals and greys, large beds with Pierre Frey fabric headboards, slender pieces made out of marble and wood, Stilnovo brass-accented globe lights and dark herringbone wood flooring to balance out the aesthetics.
Meilichzon is a designer who never repeats herself, perhaps this is what differentiates each of her projects. Her works offer an individual spirit and a unique adventure. On the island of Menorca, Menorca Experimental Hotel sits on 30 hectares of green, tranquil land, within a revamped 19th century country estate.
The 43-room agritourism surrounded by pine groves, juniper shrubs and wildflowers offer an all-encompassing experience. The retreat maintains as many of its remaining original architectural structure: exposed wood beams, roof tiles and timber shutters.
Custom furniture built by local artisans, rough-hewn local timber floorboards, glazed terracotta tiles, waxed concrete, and a palette of pastels and rustic tones are just the few characteristic features that accent the space throughout.
What's truly impressive is how historic buildings are eclectically transposed into a perfect blend of contemporary elegance and understated bohemian aesthetic. Embracing existing, original elements seem to be a common thread. Materials from nature, particularly wood and stone are favoured in most of her hospitality projects.
A simple understanding of how we connect to the materials that we employ is crucial when designing restorative environments meant for a positive dining experience.
The growing interest associated with the use of wood lies in how naturally habitable the interior feels thereafter. Wood feels instantly familiar and can lend a sense of warm ambience to any built environment. In addition, it can bring an abundance of texture and character with weathered and distressed patina, whilst also delivering a more chic aesthetic.
Conclusion
Dorothée Meilichzon execute interiors with dramatic character — infusing classic, contemporary and retro elements, with a slight chic Parisian aesthetic. Each of her projects are different, offering a unique experience by bringing in a burst of excitement and vibrancy through contrasting colours, patterns, and playful shapes.
The designer's sophisticated design sensibility is highlighted through the way she utilised different materials to create a harmonious atmosphere — for instance, the way she teams natural wood and stone to create a welcoming and memorable experience in each room. This mix-match of materials encapsulates the theatricality and status of the interior environment, resulting in a distinct visual identity.