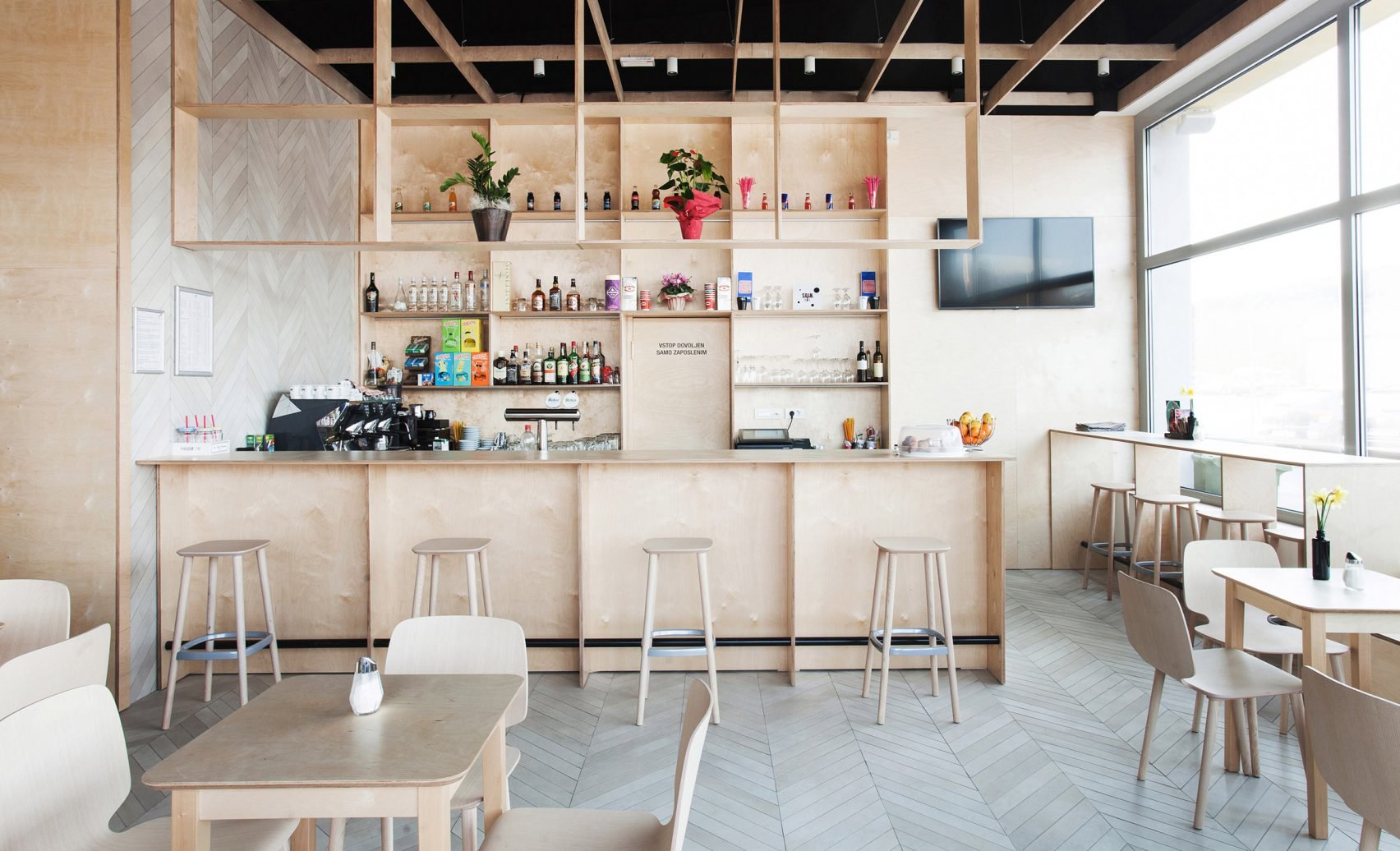 Designed by Slovenia-based architect Sanja Premrn, Spin Bar is located within a new shopping centre in Kozina, Slovenia.
The concept idea behind the design was to birth an inviting and calming interior for drinking coffee or beer after shopping in an otherwise cold, newly built shopping mall.
"I wanted to create a light and bright interior," said the architect. "This is a new building with a lot of natural light, but it is also pretty cold, so I had to warm it up somehow. What better way to do it than with wood."
The rear walls are dressed in plywood panels while ceramic tiles create a chevron pattern – a simplified version of herringbone – on the side walls and floors for a sleek feel.
The extremely high ceiling was painted in black and lowered with suspended wood panels. Ceiling raster is continuing on a back wall creating more shelves and visually connecting the ceiling with the rest of the space.
"Herringbone patterning is usually used with wood, so this seemed to me the best way to make ceramic tiles look warm and cozy," Premrn explains. "In such small spaces I like to see all walls covered in something, so the interior seems more sophisticated."
The use of plywood can be seen throughout the space to make it feel both warm and airy. It was used to build the bar, as well as plant boxes and storage boxes.
Premrn worked with a local carpenter to design and build bespoke birch-plywood furniture which includes a series of simple tables, chairs and stools.
[plugmatter_promo box = '9']
Few retro-style chairs in the lounged area where sourced from Italian furniture company Pedrali for a more refined and sophisticated look.
High table and barstools with extreme lightweight look are located at the window on the right side.
The table continues in a lower bench all the way to the entrance. The rug minimizes noise and helps define lounge area, making it feel more intimate and cozy.
The chevron tiling continues inside the bathroom, and is accompanied by rich golden details. "The gold faucet creates a special visual interest," said Premrn.
"With a single-lever handle, this streamlined faucet evokes a sense of serenity, blending in perfectly with the calm appeal of a minimalist bathroom."
Images: Miha Bratina (http://www.mihabratina.com/)