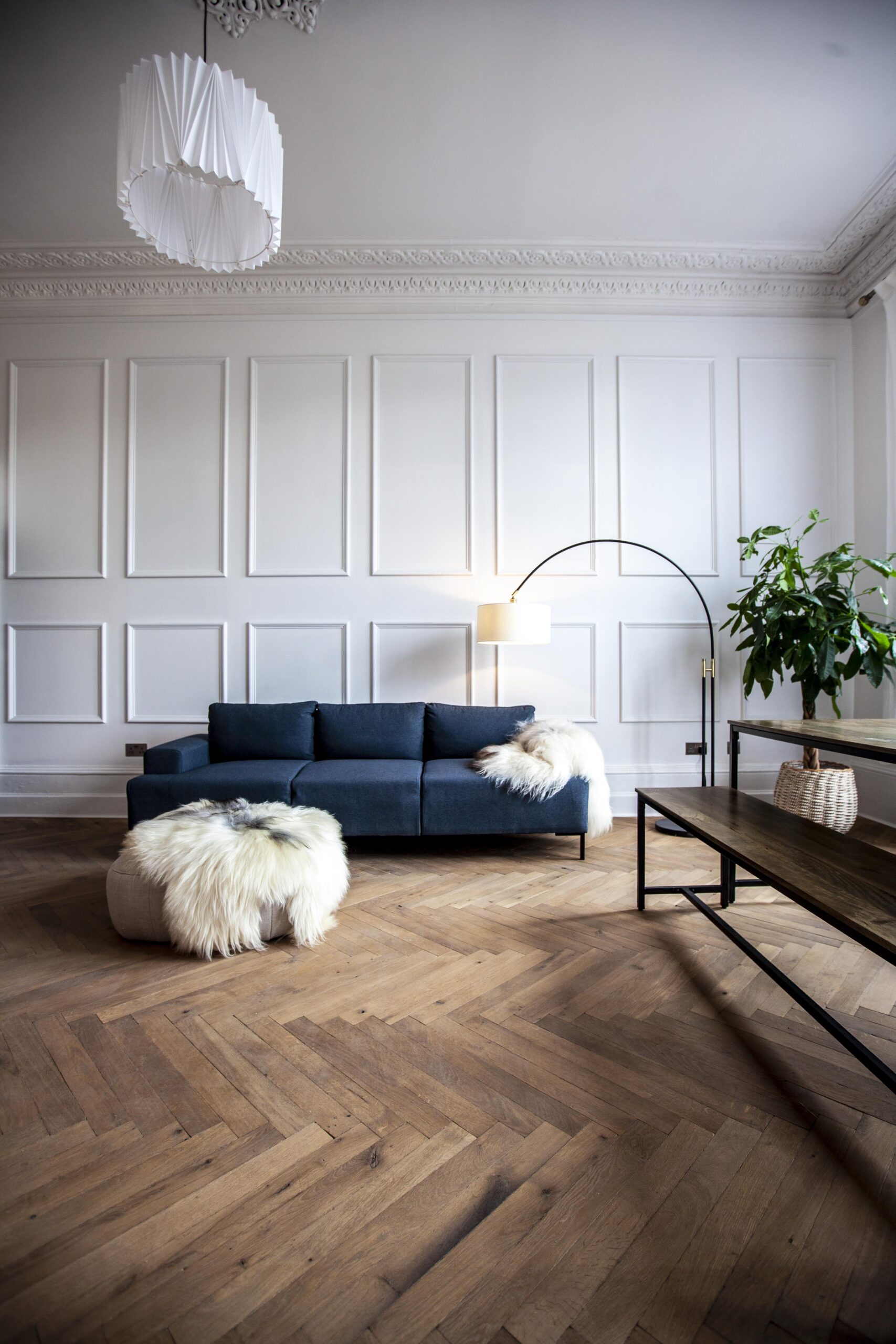 Think Parisian Chic… and a vibe of classiness and sophistication met with eclectic yet casual flair comes to mind!
Embodying a certain je ne sais quoi about it, Parisian chic interior seem to have a perennially effortless charm that can't be simply replicated by a set of two gilded chairs or an antique chandelier.
Interestingly, great Parisian style should bring together the iconic character and practical luxury of the space.
It adopts a playful nature as nothing can be too arranged and stable, too curated or too perfect…
Just as dishevelled as they are elegant, the French adopt the same laissez-faire attitude towards interiors as they do with their fashion sense.
Below, we share just how you can emulate Parisian chic aesthetic — one that looks nonchalant, yet so gorgeous.
Start with classic white walls with millwork
A truly Parisian abode sticks to a narrow palette in which white plays a prominent role.
Acting as the perfect blank canvas for often impeccable décor elements, white walls featuring shapely and elegant panelling offer a delicate balance between a refined, classic style and bold, ultramodern pieces.
The combination of high ceilings — if you have them — and crisp white walls make an interior environment feel airy, bright and classic.
Embrace standout parquet wood floors
Area rugs such as Turkish pieces may feel lush and soft underfoot, but Parisian chic aesthetics embrace the natural look and feel of wooden floors. Bonus point if you opt for a herringbone or chevron pattern to really capture the true essence of Parisian look — however, different types of parquet are suitable.
This chic style is all about timeless elegance, and having to forego a carpet or rug allows you to highlight the richness and warmth of your wood flooring, especially when all the walls are white and you're looking for that one feature that will lay in a contemporary touch.
Effortlessly mix the old and the new
Beautiful doesn't mean perfect, and that's part of the appeal of Parisian chic style. The interiors most certainly do not look like a page from a catalogue — not everything is from the same era, not everything matches, and not everything comes from one source.
The perfect formula to master its sophisticated yet laidback stylistic flair is to mix the glamour of the old and the minimalism of the new.
As you might have guessed, the style exudes a depth of character. Aged wood, burnished metal, antique painted furniture and beloved accessories juxtapose beautifully with streamlined, modern pieces.
Striking the right balance between vintage charm and avant-garde modernism reflects a sense of naturalness that feels cohesive rather than chaotic.
Celebrate intricate architectural details
Steeped in classical references, Parisian apartments are blessed with quirky layouts and beautiful architectural bones. If you have a home with fanciful curves, rectangular panel and dentil mouldings, as well as ceiling rosettes, hang on to them as they are the unsung heroes that provide a perfect foundation for Parisian chic interiors.
However, if you're starting with a more contemporary cookie-cutter space without any architectural interest, moulding and faux beams can be added wherever you like — crowning the walls, around the fireplace or on the ceiling — and painted the same colour as your walls for a sophisticated monochromatic look.
Aside from commanding visual attention overhead, a ceiling medallion — or centre, as it is also known — as the ideal spot for highlighting another must-have element: a chandelier! The moulding design can be fairly simple, straight and streamlined, or more ornate and elaborate — whatever fits your personal style.
Turn the fireplace into the focal of the room
In a stunning Parisian chic home, the fireplace is often the most ornate and standout feature in the room. A distinctive surround and stylish mantel, particularly with a gorgeous piece of marble that has prominent veining, accentuate a plain fireplace to a new level.
Reinforce the fireplace as the room's focal point by topping it off with an oversized gilt mirror — another defining element of Parisian décor. A striking fireplace and a highly ornate gold mirror are a perfect match sure to make a bold design statement.
Invest in one-of-a-kind artwork
Designing Parisian chic doesn't just stop at fine antique and gilded furniture.
This opulent style with a slight electric approach effortlessly mixes ornate architectural features and antiques with more modernist pieces of artwork and sculptures. And, often, art pieces are propped against a wall on the floor or on a piece of furniture.
In contrast, if you prefer modern furniture pieces, opt for vintage art that harks back to an older era or a statement abstract masterpiece that adds Parisian-style personality to your walls and becomes the front and centre of everyone's attention in the room
Bring in a grand lighting piece
The chandelier is the magic decor item that adds an air of Parisian sophistication and can help your living space swing more traditional or more modern.
If your base furnishings are largely modern and rely on other elements for a vintage touch, a grand antique chandelier in crystal, gold or antique brass finish can flavour the room in the right direction.
On the other hand, if your space is dominated by older pieces of furniture, a more contemporary lighting piece can help convey the right feeling.
Maintain a sophisticated subdued effect
While white, off-white and quiet neutral tones are quintessentially Parisian style, it is possible to include something bold. However, if you do see colour, it's never vibrant hues like chartreuse or hot pink.
Instead, it tends to be more subdued hues with grey undertone such as sage green, steely blue, or dusty rose — and touches of black to bring balance and keep the space from feeling overly ethereal.
If for any reason you'd like to be a bit adventurous, opt for rich and luxurious tones like a burnt orange, deep green or moody burgundy to add depth without dominating the required serene palette.
Conclusion
The City of Light seem to have an innate sense of style, in fashion, architecture and design. Uniquely elegant and utterly exquisite, Parisian interiors have an unmistakable design approach that's informed, composed, and adventurous and that can be adapted to any space. It is a very soft and refined style, requiring considerable effort to make it appear effortless without ever losing sight of that elusive attribute called "chic".
Ultimately, Parisian chic starts with stunning architectural bones. Bright white walls, parquet floors, intricate moulding, elaborate fireplaces — with a canvas this beautiful, it makes it fairly easy to bring chic to your abode.