"The Soul Of A Tree"
10x growth is good, 20x is better! The world is waiting.
We are a proud and ethical small to medium-sized family-run business, with our headquarters in Heaton Mersey, Cheshire, UK. With over 15 years in the UK and 5 years in the USA, mostly East & West coast. We design, make, finish and install some of the finest finished wood floors in the world – sustainable credentials come as standard.
Together as a tight-knit crew, we still operate with the drive and passion of a forwarding thinking, fast-moving start-up with a Gigantic, Global Mission (GGM).
For us, there is more to our company than just flooring, finishing and installation. For each of us at RFC our beloved company provides us with a sense of joy and fulfilment while serving the greater good which is our local community, our environment and client wellness.
In the spirit of transparency, the following bullet points represent a quick overview of how we get things done:
1). At RFC we enjoy a challenging environment where personal growth and continual improvement is as much a part of what we do, as the products we craft and create. We could even say that each of us becomes a product of our culture and the company itself, with our shared focus on personal growth and performance improvement.
2). Our company design & culture inspiration has mostly come from workshops, books and podcasts. Our founder and CEO Robert J. Henry is a committed student of Kaizen (Continuous Improvement), which has become a progressive drive throughout the whole company. Here is a key list of books we like and have found most helpful:
An Everyone Culture by Robert Kegan and Lisa Laskow Lahey
Principles by Ray Dalio
Multipliers by Liz Wiseman
Rebel Ideas by Matthew Syed
Die Empty by Todd Henry
Firms of Endearment by Rajendra S. Sisodia, Jag Sheth, David B. Wolfe
The Art of Connection by Michael J. Gelb
Conscious Capitalism by John Mackey, Rajendra S. Sisodia
Tiny Habits by BJ Fogg
3). We believe in the benefits of living within a Mindful Space, where products are ethically sourced and made using sustainable materials. As a team, we endeavour to harmonise a 'flow state' when at our productive best, while balancing focus and challenging ourselves with our dedication towards continuous improvement. Flow = Happiness & Performance.
4). One of our favourite tag lines in recent years is 'The Soul Of A Tree', we feel that this phrase perfectly represents our brand values such as: Slow Design & Slow Living, Timelessness, Generosity, Reciprocity, Sustainability, Humility, Community.
5). Our ambition for RFC is to develop the brand beyond wood flooring while encompassing our core philosophy and values. Reclamation, Re-use and Re-discovery are important factors when considering the future of global economics, commerce and the environmental impact. You can read more about the circular economy here: www.ellenmacarthurfoundation.org
Textures and Colours
While many admire the beauty of wood very few understand its unique qualities and the extent of its full potential as interior furniture & design aesthetic. We seek to change that.
For me and my team, wood is not only about the aesthetic it offers but also the journey it has taken. Surface textures and colours are created through the passage of time and connected through the creative spirit of the owners both past and present. Through our specialist finishing techniques and colouring processes, we can not only enhance these characteristics but replicate them to superb standards using both new and reclaimed timber.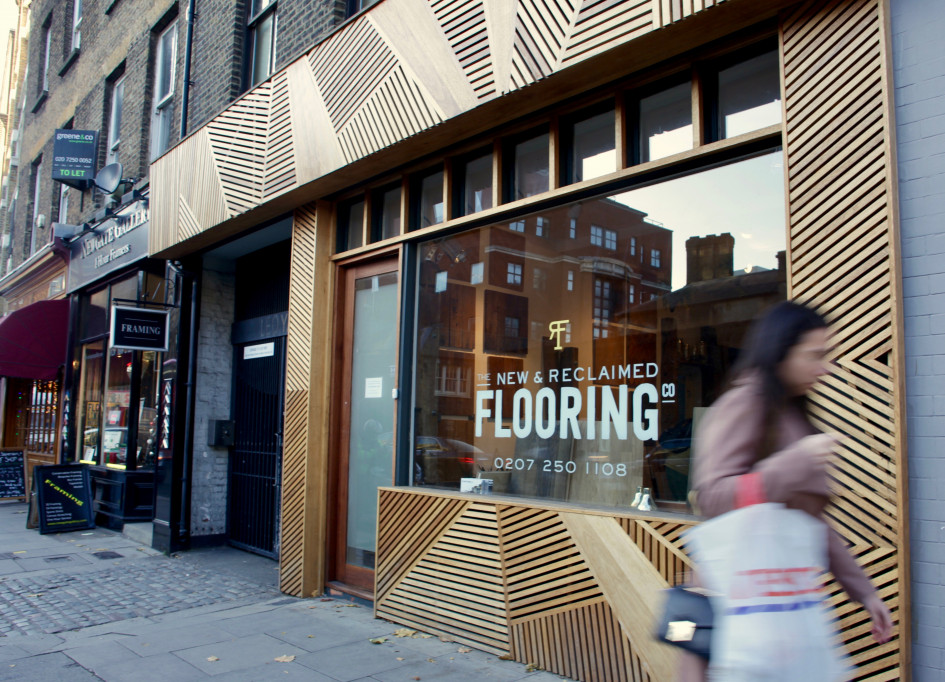 Experience
Our in house team of highly skilled craftsmen have created a variety of organic tones and textures in which no other man-made material can match.
We are wood flooring designers, manufacturers and suppliers with over fifteen years of experience.
We sell and supply directly from our own showrooms in the UK, USA and international vendors.
Designed by Nature ®
We create patinas and natural colours through a variety of studied organic compositions that are exclusive to RFC. We believe that nature is untameable and that the wild spirit of wood should reflect its origins of time and variation without the constraints of excessive manufacturing.
Our organic formulas are designed to react with the tannin acid that exists naturally within the timber allowing us to create a time capsule effect that speeds up the natural ageing process. It is a complex process, involving up to 11 layers of application and many days of drying time. Wood and wood colour as it should be, never rushed.
Sustainability
We are more than just a business, we are purveyors of a better Earth. Our pledge to you is that we will plant 1 tree for every 10m2 of new wood flooring sold, let's give nature a helping hand. We are also a PEFC, FSC certified company, Carb2 Compliant (USA).
In increased use of wood products through specification will stimulate the expansion of the forests and so reduce CO2 & greenhouse gases. Only a 4% increase in Europe's yearly wood consumption would appropriate an extra 150m tonnes of CO2 each year. Or look at it this way, only a 10% increase in the production of wooden houses in Europe alone would produce enough CO2 savings that account for an estimated 25% of the reductions prescribed by the Kyoto Protocol!