Robert John Henry - Founder and CEO
Growing up in England in the 1970's and 80's I remember sunny summers and snowy winters, not like the seasons we have now. I remember rolling green fields, streams, muddy marshes and a small number of family-run farms trading fresh eggs just 2 minutes from our house. I spent most of my free time outdoors & climbing up trees, around trees or inside them and over the years have I fostered a natural sense of tree kinship.
My journey into wood flooring began in the late '90s as an apprentice learning the trade of Antique Wood Floor restoration from a local 3rd generation Master Craftsmen wood floor installer. Specialising in historic residential Georgian renovations in South West London, I spent 5 years restoring and installing antique oak and pine timber floors, learning to appreciate the delicate nature of the patina and how the wood structure and patina develop over time.
A few years later from these small beginnings came an eco-epiphany and with a passion for design, creativity and environmentalism: The New & Reclaimed Flooring Company took root!
A tree whispers and I forget time, the soul of a tree is a precious gift to us all…
I am grateful to now be working with such a wonderful natural resource that fuels the company we love.
Textures and Colours
While many admire the beauty of wood very few understand its unique qualities and the extent of its full potential as interior furniture & design aesthetic. We seek to change that.
For me and my team, wood is not only about the aesthetic it offers but also the journey it has taken. Surface textures and colours are created through the passage of time and connected through the creative spirit of the owners both past and present. Through our specialist finishing techniques and colouring processes, we can not only enhance these characteristics but replicate them to superb standards using both new and reclaimed timber.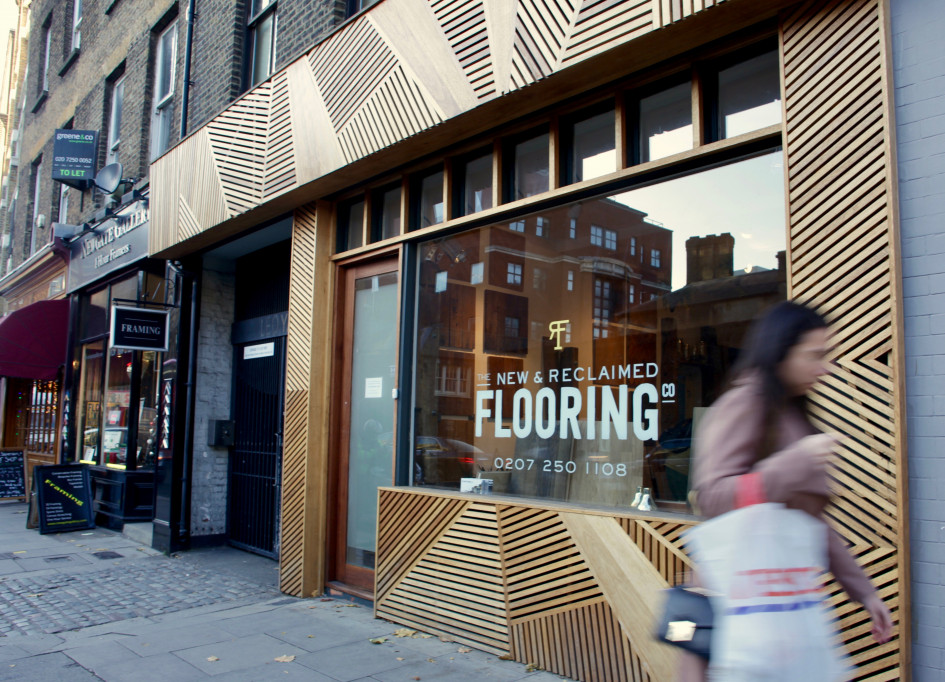 Experience
Our in house team of highly skilled craftsmen have created a variety of organic tones and textures in which no other man-made material can match.
We are wood flooring designers, manufacturers and suppliers with over fifteen years of experience.
We sell and supply directly from our own showrooms in the UK, USA and international vendors.
Designed by Nature ®
We create patinas and natural colours through a variety of studied organic compositions that are exclusive to RFC. We believe that nature is untameable and that the wild spirit of wood should reflect its origins of time and variation without the constraints of excessive manufacturing.
Our organic formulas are designed to react with the tannin acid that exists naturally within the timber allowing us to create a time capsule effect that speeds up the natural ageing process. It is a complex process, involving up to 11 layers of application and many days of drying time. Wood and wood colour as it should be, never rushed.
Sustainability
We are more than just a business, we are purveyors of a better Earth. Our pledge to you is that we will plant 1 tree for every 10m2 of new wood flooring sold, let's give nature a helping hand. We are also a PEFC, FSC certified company, Carb2 Compliant (USA).
In increased use of wood products through specification will stimulate the expansion of the forests and so reduce CO2 & greenhouse gases. Only a 4% increase in Europe's yearly wood consumption would appropriate an extra 150m tonnes of CO2 each year. Or look at it this way, only a 10% increase in the production of wooden houses in Europe alone would produce enough CO2 savings that account for an estimated 25% of the reductions prescribed by the Kyoto Protocol!