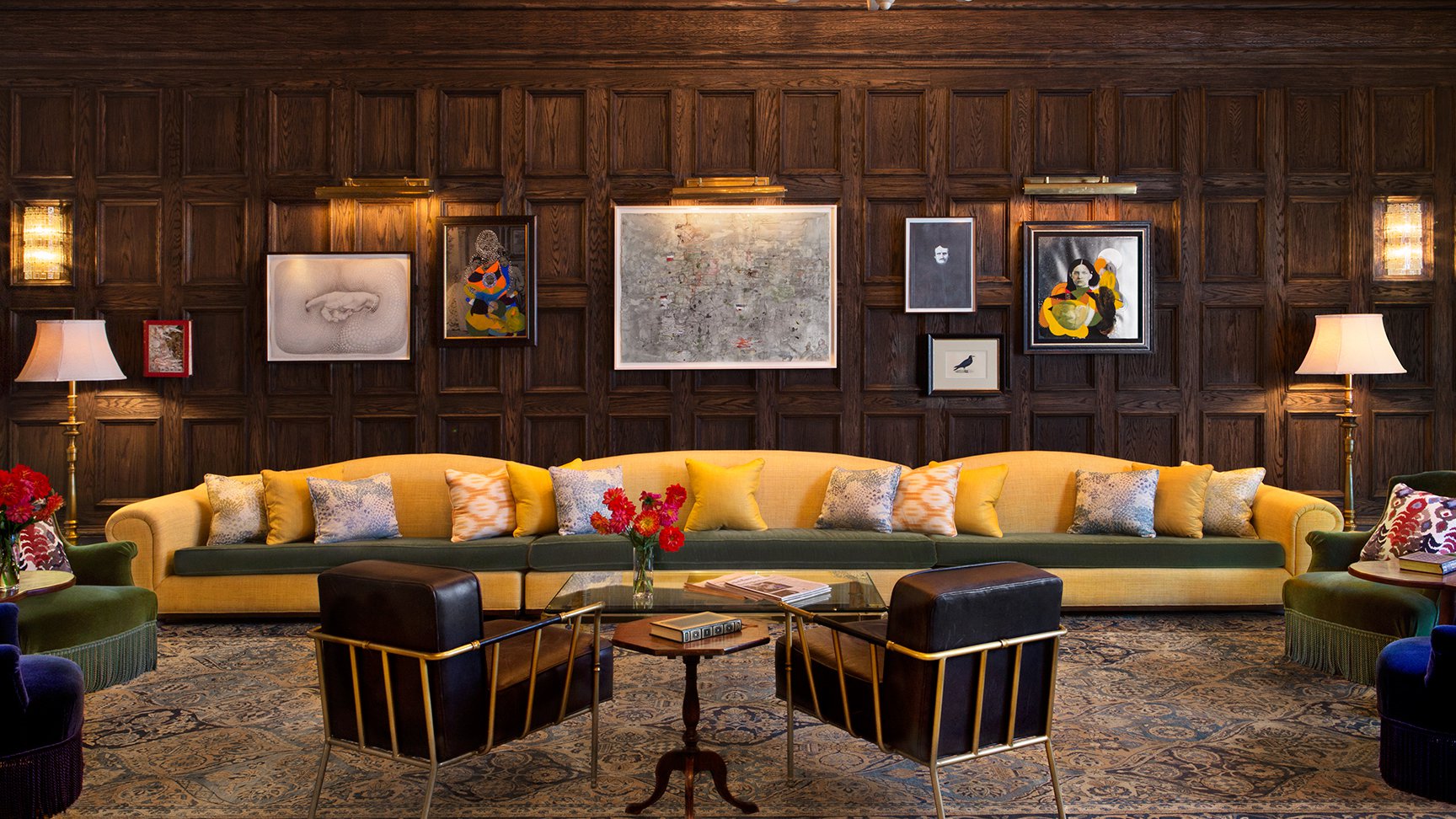 Known for his maximalist sensibilities, Brudnizki dreams up some of the world's lavishly appointed commercial and residential addresses that defy convention and seamlessly showcase references from different time periods.
Martin Brudnizki's intricate understanding of aesthetics was ingrained in him at a young age. His father was a mechanical engineer, while his mother worked as a stylist. The fusion of these two professions paired harmoniously, playing quite an influence in Brudnizki's life, who became enamoured with aesthetically pleasing spaces and buildings.
In 2000, Martin set up his eponymous studio Martin Brudnizki Design Studio (MBDS) in London, and a New York studio followed in 2012.
Today, he has become known for his ability to understand, process and incorporate style and functionality, all interweaved to conceive eccentric and whimsical aesthetics.
Some of his works include Soho Beach House in Miami, The Beekman in New York, as well as London restaurants The Ivy, Le Caprice, and J Sheekey, and Annabel's — Martins design concept is about creating 'homes away from home'.
It is plain to see the meaning: as much as they are grand and glamorous, they carry with them a sense of intimacy and comfort.
One of our favourite interiors is London's 34 restaurant — a gentlemanly haven on Grosvenor Square boasting a sense of familiarity yet with an edge of intrigue through the novel use of pattern and texture.
The interior features; burnt orange leather banquettes and dark woods contrasted with light panelled walls and stunning light fixtures inspired by English, Edwardian and Art Deco influences.
In the case of 34, Brudnizki merged the traditional masculine feel of a steakhouse with the neighbourhood's glamour.
"Whenever I embark on a new project, I always consider first the context, the character of the city and the street, as well as the expectations of the client," he states.
The main dining area features rich terracotta leather and mahogany wood chairs and banquettes, a floor design featuring reclaimed boards of oak and rosewood, and white crackle-glazed timber walls.
Meanwhile, the bar area showcases grained millwork and sparkling glass details.
Another inspiring architectural project — The Beekman Hotel, a luxurious yet historic New York City landmark that was originally designed by architectural firm Silliman & Farnsworth in 1883 and was used for a variety of functions over its life before becoming an opulent hotel.
Martin Brudnizki's design team created a lush and sophisticated space that proudly displays the beauty of the edifice while maintaining its historic patina.
The rich architectural story of the Temple Court guided the design of the hotel. From its distinctive Queen Anne exterior, to the Bretonian beauty of the dilapidated Victorian interior found inside, The Beekman has such provenance.
A small-scale black and white marble mosaic floors in a hexagonal pattern leads to a reception desk upholstered in a patchwork of colourful rugs, further adorned with a dark, antiqued timber top.
The surrounding walls are panelled with rich timber and feature a decorative freeze, above which are walls which have been stripped back to reveal the original plasterwork. Hanging overhead are whitewashed timber chandeliers decorated with gold leaf to further magnify an elevated sense of being whilst staying true to the building's organic beauty.
Accents of bold orange and blue can be found around the room, adding a unique and dynamic tone to the rich timber hues. The seating comprises of a range of armchairs and sofas, upholstered in yellow chenille and green mohair and sits atop a large colourful rug.
The interior's public spaces are cosy and inviting, composed of rich dark finishes with accents of solid jewel-toned blocks of vibrant luxury furniture in vintage pinks, greens, reds, yellows, and blues.
Conclusion
Brudnizki is internationally renowned as a top interior and product designer. His devotion to functionality coupled with the love of layering diverse materials, textures, and styles, allows him to craft an environment that resembles a personal and unique touch to each client's specific lifestyle. Overtime.  The sought-after designer has acquired incredible proficiency in design, specialising in high-end and luxury schemes.