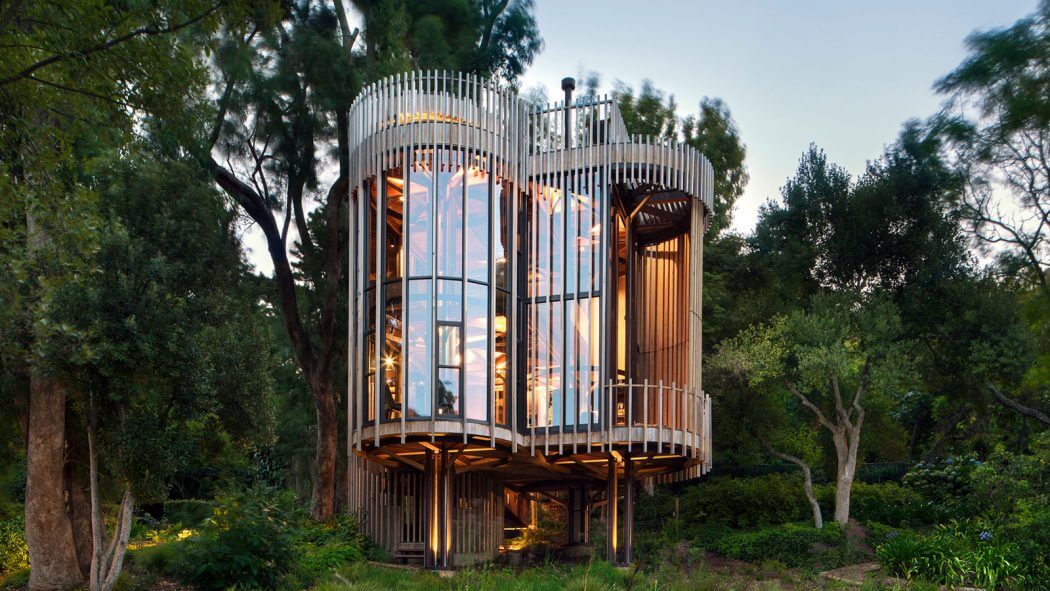 Inspired by the trees on the estate, Modern Tree House designed by Cape Town based architects Pieter Malan and Jan-Heyn Vorster of Malan Vorster, features a contemporary cabin-like, one bedroom hide-away.
Located in a small clearing amongst forest-like gardens in Constantia suburb of the South African capital, the structure is elevated by four round columns in order to maximise views from the highest portion of the site.
The "Paarman Treehouse" draws inspiration from the timber cabins of Horace Gifford, Louis Kahn, Carlo Scarpa and Kengo Kuma's approach to spatial configuration and meticulous detailing.
Composed of four cylindrical wooden towers elevated on stilts; the rings built from laser-cut and folded Corten steel plate supports the timber floors beams.
Red cedar battens wrap the tree house, with generous gaps throughout the windows and tighter spacing to help create a perfect balance between the resident's enjoyment of the views and privacy.
The architect left all elements untreated, and will express the passing of time as they weather naturally to tone with the surrounding trees.
The home is four stories high — the first floor contains the living spaces, patio, dining; a bedroom and bathroom on the second level and a spacious roof deck on the top.
The interior is accessible via a suspended wood and Corten steel ramp; with a plant room located at ground level below the building.
The interior is high-end, pure elegance set against the peculiar wood and iron structure that the architects have wrought.
Contemporary furnishings adorn the space, making this not only a comfortable home, but also a timeless escape.
Images: Mickey Hoyle (http://mickyhoyle.com/)