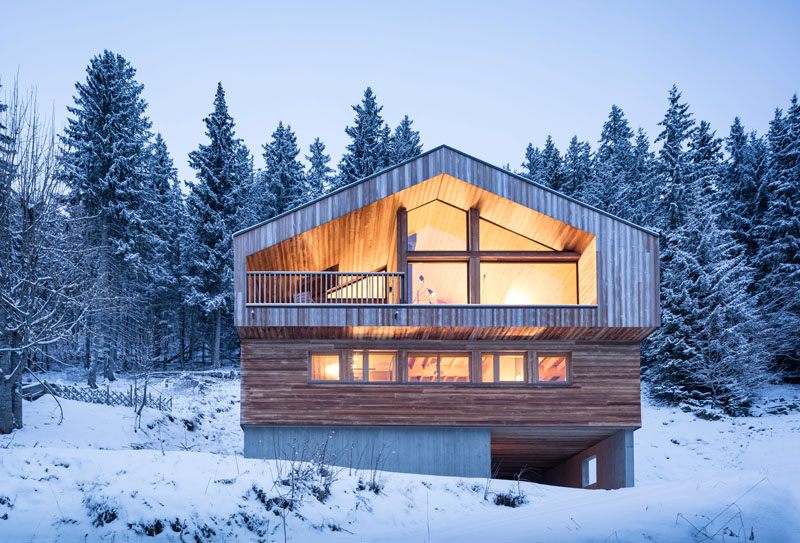 French design firm Studio Razavi introduces a modernized contemporary design to an Alpine chalet home located in the village of Manigod in the Auvergne-Rhône-Alpes region of eastern France – a popular ski destination.
The Mountain House is a single-family home with very little of architectural expression allowed due to complying with strict local architecture guidelines.
Its height, width ratio to roof slope, building material and window sizes are strictly controlled to enforce what is locally perceived as patrimony protection for traditional mountain homes.
Highlighting a wooden composition with concrete accents, architect Alireza Razavi wanted to try to reinterpret the home in a more contemporary way;
"In order to circumvent these limitations, we took great care in analyzing historical buildings so as to understand what their forms accomplished and how they shaped the local architectural culture. We then integrated this information into our design, avoiding all artificial and obsolete elements while making sure that the building was entirely code compliant."
Configured in a stacked layout, the Mountain House includes distinct layers with separate programs, where the ground floor provides technical spaces including the entrance and car parking, while the first floor houses all the bedrooms, followed by the second floor which includes the living spaces.
The entrance is incorporated into the concrete base that also leads to a small space featuring a stone floor where occupants can change in and out of ski gear.
For the interior, the first floor and second floor embraces the use of natural materials such as walls cladding in pine wooden boards.
The cladding flows in different directions to elaborate the differentiation in volume and programme between the two levels.  The space also features a few painted surfaces to break up the unity of the wood.
In addition, artificial stone tiles are implemented in the bathrooms to introduce a texture, as well as complementing the natural palette overall.
As you move to the top, each level of the house becomes progressively brighter and more spacious, with the living area enjoying the most natural light and volume due to large windows filling the space beneath the pitched ceiling.
The interiors feature materials chosen to complement the external expression and differentiation between the levels. The overall flow and aesthetics of the entire home remains quite simple and yet cozy.
Razavi added; "We wanted to make sure that the design reflected some of the historic features of this place, and I think this is how design becomes more interesting than just being disruptive for the sake of it."
Images: Olivier Martin-Gambier  www.omgphotographe.com