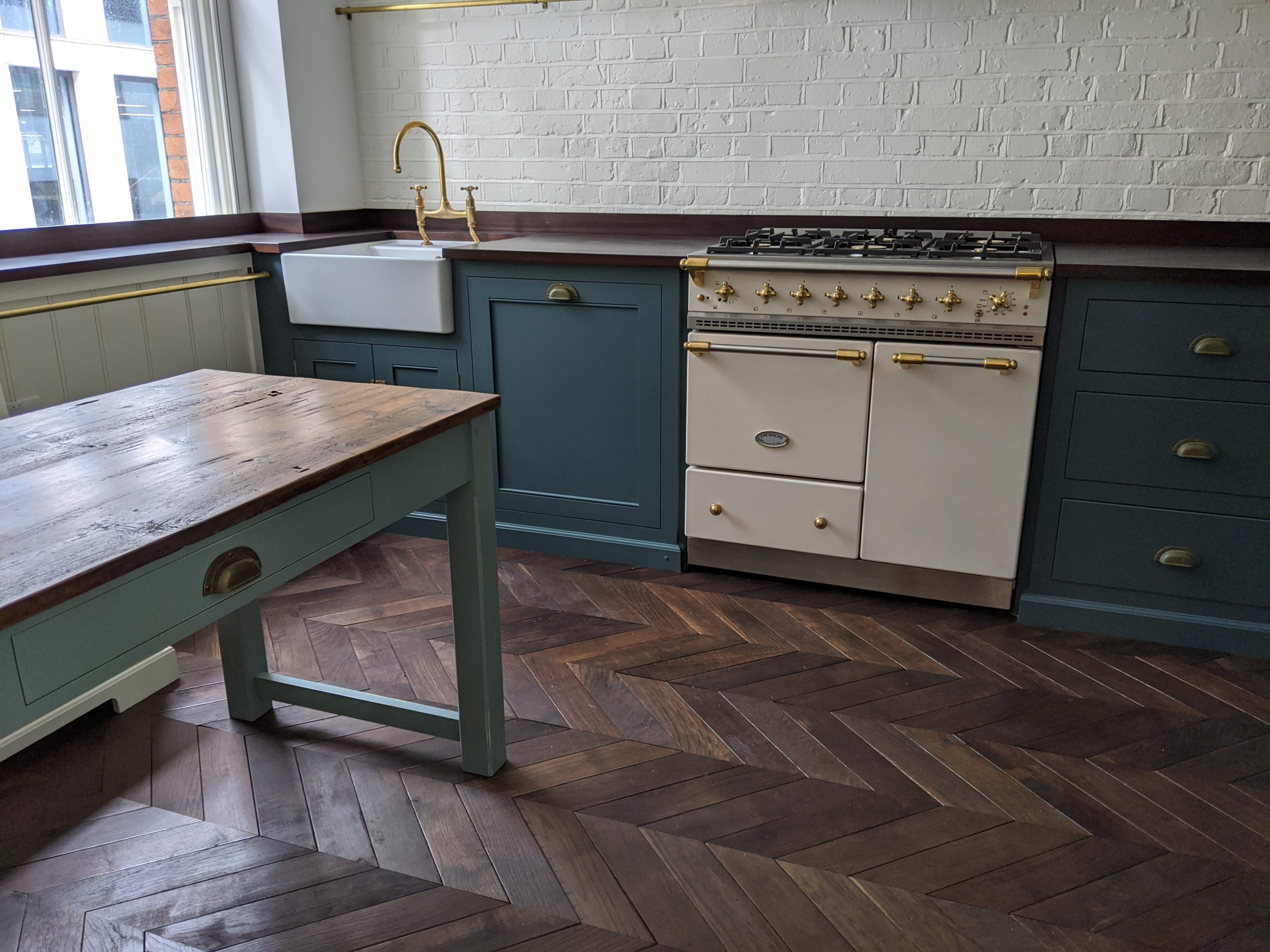 Like ordinary wood flooring, parquet creates a natural, cosy and sophisticated atmosphere in any interior setting.
It is constructed from smaller pieces of wood or planks laid at angles to form a variety of geometric patterns.
Derived from the French term "parquetry," meaning "small compartment or enclosure", parquet wood floors originated in France in the 17th, Century, and were a widely acclaimed option for wealthy residences, museums, galleries, church halls and grand public spaces.
In early days, parquet was handcrafted from solid hardwood, installed one piece at a time.
Today, modern parquet options are just as durable and elegant, but a lot easier and quicker to install.
They have remained a sign of quality and craftsmanship throughout Europe.
What makes parquet flooring special?
Parquet floors are made from different species of wood.
Apart from adding character and depth to a room, they can be used to create an optic illusion of a bigger space.
Light parquet wood floors a are a designer's canvas: they lend themselves beautifully to soothing neutral hues in minimalistic and Scandinavian settings, as well as more colourful and eclectic décor ideas.
Dark parquet wood floors are ideal for spacious rooms and can be used to create a stunning contrast with lighter colours. "Lived in", or "distressed" parquet add instant interest and texture to rustic décor style.
Parquet wood options and designs
Parquet wood flooring comes in a range of different wood including oak which is especially loved for its natural appeal.
Parquet available as solid and engineered:
Solid parquet floors are crafted entirely from solid wood (top to bottom).
Parquet flooring featuring engineered hardwood is made from a fine veneer of solid wood overlaid on top of plywood.
In areas where moisture and temperature are in constant flux (such as the kitchen or bathroom), solid parquet will expand or contract.
This natural reaction can cause gaps or cracks in the wood as the floorboards rub up against each other.
Essentially, engineered parquet flooring maintains its quality in fluctuating temperatures and moisture levels, making it an ideal flooring options in humid areas or where underfloor heating has been installed.
Wood planks can be arranged virtually in any pattern imaginable.
Versailles, brickwork, basketweave, herringbone (with single, double and diagonal variations) and chevron are of some extremely elaborate floor patterns that are highly sought after.
How do I care for Parquet floors?
Parquet flooring is known for its long lifespan and natural beauty thanks to its perfect technical properties. But like any other type of wood floor, it requires proper care from the moment it is installed.
Regular cleaning: Firstly, of course, dry mopping regularly or simple hoovering is often sufficient to get rid of loose dirt. A deep clean monthly with an appropriate care product is all you need to keep your floors looking good as new.
Refresh wood floors: Oiled parquet flooring should be re-oiled with a product that is specially designed for floors as soon as the first signs of wear appear, and even lacquered parquet has its own specialist care products to keep it looking beautiful for a long time.
Wipe spills immediately: Use the right products with a slightly damp cloth as soon as liquid spills occur to avoid permanent stains. Bringing out a wet bucket and soaking your parquet floors may eventually cause the wood to swell. It's crucial to understand the environment that surrounds your flooring in order to avoid any further damage.
Refrain from using wrong cleaning products: Old-fashioned remedies involving water and vinegar will strip away or dull the floor's finish, while soap or wax-based cleaners will cause a hazy build-up that's hard to remove. Unfortunately, steam cleaners put heat and excessive water on wood floors, which eventually leads to cupping and long-term damage.
Protect flooring from harsh sunlight: Sunlight can cause discolouration since parquet is made from natural wood material. Wood may turn lighter, darker or take on a yellow tinge. If you have full-length windows make sure to close drapes or shades on sunny days to prevent the sun from fading the floor.
Refinish every 7-10 years: Over time, parquet floors start to look a little dull from normal wear and tear. This can be renewed through refinishing the floors — which involves heavy sanding to remove all finishes and to take off enough wood with scratches and discolouration. Since parquet floors are made up of small pieces, this process should only be undertaken by a professional. Restoring the wood's beauty can be done every 7 to 10 years — but this will depend on use, wear and tear, as well as lifestyle.
Conclusion
The geometric and angular pattern options presented by parquet flooring makes it a timeless and elegant flooring design. It is built to last and it's easy to customise the patterns, wood grains and colouring of your floors, making no two rooms alike.
There are plenty of fitting options to consider, and all present pattern in a subtle, stylish, and enduring way. Parquet, whether in solid or engineered floor construction, suits all decor settings because of its universal style.
Install it in your entrance space for a stunning first impression, in your living room to add an elegant charm or your bedroom to bring a cosy and warm touch. Wherever it is place, this intriguing flooring style can create any beautiful effect you desire.