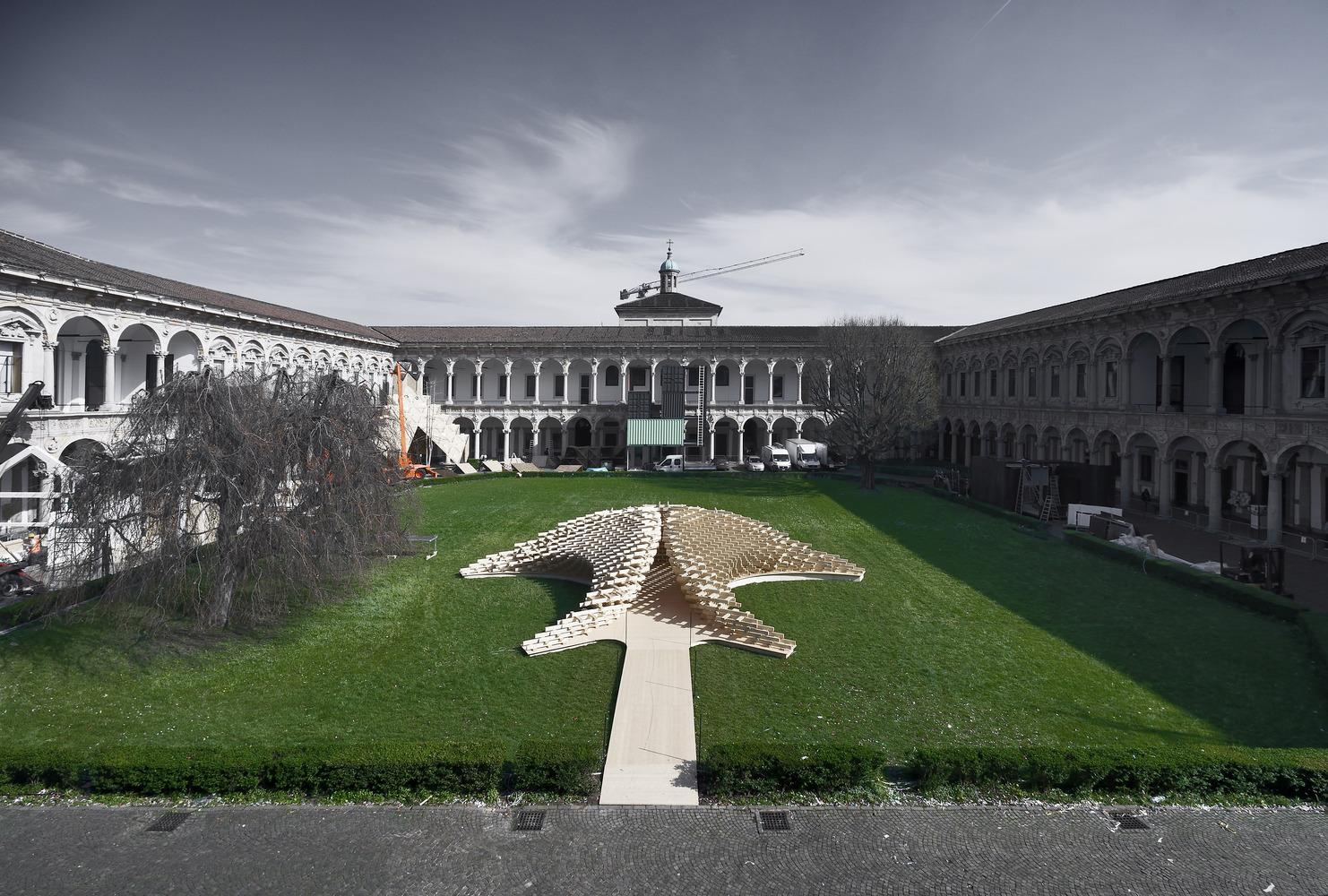 Peter Pichler Architecture, a Milano-based firm has built a temporary structure as part of Milan Design Week 2018.
Referred to as "Future Space," the symmetrical structure is installed in the courtyard of Ca' Granda, a Renaissance-inspired complex belonging to the University of Milan.
The project, headed by Italian architect Peter Pichler, features over 1,600 wooden beams stacked on top of another to form an intricate pavilion, with an overall weight of 12 tons.
The giant wooden sculpture plays with the fundamental elements of Renaissance style: symmetry, proportion and geometry — and acts as a cave, allowing visitors the freedom to enter in by evoking a playful game of light and shadow.
Pavilion Salone del Mobile reflects on how wood can be used to create a spatial experience akin to Renaissance architectural influences.
"The project explores the potential of the matric presence of wood in a non-typical "building" environment as a structure that should transmit a spatial experience," said Pichler.
The pavilion is formed by three separate wings, arranged together to create a pyramid-like enclosure.
The beams vary in height by simply stacking and rotating different lengths, which give the structure its curving geometric.
"Visitors are invited to enter and explore the cave-like installation," said Pichler. "The perforated structure filters light and evokes a playful game of light and shadow," he continued. "It forms three openings — one serves as the entrance and the other two provide views towards the courtyard of the university and other installations."
The architect believes his design embraces his studios' believe that wood will be the building material of the future.
"We think that, in the future, wood will more and more play an important role in architecture," said Pichler.
"I think our installation reflects the way we work and what is important to us: beauty, sustainability, the impact of light and shadow, and the spatial experience," he added.
Images: Oskar Dariz (http://www.dariz.com/)