Calculate your floor
Enter the maximum width and length of the room. You can then add features to accurately represent the space.
For every 10m2 you buy, we will plant 1 tree
Your total is
25
m
2
plus % wastage
What is this?
Room features are areas of your room that bisect the regular shape, anything from a fireplace to an alcove. Take a look at the graphic below to get an idea of how it works.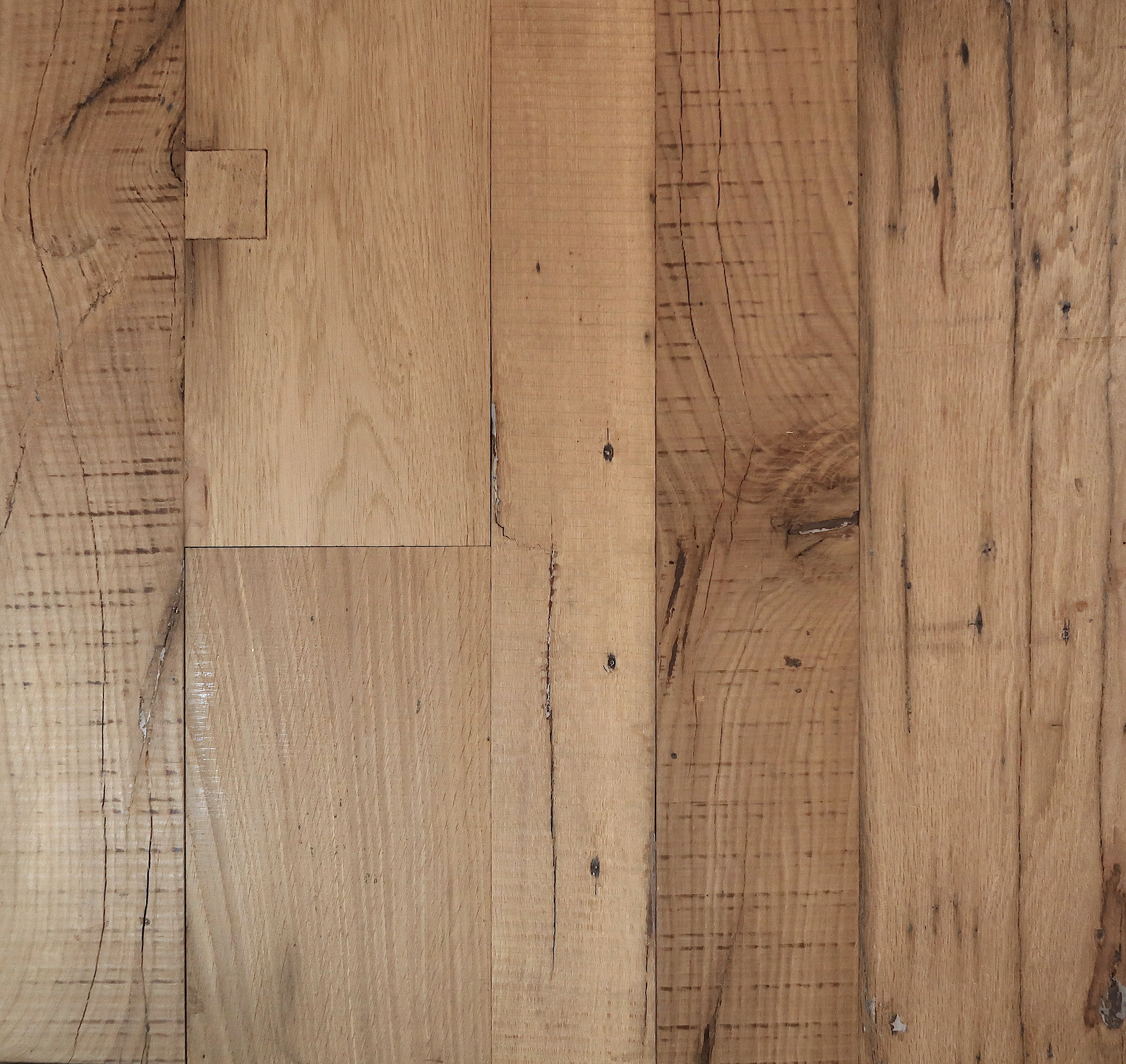 About: Offer Craft Oak Engineered – Untouched
As Artisanal wood flooring craftsmen and women, we are immensely proud of our company heritage. Originally company founder Robert J. Henry installed, restored and repaired antique oak wood floors in prestigious residential properties throughout South West London. The Craft Oak Collection pays homage to our artisanal heritage and this can be seen at every feature of hand-restoration with the occasional 'wood patch' having been cut and carefully placed.
Craft Oak is available mixed width only and is a characterful platform, exhibiting authentic reclaimed characteristics such as tonal variation, wood cracks & saw marks. If desired we are able to sand away these saw marks, boards with saw marks are labelled as being 'Unsanded'. Available Untouched, Cleaned, Sanded or Pre-Finished in a selection of colours and in plank format or parquet (Herringbone and Pointe de Hongrie Chevron) by special request.
* 0 m2 available
Highlights:
Natural wood colour variation between each piece
Our Reclaimed Oak is perfect for high traffic zones
Available in Engineered Wood Flooring
Lifetime structural guarantee
20-year finish guarantee
Easy aftercare with floor soap and maintenance oils
Easy installation with tongue and groove profile
Hand-finished and Hand-restored
Allow tonal variation, filled knots and scars.
Lead time 4-6 weeks in stock / 10-12 weeks not in stock. Please enquire.
There are no samples available for this product
Do you have a Minimum Order Quantity?
30m2 for all our collections/products
Lead time for Orders
It depends on the product and stock. Please get in touch with us for specific lead times.
Lead time for Samples
Our Samples have a lead time of 5-10 working days for UK destinations. Please get in touch with us for International lead times
Do you export internationally?
We are an international company, we have sales representatives in the USA, UK and Scandinavia. For all other global markets, we are able to provide quotes F.O.B.
Should I be concerned about the colour variation within a product?
If you are concerned about colour variation you can order a sample panel for a refundable deposit. Please remember that we are not creating exact copies of floor panels or hand samples, we are creating individual floors with their own unique personality and charm.
Sizes & Finishes
Thickness
21mm thick / 6mm wear layer. Allow variation, please enquire
Width
70, 90, 110, 130, 210mm. Allow variation, please enquire
Length
400-2200mm long (Average 1600mm). Allow variation, please enquire
Crafting
Artisanal Hand-Restored Wood Patches
Technical Specification
Species
European Oak (Quercus alba)
Grade
'Hand patch repaired', filled knots & cracks
Application
Commercial, Residential
Profile
Tongue and Groove
Installation Technique
Glue
Sizes & Finishes
Thickness
21mm thick / 6mm wear layer. Allow variation, please enquire
Width
70, 90, 110, 130, 210mm. Allow variation, please enquire
Length
400-2200mm long (Average 1600mm). Allow variation, please enquire
Crafting
Artisanal Hand-Restored Wood Patches
Technical Specification
Species
European Oak (Quercus alba)
Grade
'Hand patch repaired', filled knots & cracks
Application
Commercial, Residential
Profile
Tongue and Groove
Installation Technique
Glue
Sizes may change. Custom-made alternatives are also available