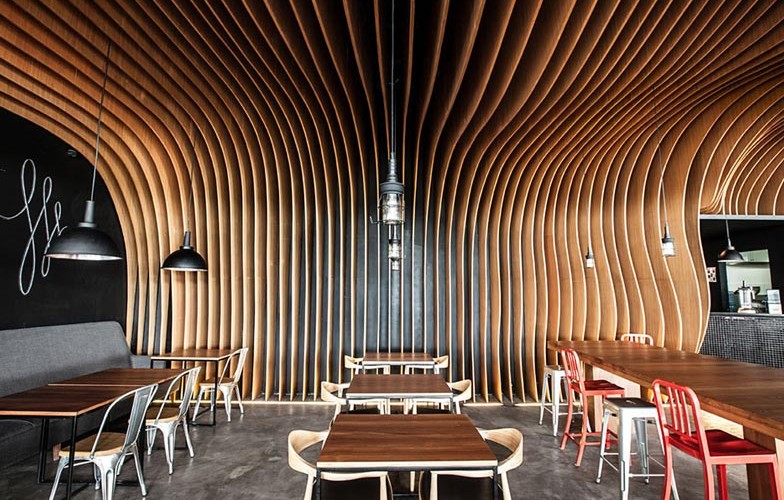 Here at the Reclaimed Flooring Company, we are continuing our blog posts on real wood projects. Our first real wood interiors project is Six Degrees Café.
Situated inside a mall in Jakarta, Indonesia – Six Degrees Café has a rectangular floor plan with a 16 m long shop front on the long side. The brief for the team OOZN Design behind this design was simple: to make the café memorable and cosy.
The name of the café comes from the "six degrees of separation" theory where each person is six or fewer steps away from each other. There is a good story behind the name of the café and fits well with the socializing aspect when meeting people for a coffee.
Inside the café, undulating skins of timber slats are equally spaced apart at 150 mm intervals, which covers the entire wall. Local carpenters hand-crafted the veneer plywood that creates the undulation seen in the images. There are differing depths of fins and this is designed to create a strong visual impact but also to hide the ceiling equipment and improve the acoustics inside the café.
With music in the background and heavy flow of customers, individuals are still able to enjoy a chitchat over a nice cup of coffee.
OOZN Design have separated the design of the interior into four types of seating so a customer has choice over the part of the café they wish to sit in depending on their mood. The groups are people who come to socialise and can hang around the huge bar table; a person who needs a place to read a book or a couple going out for a quiet dinner will find a part of the café that will suit them.
Natural materials and colours were chosen to create a relaxed environment. Timber veneer slats matches the concrete screed floor to give a rustic touch. Warm timber and natural tones contrast with the dark wood interior paint and provides an escape from the heat outside.
Pendant lights hang over the tables in this wood interior. The floor recessed strip lights give a soft lighting to the timber slats and provide a calming ambience.
It is evident that the team have fulfilled the brief with an incredible finished wood interior design.
Picture Credit: OOZN Design
We have been a part of various trade & business projects ourselves at RFC, take a look: Click HERE