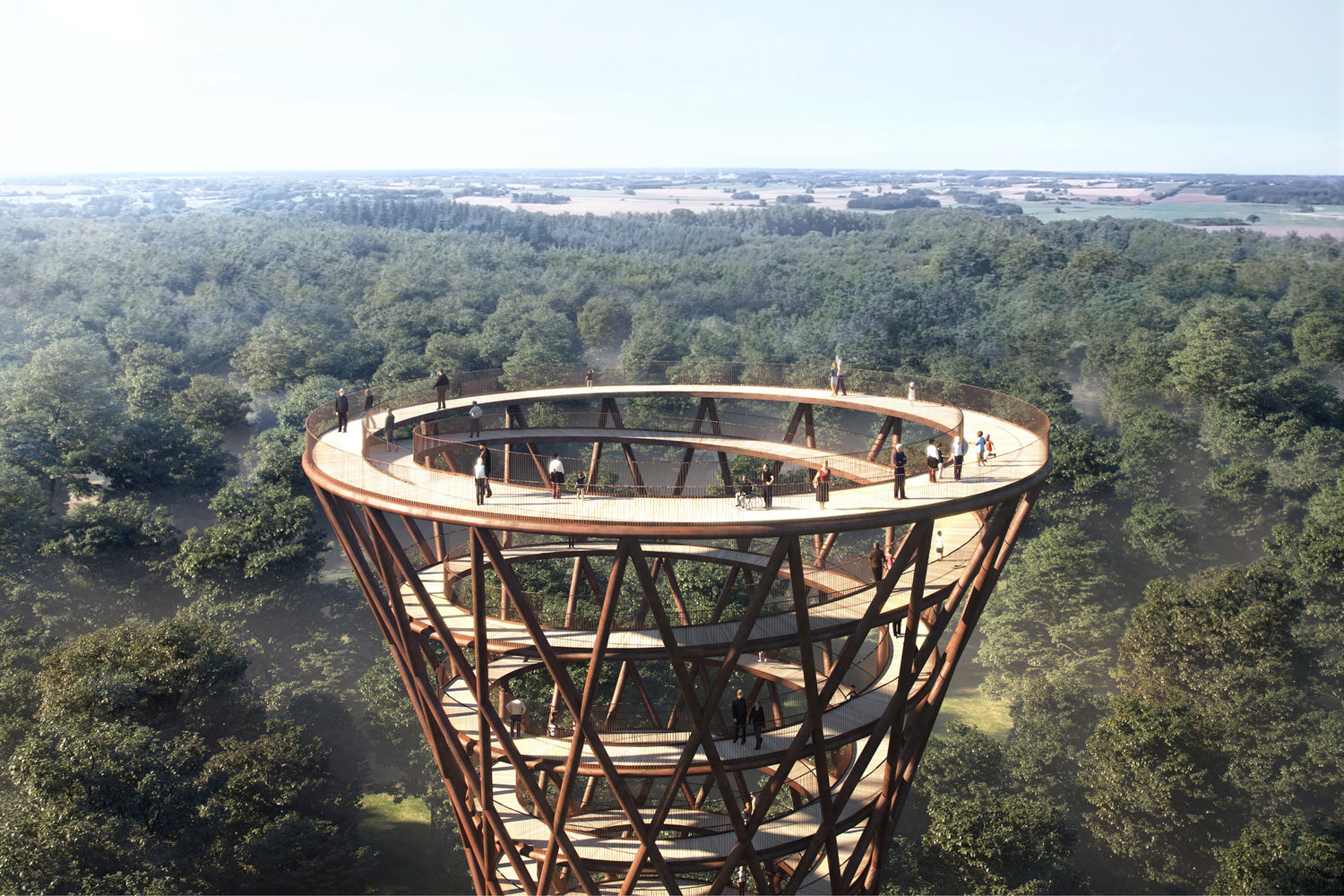 Copenhagen based architecture and design firm EFFEKT has unveiled a new and unique experience called The Treetop Experience in the Gisselfeld Klosters Skove preserved forest, one hour south of Copenhagen, Denmark.
Created to give guests a one-of-a-kind experience walking above the treetops and experiencing the stunning nature of the surrounding preserved forest from a new perspective.
The Treetop Experience offers a minimal footprint of 1,968.5 feet (600 meter) walking platform and 148 foot (45 meter) tall observation tower.
The new Treetop Experience will be part of Camp Adventure, an existing sports facility with treetop climbing paths and aerial zip lines up to 25 meters in height.
Characterized by a hilly landscape that is rare in the notoriously flat region, with lakes, creeks and areas of wetlands.
Split into a lower and upper walkway, you pass through the younger trees and areas as well as the oldest parts respectively.
With a 360 degree view, the observation tower is shaped to enhance the visitor experience with a curved profile featuring a slimmer midsection with an enlarged base and crown.
The continuous ramp is made accessible and offers amazing features such as bleacher seating, an aviary, looping pathways and bridges, enhancing experience for the visitors.
A typical cylindrical shape favours a curved profile with a slender waist and enlarged base and crown.
This creates better stability and a larger area for the viewing platform at the top of the tower; it also allows for better contact to the forest canopy.
The materials have been chosen with a sustainable and sensitive approach. Corten steel is used for all of the structural elements as it is maintenance-free and blends harmoniously with the colours of the forest and the surface of the boardwalk and ramp is made from timber from the forest's own production.
Images: EFFEKT (http://www.effekt.dk)