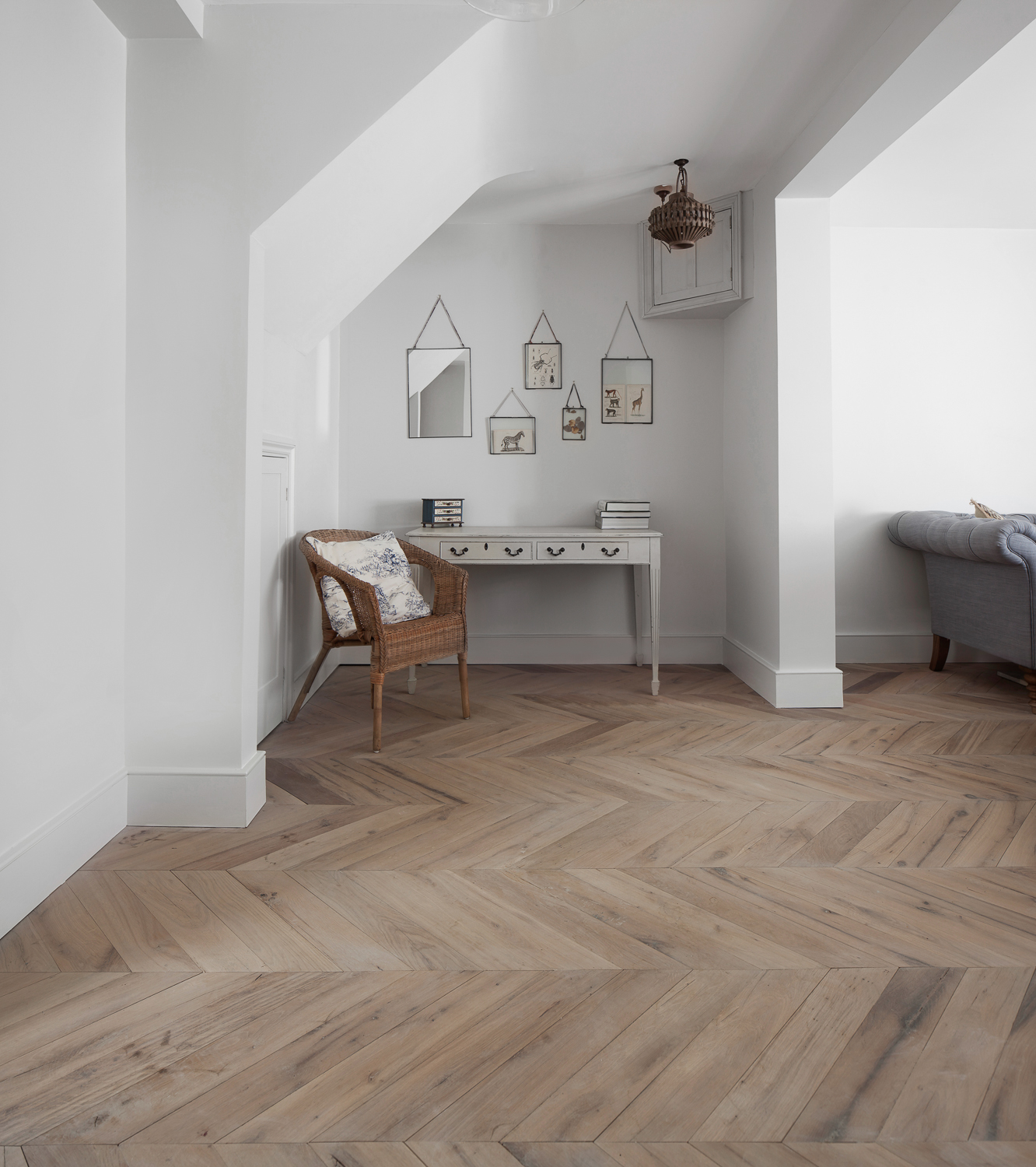 Mixing old and new styles from Denmark, Sweden, Iceland, Finland, and Norway, the Scandinavian design combines a blend of textures and soft hues to make modern décor feel warm, cosy and inviting. It seeks to combine functionality with simple form without sacrificing beauty.
Because of the long periods of winter in Nordic countries, the interiors are typically painted white to counter the cold, dark days and nights and help keep spaces bright.
Colours are introduced sparingly and subtly to maintain a sense of cohesion, uniformity, and brightness throughout the room.
In keeping with the natural and timeless aesthetic of the Scandinavian design, wood flooring is a quintessential element that forms the foundation of the whole space.
However, this simplistic style typically emphasizes using pale, light-coloured woods—oak, pine, and fir—to facilitate an open and clean atmosphere.
Characteristics of Scandinavian Style Flooring
The Nordic concept of hygge is what distinguishes Scandinavian design from many other interior aesthetics. That is, to create an environment that delights in feelings of cosiness, contentment, and well-being while enjoying life's simple pleasures. Therefore, all design elements must be used in unison to apply the art of "Hygge" and create a comforting essence devoid of clutter—no more, no less.
Fast becoming the new classic, the concept of Hygge and Scandinavian design have found their way into every aspect of our home. Flooring is an excellent way to achieve this, as it grounds and reinforces your design concept. Natural wood complements any interior and is therefore excellent for the Scandi approach.
And because Scandinavian living embraces open-plan, wood floors are a beautiful element that perfectly ties the open spaces together. Floorboards in a herringbone pattern are ideal for L-shaped or odd-shaped rooms, whereas planks running across the room will help lengthen the space.
Best Wood Species for Scandinavian Flooring
Let's dive into the question: what wood is used in Scandinavian flooring? One must also consider why wood is a necessary choice for Scandinavian design.
Using timber for floors and furniture is influenced by cultural context and inherent qualities. First of all, natural materials are incredibly regarded in Scandinavian culture. This long-standing artistic predilection encouraged a culture where naturally-designed homes became commonplace.
Additionally, the pale woods and predominantly white walls are vital in allaying the effects of the dark winter months. By optimizing materials and colours in their natural surroundings, Scandinavians could create a design that served both an aesthetic and a practical purpose. And since sustainability plays a leading role in their way of life, wood flooring used in their homes is sourced ethically and sustainably.
Generally speaking, light-coloured floors made from natural wood—oak, pine, and fir— give the interior an atmosphere of spaciousness and serenity. These woods are treated with a white-colour finish with a solid natural feel to better fit into the scheme of things.
Aside from their natural appeal, the advantage of these woods is their robustness. The use of wide wooden planks with a consistent appearance helps accent the pure, unfussy, scaled-down look of this design aesthetic with a dramatic effect that highlights impeccable craftsmanship and understated elegance.
What Type of Wood Flooring Should You Choose?
What then makes the best flooring for Scandinavian design? In the end, the type of flooring you decide on will depend on the overall style of your home.
Pale wood tones feel "raw" and "organic" whilst bringing a strong sense of nature indoors. Better still, the lighter the shade of your wood flooring, the more visually open and bright the room feels.
For this reason, consider investing in the whitest of wood, sustainably sourced, if you wish to reap the benefits of Scandinavian design. Paired with light walls and the right furnishings, the overall scheme is anything but chilly.
Scandinavian Style White Oak Flooring
It's easy to understand why white oak floors are a cornerstone of the Scandi appeal once you see what gorgeous changes they bring to a space. The light-coloured oak flooring helps the room feel open and clean whilst highlighting its architectural features and quality craftsmanship.
If oak floors are adequately cared for with a subtle white oil finish or a white matt varnish, it produces a lovely palette of white-grey tones that quickly win the hearts of designers and homeowners alike.
Pale oak flooring's timeless appeal naturally complements Scandinavian design's minimalist look, adding just the right touch of character, warmth and sophistication. Wide oak floorboards provide a visual expanse and fit in wonderfully with the Scandinavian vibe.
Conclusion
Wood floors are a necessity for interior design with a distinctly Scandinavian flair. When it comes to the floor style you choose, you'll appreciate the warmth and charm lighter and paler woods add to a space, mainly if it features a minimalistic design.
If you are looking to embrace Scandinavian design throughout your home, white oak and other closed grain woods in wider plank style and matte finish are an excellent pick in terms of durability and style.