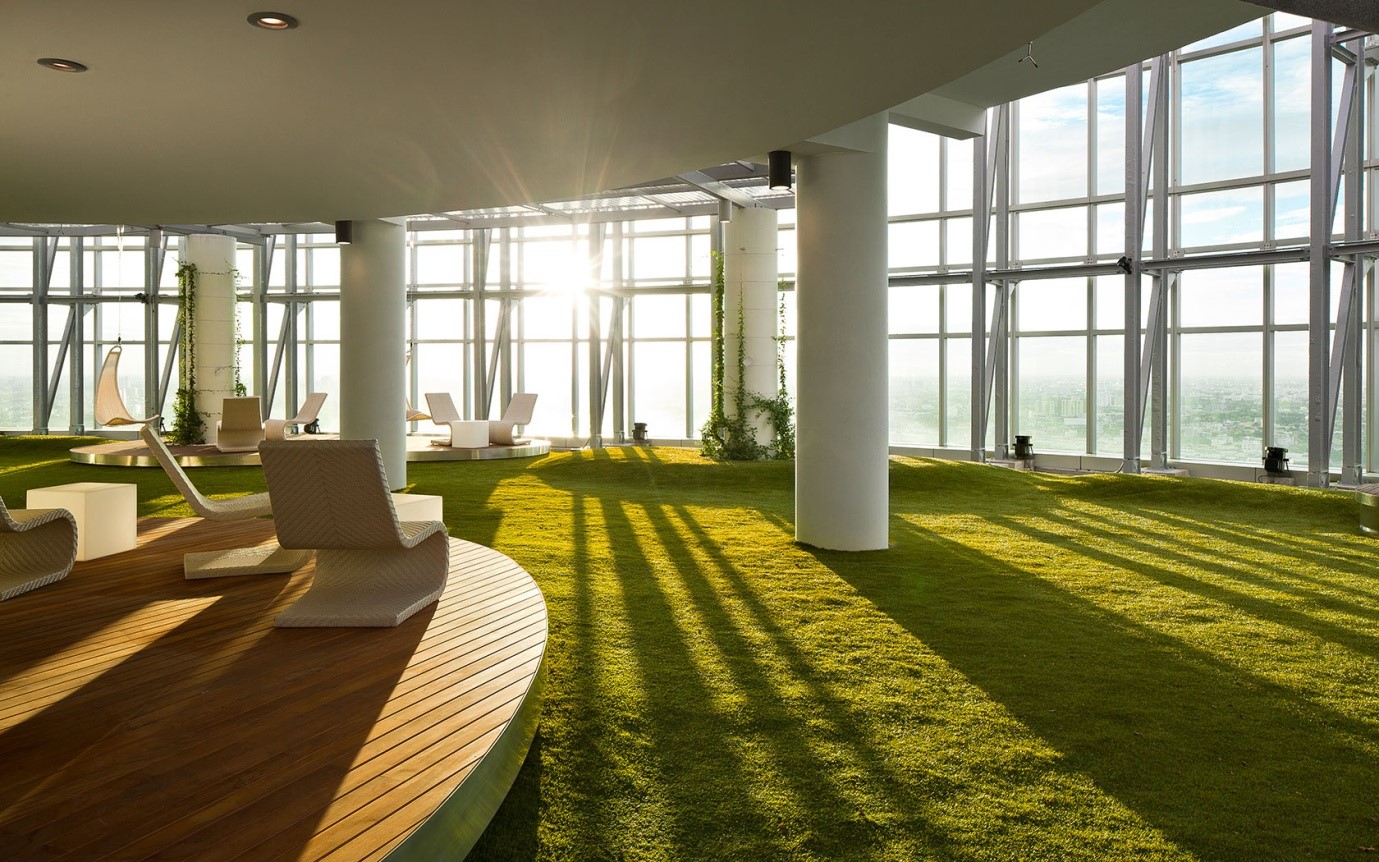 When trawling the web on the hunt for indoor gardens we found plenty of offices offering foliage galore for their staff. Whether it's a rooftop public park in a London skyscraper or a three storey vertical wall in a Spanish corporate block, there's no doubt that indoor gardens look especially incredible because of their unusual surroundings.
[plugmatter_promo box = '1']
But indoor gardens aren't just about aesthetics, they're also good for employee health – whether it's to de-stress or provide healthier air to breathe. Plants such as ivy, spider plants, philodendron, Chinese evergreen and bamboo can actually clean the air of toxins such as formaldehyde, benzene and trichloroethane. Then there's all that C02 they'll help suck up. Here's a pick of some of our favourite indoor gardens around the world:
10 of the best indoor gardens
This first floor elevated indoor garden has been created in the headquarters of PTT Exploration and Production. It's for staff to relax in and de-stress during working hours and was created by Australian landscape designer Angus Bruce and his team at HASSELL. They picked up an award for their efforts.
Staff at power company Nuon in the Netherlands can cast their mind – and their eyes – upwards and appreciate the stunning vertical greenery on one wall of their tearoom. Built by fellow Dutch architecture company HEYLIGERS, the colourful rug and seating ensures the space remains a bright sunny place, despite the normally cold, dark weather:
We couldn't talk about innovative and green office design without mentioning Google, of course. The superstar company's newest office in Tokyo doesn't just have a grass floor in certain areas; there are plants everywhere – as well as natural timber, giving the workspace a definite outdoorsy feel:
Happily, here in the UK London employees are also benefitting from this new trend for indoor gardens – at least the ones at global design and architectural company HOK are. Located in the Qube, in the city's Fitzrovia area, the building is full of large floor to ceiling windows which allow in lots of natural light:
Staying in London and probably the city's newest indoor garden, certainly the most spectacular, is the city's Walkie Talkie Skyscraper. Uruguayan architect Rafael Viñoly's designed the Sky Garden to be a public park in the 160 metre high Fenchurch Street tower.
French architecture firm Pons & Huot chose to install real trees in the middle of desks and glass pods for employees to sit in to minimise noise levels when they wanted to concentrate. The design is in the firm's Paris office and won them an AIT Best of Office Architecture Award when it was created in 2008:
Just to be different, you could always have a rooftop garden indoors ie build a garden on top of your glass office – and which is exactly what the architecture and urbanism studio jvantspijker did in a former steam factory in Rotterdam's Delfshaven area. The building is a communal working space for a number of small IT and design companies and the large plants helps absorb the sound:
But it's not just office staff that can enjoy the benefits of an indoor garden. The staff at the Sisii designer leather showroom in Tokyo can too, thanks to the work of architects Yuko Nagayama & Associates together with landscape designer Toshiya Ogino. Potential customers can look at the bags and other leather items which are randomly strung from the trees. The idea is to relax the customers as well as the employees:
Back to London and workers in the city's Ampersand Building are using this 'green' spiral staircase rather than take the lift after it was designed by Paul Cocksedge Studio. The greenery is said to create a relaxing and airy central space in the four story office building which is rented by various companies. Office staff look after the plants (some of which are edible):
The following vertical garden, designed by vertical landscape company Paisajismo Urbano, is the largest in the whole of Spain. It sits in a three storey office complex in Elche in Alicante and its remit is not just aesthetic but environmental too ie its purpose is to clear the air of indoor office pollutants:
So, which was your favourite indoor garden? Get more design inspiration from our website at our website: reclaimedflooringco.com