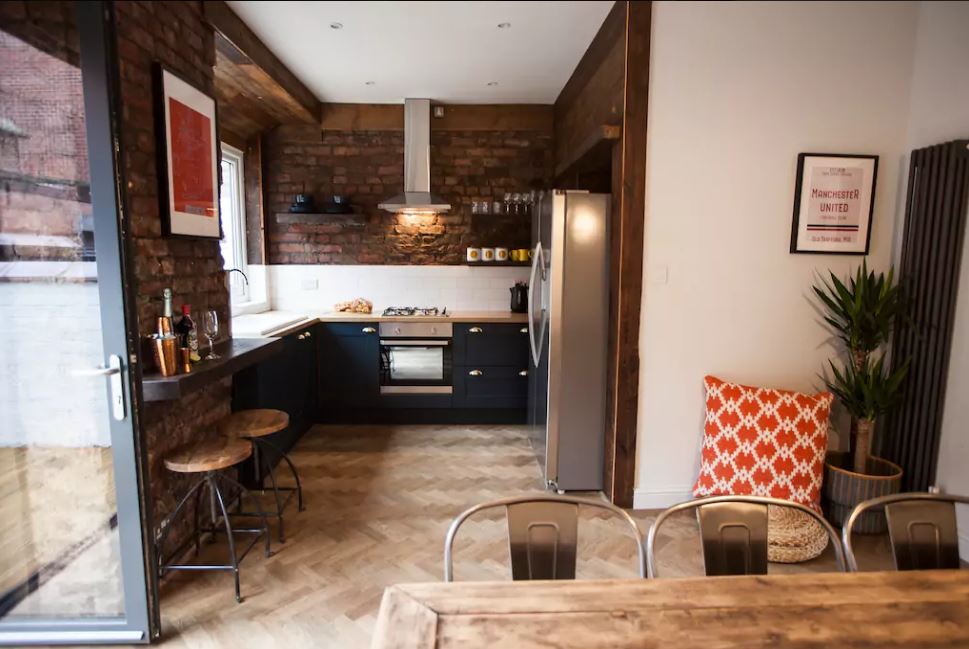 Thanks partly to the growing interest in contemporary, transitional and mid-century modern styles, one particular type of classic custom flooring have expanded—herringbone parquet.
As the name suggests, herringbone is a flooring type that resembles a herring's fishbone.
The style of flooring is achieved by weaving smaller rectangular blocks in a repeated zig-zag pattern to create a uniform and instantly striking mosaic design.
The intricate lines of this stunning pattern introduce symmetry and balance while evoking an air of elegance and grandiosity in any interior space.
While the upfront costs are expensive, the design of a herringbone floor will endure throughout the years.
Is Herringbone Floor Out of Style?
Herringbone wood flooring has been around for centuries, and its popularity shows no signs of slowing, making it a brilliant choice for residential, commercial and hospitality floor covering.
The earliest examples in a flooring context can be traced back to upscaled settings such as classical churches, stately homes and grand museums and galleries.
The authentic, timeless appeal of herringbone flooring plays a magnificent role in adding a feeling of luxury and refinement to today's modern design without overwhelming or taking away from other elements around it.
Why Choose Herringbone Flooring?
Laying wood parquet flooring demands a bit of work and craftsmanship, each piece lending itself distinctively to a space.
Care and precision are of utmost importance when planning your herringbone floor to achieve a refined finish.
Thanks to the modern "click" system that doesn't require any glue or adhesive, the installation has become relatively straightforward and more convenient.
If you genuinely want to set your interior space apart, below are just a few reasons to opt for this timeless wood flooring style.
1. The enduring beauty of herringbone
The sophisticated appeal and textural interest of herringbone wood flooring blend seamlessly with both classic and modern spaces.
Many often see its strong connotation of historical design as the height of understated luxury, as it was initially installed in notable buildings.
Herringbone parquet flooring is a fantastic opportunity to introduce a distinct style statement that isn't easily achievable with other types of floor covering.
Because it complements interior themes steeped in history and sits nicely alongside current influences, its inherently timeless nature is a flooring choice that will stand the test of time even as trends change.
Does herringbone flooring make a room look smaller?
Not at all… herringbone flooring is what smaller or narrower spaces need.
Because the eye is drawn to the zig-zag movement's uniformity, this flooring style is a fantastic space enhancer as it makes smaller, darker rooms seem lighter, brighter and, more importantly, more prominent.
Similarly, the captivating beauty of this floor pattern also unfolds in large rooms.
For instance, they look equally fabulous in a large foyer that leads into a great room—allowing you to take in their striking allure as soon as you step in.
The appeal of herringbone flooring is that it doesn't have to cover the entire floor.
If it appears overly busy, you can place it in the centre of a big room or accentuate the authenticity of a small area like an entryway.
2. A host of wood colours and finishes
Herringbone wood flooring can be installed in several different colours and finishes, bringing out its intricate pattern's beauty.
The finish of your flooring can also be made more or less apparent depending on how it is installed.
Lighter-toned wood with minimal graining can be used to create a more natural appearance.
Choose a mid-toned wood with a lot of character that will show through once the floor has been laid if you desire a bolder, more statement-making appearance.
3. Long-lasting, durable and easy to care
Having your wood boards in a herringbone pattern is exceptionally long-lasting.
A high-quality herringbone wood floor that has been appropriately installed feels more stable and, with proper care, can last for decades.
Moreover, having robust floors that are forever in style assures high resale value.
Herringbone parquet flooring maintenance doesn't have to be expensive and is something you can manage on your own to ensure the floors last as long as possible.
Use circular motions to buff high-quality wood oil into the grain.
For high-traffic areas, this can be done once every six months.
4. Great flexibility in design options
Herringbone parquet flooring offers many design options, each providing a distinctive look that quickly finds its place in various interior aesthetics.
While familiar with traditional solid wood planks, modern advances have enabled this particular flooring type's timeless beauty, elegance, and warmth with the added benefits of engineered wood boards.
Solid wood floors in a herringbone pattern can be sanded and refined numerous times, while engineered boards offer a more robust structure with an increased ability to withstand temperature changes.
Conclusion
Renowned for strength and durability, herringbone wood flooring offers enduring beauty and a robust design statement that makes it ideal for almost any room.
The flooring's distinguished pattern is a terrific space enhancer and can be customised to complement every type of taste and personality.
Used in 16th-century buildings to add interesting symmetrical patterns, this timeless finish has fallen back in favour today.
It is one of the most recognised parquet floorings that lends itself effortlessly to modern residential and commercial spaces across the UK and many other parts of the world.