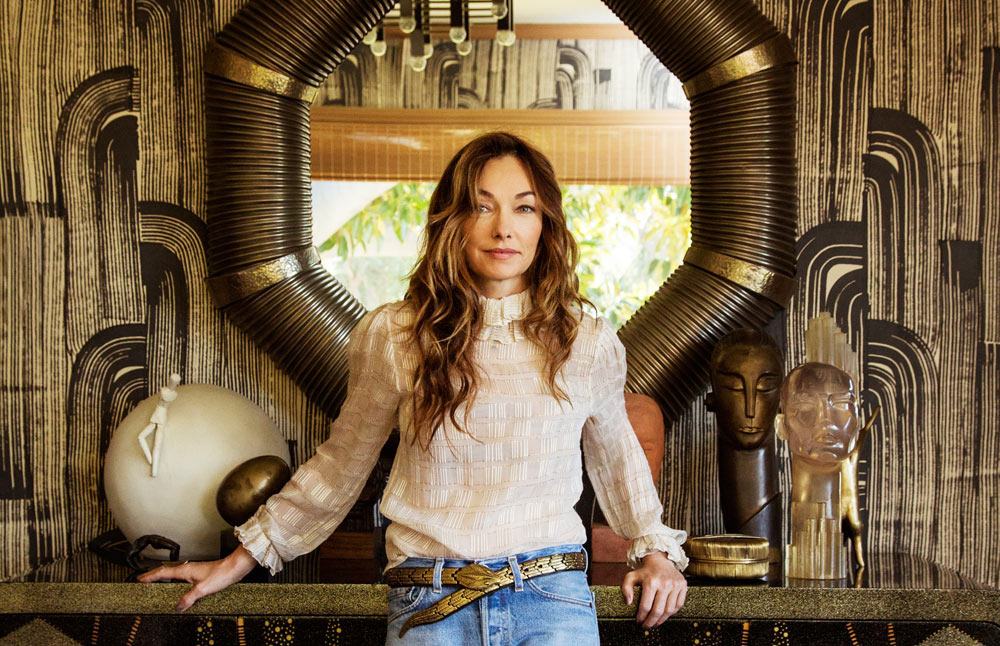 Known for signature sumptuous interiors and distinctive lifestyle products, Kelly Wearstler's vibrant work may be found in grand residences and destination-in-their-own-right luxury hotels, from Beverly Hills to the Caribbean.
Inspired by travel, nature, architecture, fashion, literature and art; design is largely intuitive for Wearstler — and her multi-faceted style is governed by a bold and truly rich sense of materiality, intense colour and form, as well as a strong narrative approach.
This is evident in her most notable projects: BG Restaurant at Bergdorf Goodman, the San Francisco Proper Hotel, the Four Seasons Anguilla, and an array of private residences around the world — as well as luxury collections of bespoke furniture and fabrics, lighting, wall coverings, decorative home accessories and objets d'art sold in her West Hollywood store.
Sensitively fusing the natural with the refined, blending sophistication and spirited spontaneity, drama and warmth, and incorporating diverse periods of design elements, she has revolutionised the look, feel and meaning of contemporary American design, repeatedly earning her a spot on Architectural Digest's prestigious AD100 list, Elle Décor's A-List of the world's best interior designers, Wallpaper's Top 20 Designers and TIME Style & Design's Design 100 group of global creatives.
Based in Los Angeles, California, Kelly Wearstler is a creator of unique experiences and compelling stories.
Her philosophy being "love colour, take risks, stay curious", she's attracted to designs that are visually striking and boldly distinctive.
Maintaining balance is crucial for Wearstler's design empire, and to each project, she brings a touch of the unexpected and unconventional.
"My job is to be a good listener and run the clients' vision through my filter. I start by asking them what story they want to tell, how they want to feel. It's about evoking a mood, telling a story.
Also, scale is imperative. There has to be a hierarchy within a space. Too many starlets in one room create needless drama," Wearstler says.
"To achieve balance, there must be a thoughtful mixology of texture, history, pattern and colour.
Quieter details are necessary to ground bigger voices and allow statement pieces to shine."
She views mother nature as the best designer, often injecting elements such as stone, luxe wood and patina metal to conjure up a one-of-a-kind interior. This has made her the go-to design diva for the Proper Hospitality brand.
The newly designed Santa Monica Proper Hotel successfully optimises the use of earthy tones, natural material and organic textures inspired by the local coastline.
Encompassing 271 stylish luxury rooms, a signature restaurant, a sweeping rooftop pool deck with a bar, cabanas and a spa terrace, the newly-built contemporary panache of sleek minimalism, characterised by undulating glass and concrete facades takes residence in a historic six-storey Spanish Colonial Revival building designed by Arthur E. Harvey in 1928.
The layer upon layer of soft palette of sandy hues, light hardwood flooring, organic textiles and indoor palm trees conjure the sensation of a restful day at the beach, enhanced by floor-to-ceiling windows, balconies and garden terraces.
An eclectically curated selection of dashing Art Deco and mid-century furniture, as well as contemporary and vintage artwork by Los Angeles artisans complements the luxurious and striking architectural features, including tile-clad structural columns, abstract, irregular parquetry, and transitional full-height archways of timber.
Conclusion
As one of the presiding grande dames of West Coast interior design, Kelly Wearstler is celebrated for luxurious interiors that capture the swankiness of old-world Hollywood with a modern pop sensibility. Her ornate designs of residences and luxury hotels showcase her intimate love for bold spaces, unique shapes, abundance of pattern play and rich colours juxtaposed with lustrous surfaces.
This has also translated to her eponymous collection of furniture, lighting, decorative accessories and more. The glam design queen continues to push boundaries with her signature glamour-meets-eclectic aesthetic — certainly a true creator of experiences and a multi-hyphenated force to be reckoned with.