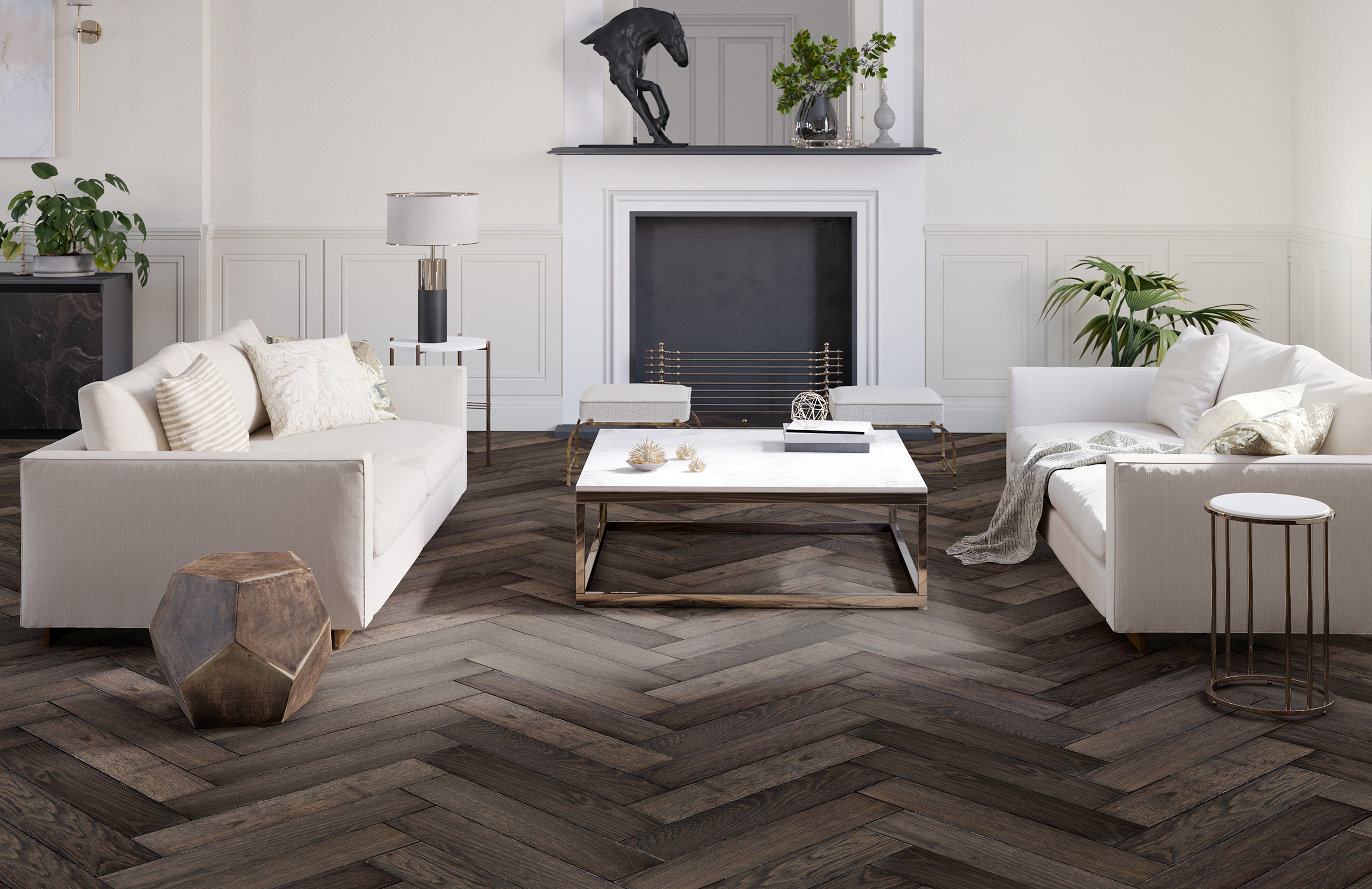 Annually we see exceptional progression in the world of design with new, inspiring and interesting trends; from products to materials, colours and everything in between.
In 2019 there is a focus on living room décor trends.
If you're on a quest for new décor cues to stylishly rejuvenate your abode, read on to discover more about these new living room trends and tips —  from the very best sustainable design practices to savvy colour palettes and intriguing fabric choices.
Sustainable and organic material
With all eyes on sustainability and eco-minded design, it's probably not a surprise that this makes it to the top of our list.
Living room interior decor continues to make the most of organic as well eco-friendly materials, which is really fitting for the times — they complement a variety of interior aesthetics while offering your home some much-needed personality and appeal, without being overwhelming: from country to scandi, coastal to boho and every style in between.
The aesthetic airiness of handmade upholstered furnishings, decorative pillows and tapestries reference both the natural along with the inherently textural throughout the home this year.
For example, wicker accented chairs contrast brilliantly with a natural leather sofa and organic textile soft furnishings.
More importantly, natural material: hemp, wicker, sisal, jute, wool and rattan stimulate a relaxed and calm feel birthed out of the primaeval desire to be connected to the earth and its origins.
Biophilic design as a necessity
Wellness and nature work closely together in producing built environments that have a positive influence on human health.
If you've had your eyes set on architectural and design trends, you may have recognized just how biophilic design has gained momentum over the last couple of years.
Throughout this year, the push for wellness in interior environments remains a great priority.
Biophilia focuses on enhancing and boosting the quality of life by altering and perhaps transforming the indoor environment and implementing liable design into our interior settings.
Incorporating more greenery and natural material such as reclaimed timber, and having adequate access to natural lighting and improved air quality are a few of the essential contributors to enhancing human well-being.
Eclectic and colourful seating
Go bold or go home!
If there's one interior trend this season that's captivating and creates a happy lounge room, it's the colourful and vibrant seating trend.
Nowadays, accent chairs can be found in a selection of eclectic and vivid tones that we have not seen in a while.
Particularly, head-turning jewel tones like sapphire blue, amethyst purple, ruby red, yellow topaz and emerald green.
If you're up for embracing the vibrant seating trend, there is one essential thing to bear in mind.
Whichever piece of furniture you opt to make colourful, it needs to be the statement piece of the room.
Vivid hues tend to be powerful and terrifying at the same time,  so make sure to create a balance between bold shades by utilising plenty of neutral tones in the other areas of your design. Muted hues will certainly provide the eye with a place to relax and help your overall design from feeling overwhelming.
Exciting floral prints
From fascinating wallpapers to intriguing soft furnishings and beyond, floral prints are here to help you create the artistic interior you've been dreaming of.
Florals are currently in complete bloom everywhere and these aren't your regular granny prints; they're exciting, bolder and a lot more abstract, and yet enchanting, romantic and lush at the same.
Large prints of peonies, azaleas and lilacs in overstated proportions and in revitalising colour palettes of violet, cherry red, coral, mustard and forest green make an absolute distinctive style statement that's hard to overlook.
Try playful and appealing removable wallpaper ideas to make a huge impact in a tiny space.
Rich, velvet fabrication
Sumptuous, luxurious, lavish and opulent are just some of the words to describe this rich fabric —  velvet has been growing in appeal, leading lots of design experts to believe it will be this year's most desired textile.
Consider the sudden impression a gorgeous velvet sofa would have on your guests, or perhaps just how velvet throw cushions would contrast stylishly with various other textural materials like cotton, wool and silk.
These are a few of the most covetable ways to introduce this tactile and luscious fabric into the scheme of things.
From royal purples and soft pinks to breezy blues and organic greens, velvet is the go-to upholstery fabric this year.
Large-scale wall art
Throughout the year, we will see an emphasis on decorating the home with art — particularly, we're seeing a focus on large-scale art pieces.
Much like the lively and vivid colour trends that are showcased this year, current art styling is big, daring and in-your-face.
Nowadays, it's not unusual to see prints that use up the better portion of a wall surface as the centrepiece of the room — think sprawling canvases the length of a couch.
This serves as a simple focal point that helps establish the mood, look and feel of the living room with very little effort.
The art of maximalism
We don't normally hear "more is more" yet that's pretty much how to interpret maximalism.
Go nuts with your décor styling and colour, pattern and texture choices — and remember to pile on the cushions.
Whether you opt for a bold colour scheme or keep things looking neutral, this trend is best carried out with items you love and filling every inch of your living room.
Mixed shiny metallics
As it's often the room that showcases the best of day-to-day allure and glamour, it only makes good sense to see high-shine metallics and finishes greatly featured in the best living room interior design trends.
It's usually believed that once you've selected your favoured accent metal, you have to stick to it. However, considering that it's all things bold and daring this year, metallics no longer need to have the exact same finish.
Shiny metallics have the amazing ability to instantly evoke a sense of opulence to any room décor via wallpapers, furniture, soft furnishings, mirrors, and accessories.
Organising elegant items and other decor accents in two or three different shades; think silver, pewter and bronze, is a modern way to add visual interest and extra dimension to your living room space.
Conclusion
While home interior trends aren't as capricious as fashion, they do surface and urge us to be bigger risk-takers; revealing to us what's possible, what looks exciting and how we could ideally personalise our space.
This year's trends are big on vibrant colours, luscious fabrics, bold patterns and natural textures — all the elements that define surfaces, impact scale, convey style and add visual interest.
Which of these trends are peaking your creative urges to renovate your living space?