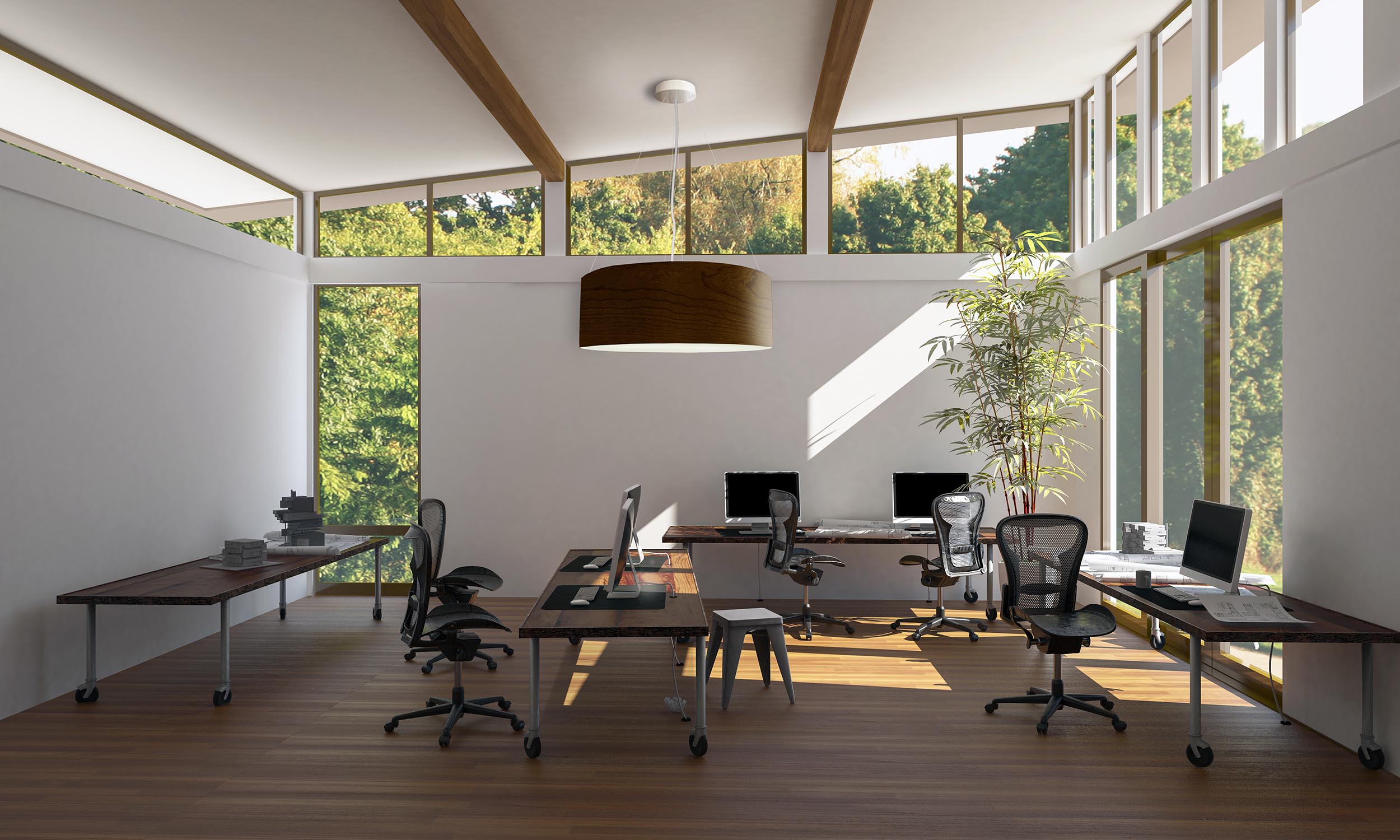 Green ideas influence modern architecture and interior design, and the awareness that the earth is a precious resource has made sustainable design more prevalent in recent years.
With a growing population and rumblings of climate change, many designers are taking greater care in adapting their ideas to work with the buildings natural surroundings.
A deeper understanding of sustainable design has created a new attitude towards using environmentally-friendly materials, techniques, and forms — and interior spaces are being made both sustainable and functional in order for people to live happier productive lives.
Studies have shown that employees working for organisations, who practice sustainability, tend to be happier and more productive in the work environment.
Similarly, the awareness and demand for sustainable design have created more restorative, positive retail experiences, positive social interactions in educational environments and a profound impact in healthcare design.
We've observed a few sustainable design trends that are redefining the way we build — and these indicate that 2018 has been a different sort of year for green buildings and a shift to meet the environments' needs.
Biophilic Design: Focus on health and wellness
With 90 percent of our time spent indoors, there has been a shift from thinking purely about the environmental impact of the building industry to a desire to understand how the built environment affects occupants' health and well-being.
A popular trend in recent years has been bringing nature and aspects of biophilic design into our buildings.
While sustainable design aims to create more eco-friendly buildings, biophilic design connects nature to the design of spaces — aimed at reducing stress, improving focus, boosting creativity and the general feeling of happiness, relaxation and well-being.
The world of work has also shifted greatly.
Traditional processes and environments are being reimagined with a renewed focus on end-user wellness and productivity.
Organisations looking to remain competitive and attract top talent have to keep up with the pace of change.
After all, businesses aren't just competing for new customers; they're also competing for the best employees. Research has shown the positive effects that green plants, exposure to natural light, and views of nature have on employees.
According to a study by Human Spaces, offices with natural elements can increase productivity by 8% and well-being by 13%.
In 2018, the trend has moved beyond the simple additions such as plants and live walls; rather, biophilic design transcends simple office layouts and styles, and has made a direct impact on contemporary architecture and commercial building practices.
More designers use natural elements as a framework to develop the spaces around them.
Additionally, biophilia sparks interest and appreciation towards nature and motivates people to protect and preserve it.
Google, for instance, does an excellent job of using biophilic design to improve the building's sustainability, and has been repeatedly crowned as one of the best places to work.
Noticeably, many of their offices incorporate plants, reclaimed wood, water installations, views of nature, and even more exotic biophilic elements like rock walls.
Their offices are designed to maximise employee health and satisfaction and as a result, these workspaces are conducive to creativity, productivity and relaxation.
Most importantly, it reflects Google's brand: purposefully up-to-date and always responsive.
Flexibility in space design and planning reduces the need for new buildings
There has been a greater demand for flexible spaces; hence we notice the rise of multi-use buildings that can serve a wide range of uses: offices can be event spaces; retail spaces can become community centers or simply pop up and pop down based on demand.
This design approach means that flexible spaces become sustainable and can change and adapt to new occupant needs — same resources, different uses.
The main principle of this approach is to plan the layout of the building that houses different content and amenities in one place, in the way that it can be used for different purposes, or adapted to different circumstances in order to reduce the need for new construction: the condo/hotel, the office/apartment and public/private open spaces and so on.
Amazon, for example, is including social services within their building to address the issue of local homeless population; hotels are incorporating workspaces for long-term corporate travellers and Microsoft is creating cities within a building to serve their tech employees.
As Building Design & Construction reports, multipurpose spaces and load sharing opportunities to fully leverage the power of mixed-use development has been a major concern for architects and interior designers this year and beyond.
Green certifications have gone mainstream
LEED is the most mature and undoubtedly the industry standard third-party certification in the world; however, in recent years we've seen more variety for certifying the sustainability, environmental friendliness and wellness of a building than ever.
The Living Building Challenge and WELL Building Standards have a biophilic focus and encourages built environments that are self-sufficient and beneficial to natural systems — while FSC Project Certification requires timber used to be FSC certified.