Calculate your floor
Enter the maximum width and length of the room. You can then add features to accurately represent the space.
For every 10m2 you buy, we will plant 1 tree
Your total is
25
m
2
plus % wastage
What is this?
Room features are areas of your room that bisect the regular shape, anything from a fireplace to an alcove. Take a look at the graphic below to get an idea of how it works.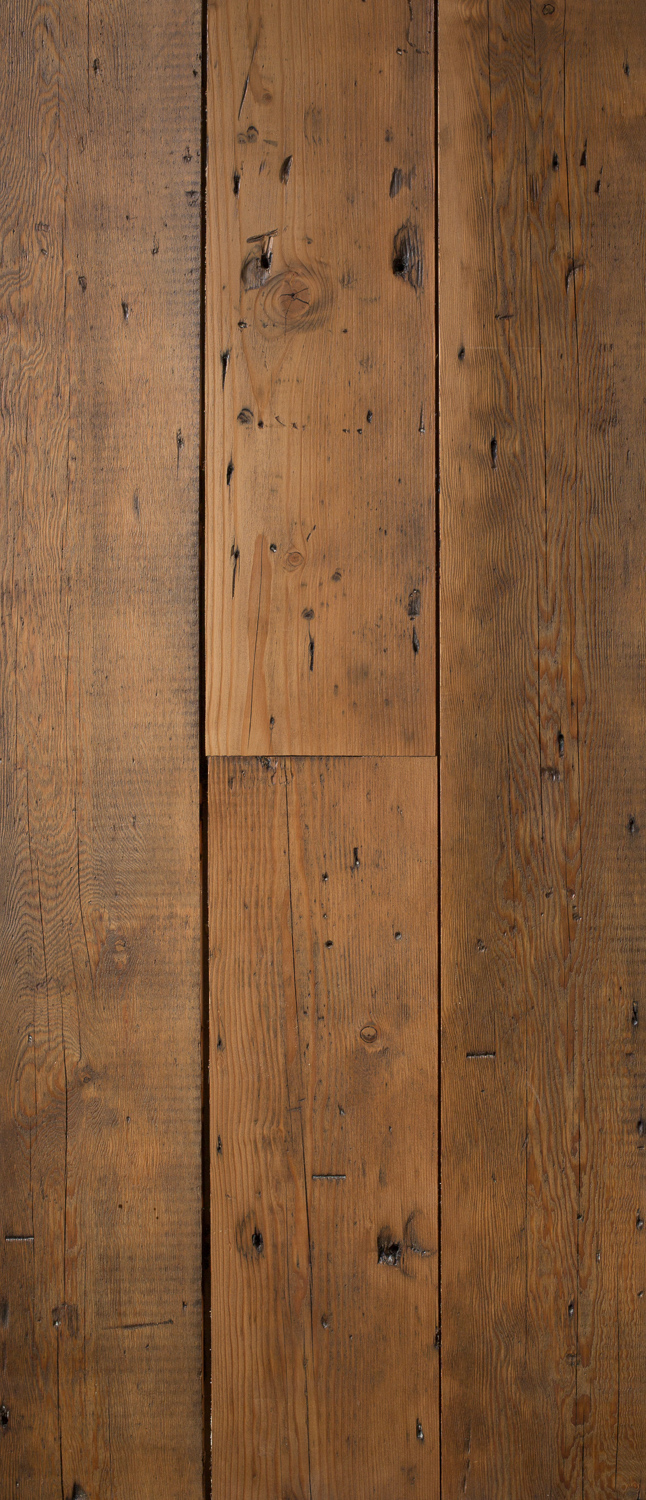 About: Reclaimed British Victorian Structural Pine Boards
Most of these pine floorboards in the UK are reclaimed from the North West of England. Historically this is because of the old cotton mills in the area and its industrial heritage. Old houses and old mills continue to be demolished or redeveloped but at an alarmingly sluggish rate. We work alongside the biggest UK contractors in the area and we're confident that most of these boards within UK circulation today have come from Greater Manchester or the North West.
Stock varies, as does the size and specific hue of the pine. Rest assured, most pine floors in homes built between 1860-1910 will match closely with our reclaimed pine boards, circa 1880. It is the rich colour variation that adds character and authenticity, attempting to match the colour exactly almost defeats the purpose of fitting a reclaimed pine floor.
We advise you to order a minimum of 10% extra for cuts and waste and up to 15% extra if you are fitting onto joists. Our reclaimed Victorian structural pine boards are available sanded and/or finished (hard-wax oiled)
Similar products:
There are no samples available for this product
Do you have a Minimum Order Quantity?
30m2 for all our collections/products
Lead time for Orders
It depends on the product and stock. Please get in touch with us for specific lead times.
Lead time for Samples
Our Samples have a lead time of 5-10 working days for UK destinations. Please get in touch with us for International lead times
Do you export internationally?
We are an international company, we have sales representatives in the USA, UK and Scandinavia. For all other global markets, we are able to provide quotes F.O.B.
Should I be concerned about the colour variation within a product?
If you are concerned about colour variation you can order a sample panel for a refundable deposit. Please remember that we are not creating exact copies of floor panels or hand samples, we are creating individual floors with their own unique personality and charm.
Sizes & Finishes
Surface Texture
Reclaimed
Technical Specification
Species
Scots Pine (Pinus Sylvestris)
Grade
Reclaimed, Mixed treatments available
Application
Commercial, Residential
Installation Technique
Glue
Sizes & Finishes
Surface Texture
Reclaimed
Technical Specification
Species
Scots Pine (Pinus Sylvestris)
Grade
Reclaimed, Mixed treatments available
Application
Commercial, Residential
Installation Technique
Glue
Sizes may change. Custom-made alternatives are also available