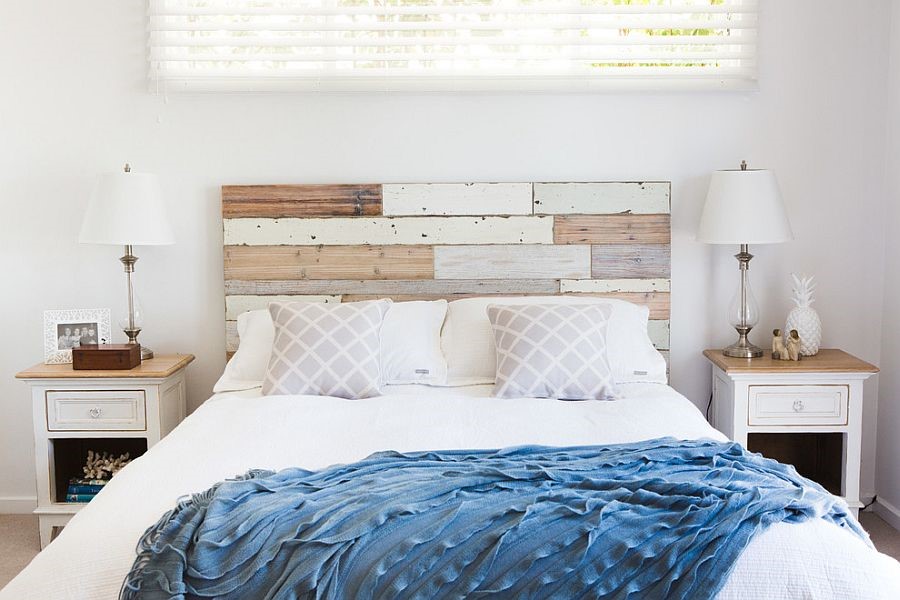 The rustic interior design trend has proven to be a timeless one. With a dedication to distressed finishes and a bespoke, artisanal feel, it's an aesthetic concerned less with sleek perfection and far more with natural beauty.
[plugmatter_promo box = '1']
Rustic interiors evoke a connection to a simpler past as well taking us beyond our walls towards nature's sweeping wilderness. There is perhaps no better place to lend a touch of this natural charm than the serene haven of the bedroom. A reclaimed wood, rustic headboard can instantly transform the bedroom into a warm, cosy and inviting retreat.
Reclaimed wood feels honest and organic, its design celebrating the art of repurposing and respecting the natural qualities of nature's riches. No matter where in the world your home's roots are, be it urban condo or suburban abode, adding a touch of rustic charm can sweep you away to quaint, lakeside cabins and lush, Alpine mountain cottages. There are a range of design trends that allow the rustic style to be beautifully incorporated into any setting, from the crisp and the modern to the warm and traditional.
Rich, dark wood in delicious earthy tones can turn any bed into the focal point of the room, particularly when placed against a soft and neutral backdrop. This traditional American Barn Wood Oak, reclaimed from old, Southern barns and mills, perfectly captures the rustic essence with a folk-inspired twist, combining home comfort with traditional craftsmanship. For a more refined antique finish, these 19th century French oak panels add a sumptuous touch. Traditionally waxed, yet retaining their original characteristics, this understated elegance is the epitome of rustic, urban style.
Using a lighter wood will instantly transform the look, adding a much simpler, more delicate quality to the bedroom. This makes for a calm, pure and airy headboard style, drawing attention to the wider room and its furnishings. Reclaimed wood in soft mocha browns, white and grey tones are perfect for creating this gentle rustic charm. Our Victorian Pine wood, complete with pale caramel and coffee colour shadings, is perfect for creating a traditional, nature-inspired headboard, while this White Victorian Pine  offers a cool and dreamy tranquillity. You can even go one step further and embrace a lush, Scandinavian feel with light, beam oak panels such as this Nordic wash.
Both styles of reclaimed wood headboards can be extended the entire length of the wall, running from floor to ceiling to create a dramatic statement piece of interior design. This can even be brought out across the ceiling to complete the look with a quirky, faux-canopy finish.
Multi-coloured painted oak panels, complete with a gorgeous weathered and worn texture, add a romantic finish to any reclaimed wood headboard. Blue, white and dovetail colours exude a relaxed seaside breeze, while pretty pastel hues add a Parisian touch of vintage shabby chic. Reclaimed woods that are weathered, flecked and distressed in rich browns, reds and blacks can be used to create a much bolder and more daring, urban look. This growing, "modern rustic" trend works best with metal-worked furniture and stone or slate embellishments.
Arranging wood planks vertically at different heights creates a much more playful and contemporary, rustic style. Length can be added at will to create a fun, jangly and truly alternative reclaimed headboard that is guaranteed to be unique.