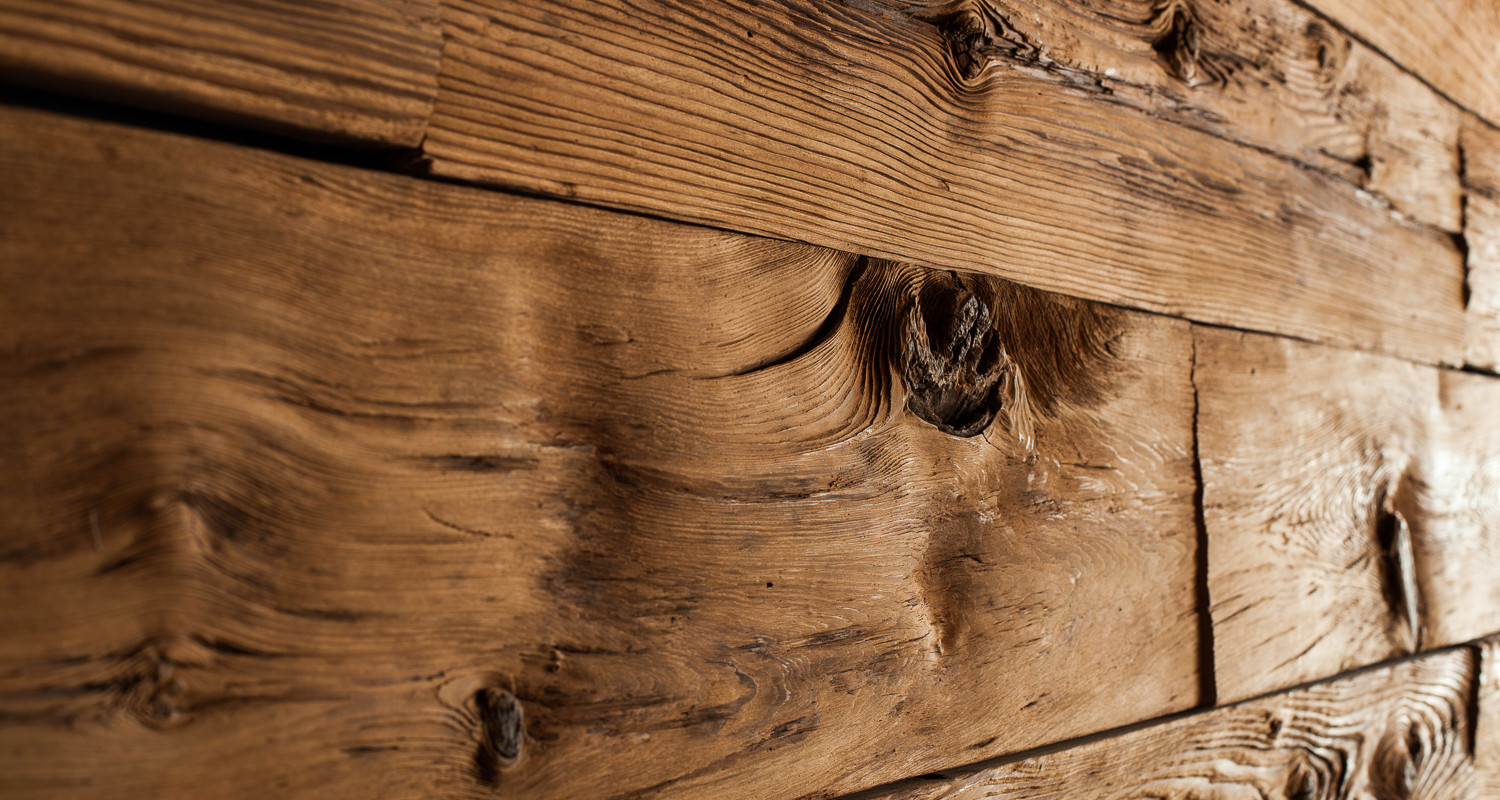 What Is Reclaimed Wood?
14th June 2017
Reclaimed Wood or Lumber has a past and has been used for buildings and structures from the 18th to the early 20th century. The wood is recycled and reused to meet today's ever-growing need for sustainable and eco-friendly homes and businesses.
Reclaimed wood shouldn´t be confused with salvaged wood, which has been cut and stored for several years, but not used for any form of construction.
The reclaimed wood story
Today's century-old reclaimed wood emerges from a time when wood was in abundance, both in North America and Europe, and was used as a principal building material.
As the industrial revolution took hold sawmills were often the core of many towns, providing employment and a plentiful supply of wood.
[plugmatter_promo box = '9']
The majority of the recycled flooring and wall panelling you see in homes, offices, bars, and restaurants, comes from the factories, warehouses, mills and railways of the USA and France, and from the industrial north of England.
In recent years we've come to learn to protect our world and there is less wood available for construction, so we've looked to the ecological equivalent to newly harvested wood – reclaimed wood.
Reclaimed wood is a stylish and popular choice to decorate and enhance commercial premises and modern homes.
Wood over 100 years old is particularly suitable for high-traffic areas, due its tight grain, which makes it resistant and hard-wearing.
Which woods are reclaimed? 
Any species of wood can be reclaimed, but some of the most common are Douglas fir, redwood, and oak.
A rare reclaimed wood species is longleaf (heart) pine, which can take up to 500 years to mature, as opposed to the more common yellow pine which only takes 50 years.
In the past longleaf pine produced enormous trees, meaning long and sturdy planks, which were the mainstay of the USA's wood industry hundreds of years ago.
However, today only 2% of its original planted area in the US is covered by this species, compared to 41% in the 1800s. This loss is immense and shows why using reclaimed wood is so important.

Oak is a popular choice for reclaimed wood and in particular flooring due to its versatility in terms of finish and colouring. Much of our reclaimed oak flooring range comes from oak trees used for old buildings throughout Europe.
Why use reclaimed wood? 
Besides the beautifully rustic character reclaimed wood lends to any building, modern or traditional, commercial or private, its ecological benefit is clear.
The environmental impact of mass forestation throughout the world has heightened our awareness of how using reclaimed wood can help protect our future.
Coupled with this social responsibility is the desire for the authenticity of reclaimed wood that tells a story and has a history. Your kitchen floor could have once been the walls of a French railway station or your office wall cladding the beams from a barn or warehouse.
Does the source and age of reclaimed wood matter?
There are various grades of reclaimed wood, all from different time periods and backgrounds. It's important to consider the following when choosing reclaimed wood (which is what we do on your behalf):
Wood – infestation, chemical contamination, and durability are all factors to take into account.
Quantity – when ordering reclaimed wood it's essential to check the quantity of timber available for the delivery date. Because the wood is reclaimed there may not be sufficient in the batch ordered for a project. A different batch will contain different wood.
Age – reclaimed wood can range in age, from 1 to over 400 years old. The specification is important – where it comes from and how old it is.
Using reclaimed wood
A reclaimed wooden floor or wall cladding makes a statement. As well as demonstrating immaculate taste and a love for the character and finish of reclaimed wood, it shows your commitment to environmental matters.
Reclaimed wood is used for both residential and commercial projects alike. It can be used for both interiors and exteriors, as flooring, furniture or cladding.