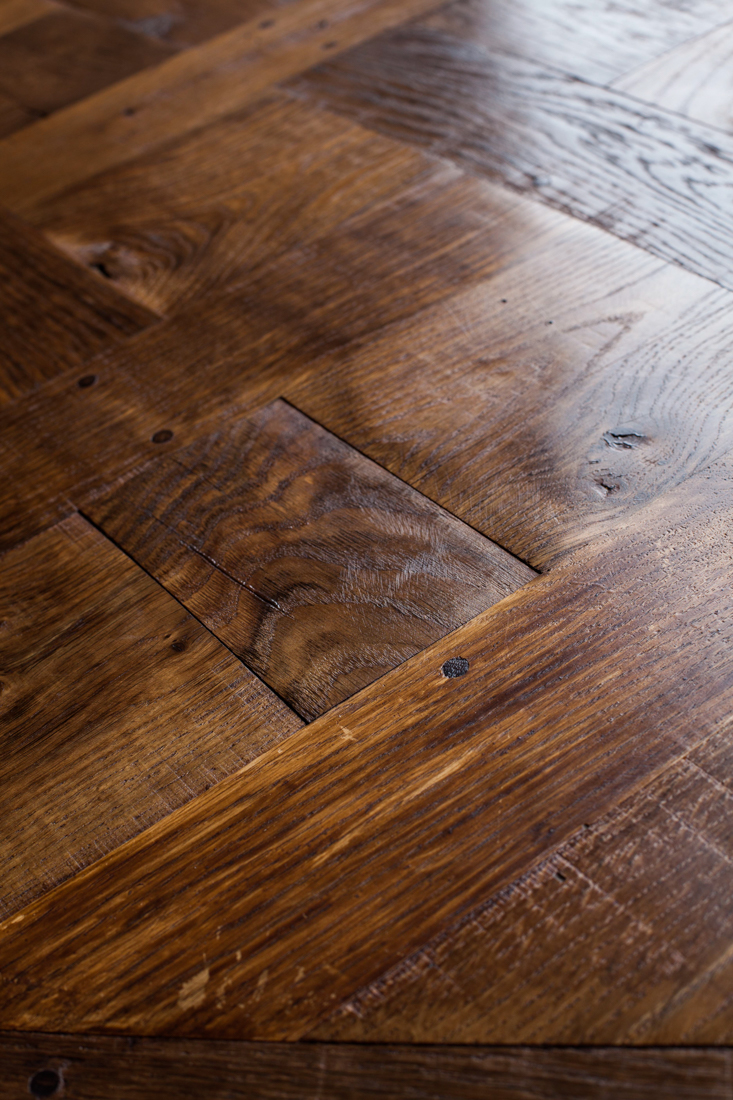 Drifting in and out of vogue throughout the years, parquet floors have proved that they are well deserving of covering our interior floors.
They are undeniably stunning products of excellent and careful craftsmanship and a true symbol of luxury and opulence.
It is not only thanks to their beauty but their timeless charm, where we are met with warmth, style and appreciation.
Where it all began: Parquet de Versailles
The history of parquet floors dates back to 16th century France, where artisans created elaborate designs by fitting blocks of small wood in geometric patterns with the shapes of the individual blocks being varied in colour and size.
Parquet is derived from the French term "parquetry," meaning "small compartment."
These wood floors were used to replace the country estate marble or stone floors that were expensive to install and maintain and caused long-term damage to the timber framework.
At this time triangular parquet floors were glued to concrete and hand scraped before the finish, but later on, long planks with a tongue and groove system were devised, which allowed for more intricate woodworking to take place, making parquet flooring a more extravagant and sophisticated flooring design.
During the 1600s parquet flooring became the epitome of elegance in manor houses and palaces, as well as public buildings, schools and factories throughout France.
It was only in the 1680s when Louis XIV, the King of France, installed exceptional parquet designs: the "parquet de Versailles" pattern at Versailles Palace's room's that this prestigious floor type fashionably became a universal trend in Europe.
For the kings home, which took two decades to expand and renovate, was nothing short of prestige and luxury.
He initially had marble floors installed in all new areas, but in the 1670s, the marble floors in the King's Grand Apartment were leaking and rotting the joists.
Louis XIV decided to replace most of the marble with the parquet de Versailles; a decision that must have had plenty to do with its aesthetics, durability and geometrical sobriety.
Once construction was completed in 1693, architect Nicodemis Tessin writes, "In Trianon, parquetry is quite like paneling. There's one single room in Versailles which parquet is not by squares, the entire rest is diamond-shaped in the new style".
Louis XIV's craftsmen created a special pattern for the Versailles floors, distinguishable by large squares of parquetry, laid on the bias, with interlaced diagonal squares within.
The pattern is still known as Parquet de Versailles and most times it's in plain oak.
Other motifs were born then when aristocrats all over France were having new parquetry patterns laid in their chateaux. These include examples like the parquets of Chantilly and of Aremberg, as well as the herringbone, marquetry parquets or mosaic parquets.
Parquet floors remained trendy and were a better option to marble for several centuries, until the 1930s, when they fell out of vogue and went into sharp decline, and many contemporary European homeowners enjoyed the comfort of carpeting underfoot.
Many parquet floors were hidden beneath carpets, until the 1980's when these architectural timber masterpieces were uncovered and restored to their original beauty and rose in prominence again as vintage and timeless floors.
The rise of French parquet in England
Parquetry arrived in England in the 17th century when Queen Mary wanted her official residence; Somerset House (then Denmark House), redesigned in the late 1620s.
The reconstruction and redecoration was overseen by Indigo Jones, who brought a touch of the French style parquet floors within the architectural design.
In the 18th century the French parquet evolved and most notably, herringbone and chevron wood flooring designs were included within buildings where wealthy property owners used lavish designs to display their wealth.
Parquet wood flooring now
Two of the most sought after styles for parquet flooring are the herringbone and chevron patterns.
Unlike the highly polished and intricate square parquet known to be used in previous decades, these two styles are often made from unfinished wood boards.
Herringbone and chevron wood flooring remain a firm favourite with homeowners and have increasingly become uber-trendy in many traditional and contemporary interior settings in recent years.