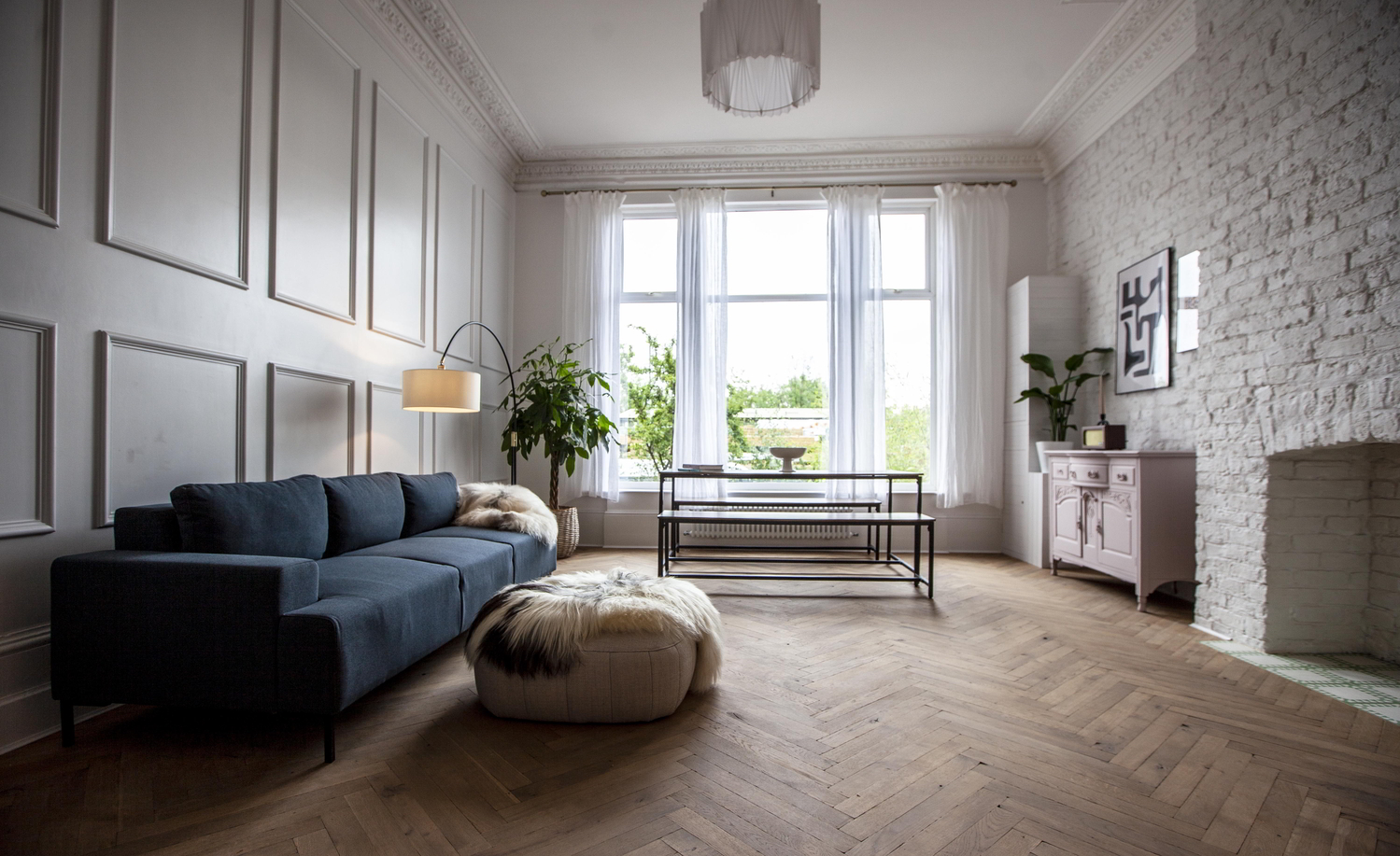 Transitional style has gotten a lot of attention in recent years, and rightfully so.
It's a highly adaptable aesthetic that, when executed well, can provide the ideal combination of old and modern.
What is a transitional design style?
The transitional design style merges traditional and modern ideas.
If you've ever felt like traditional is a little too stiff or modern is too frigid, transitional could be the perfect style for you.
For a truly distinctive look, transitional aesthetic also infuses the following design traits:
The colour scheme is placid and neutral, with minimal use of accent colours or vibrant patterns.
Incorporating area rugs, scatter cushions, or throws enhances the spaces' comfort level.
Furniture can be used as a focal point to promote comfort or as an accent to elevate the look and feel of the space.
Solitary use of seamless flooring throughout the interior space.
The use of accessories is kept to a minimum.
Even though the two styles are merged, the overall aesthetic is polished and put together.
Using timeless wooden boards to create transitional but unfussy aesthetics is a designers' approach to well-loved interiors.
For example, wood flooring manufacturers combine its beauty, charm, and natural texture with clean lines and the modern simplicity of wide planks.
The timeless beauty of wood creates a design-forward yet the trend-proof foundation for any space, hence no two floors are alike.
The place of wood flooring in transitional design spaces
Wood has been used for centuries to build both small and large structures, everyday objects, and, most notably, flooring. When craftsmen learned how to process timber, it quickly became the primary material used to furnish all types of interiors.
Despite the growing number of synthetic materials available on the market, we continue to use wood to finish our floor surfaces.
Wood flooring has a character, grain, and beauty that is unmatched and, for this reason, has remained the primary material used by both designers and homeowners? So how does wood flooring fit into transitional settings?
Wood, because of its universal and versatile nature, can be easily combined with other materials and textures. This is evident in transitional design trends and the approach was taken by designers, who are increasingly eager to combine wood with other materials and furnishes to create a more fluid design. As a result, they create stunning and one-of-a-kind interiors that are continuously intriguing.
Reclaimed wood flooring in transitional design
Due to its history, patina, and marks of its previous use, reclaimed wood flooring, which is natural timber acquired from old barns, factories, and warehouses—refined and given a new life—highlights an irresistible old-world charm. It matches up beautifully with different decor ideas, textures, and materials in one space.
Transitional designs like rustic modern design, harness the character and history of older floors to elevate the entire interior design at once.
The warmth of distressed timber boards, for instance, lend a traditional touch to the space, while its wide width and long length, along with classic upholstered furniture, simple but sophisticated decorative objects, and sleekest light fixture, adds to the looks' contemporary vibe.
Modern wood flooring in transitional design
Likewise, modern wood flooring such as engineered floorboards can add richness and depth to a space but with a more fascinating and approachable feel.
Modern wood flooring, for example, brings in more strong, clean lines that are almost certain to give the space a fresh, updated feel, but match them with classic marble countertops and cabinetry and you'll be well on your way to a transitional kitchen space.
When designing a transitional interior, it's imperative that you consider how the space will be used.
Will your wood flooring be more traditional or more modern in style?
Understanding this will help you in deciding on the best wood flooring colours and textures to use.
Conclusion
Traditional elements and modern ideas, such as the combination of symmetry, clean lines, open layouts, and gracious circulation, are essential in the most successful transitional designs.
Materiality is equally important, and in the case of wood flooring, each board is unique and better suited to blend in with other materials and textures in the room.
Natural materials like wide oak hardwood flooring help to anchor the space and add organic character to transitional design.
Because of its graceful and sophisticated nature, wood is often a focal point in the home—and it's worth investing in the highest quality because it is a timeless material that never goes out of style no matter the changing design trends.