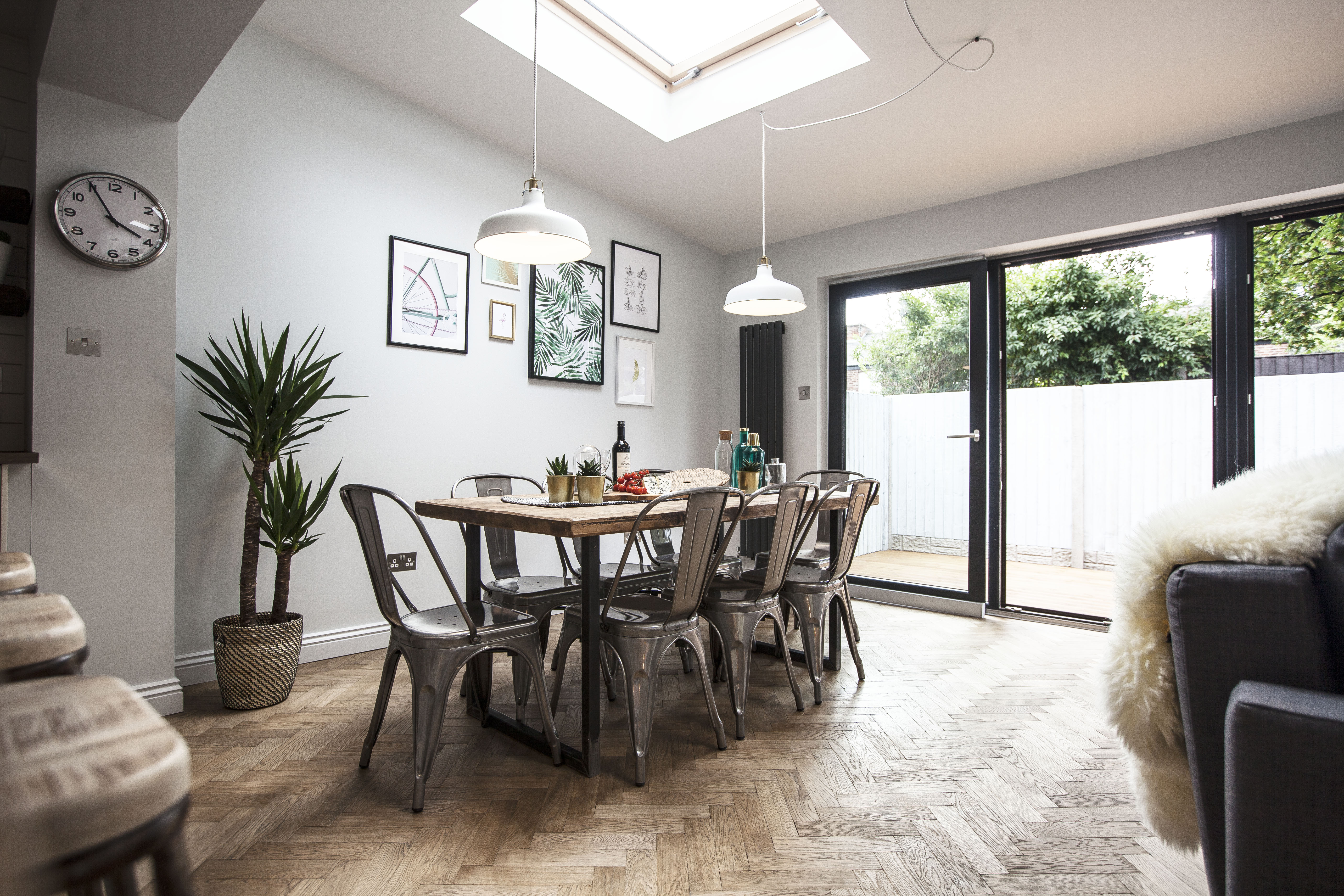 When it comes to timeless flooring crafted from unique shapes and sizes, parquet reigns supreme. The decorative artistry of small pieces of wood fitted together in simple or complex geometric patterns dates back to the late 1600s, and tells stories of castles, classical mansions, galleries and museums…
Today, parquet flooring is again seeing something of a revival; due in part to a wider range of wood species and finishes that add artistic beauty and depth to any interior setting.
New manufacturing techniques offer consumers products that are extremely durable, stable and versatile.
Considering parquet flooring for your new project?
Keep reading to learn more about this bold statement flooring.
New design possibilities
Whether you're working on a new build, remodel or restoration, essentially you are either after a contemporary or a traditional look.
The variety of woods used to construct parquet floors today marks a whole new aesthetic dynamic shaking up the interior design scene.
There are also numerous patterns that you can achieve with parquet including chevron, versailles, herringbone, basket and brick weave. All provide not only something different but an instant texture and interest to your floor. The most predominant of these are herringbone and chevron pattern.
Probably the most common flooring pattern, herringbone flooring gets its name from its resemblance to fish bones. It uses simple rectangular blocks laid in a zigzag arrangement to create a mosaic effect. Herringbone oozes sophistication and when planned well, makes a tiny room feel larger and spacious.
Unlike herringbone, the chevron pattern involves arranging individual blocks of wood to a sharp 'v'-shaped point. It's this unique yet regulated zigzag pattern that makes chevron instantly recognizable and easily distinguishable from other parquet styles. The flow of the directional chevron pattern makes small and narrow spaces feel far longer, and it naturally lends a tasteful appeal to Scandinavian style interiors thanks to its refined look.
Type of wood
Parquet flooring can be made from either solid or engineered wood, so there are very few restrictions if you desire a style that's unique to you. Different wood grains, patterns and a full spectrum of colourways simply set any space apart, offering a lot of creativity and a lot of individuality to shine through on your floor.
The most common species of hardwood used is oak. Oak has a deep natural glow that adds a contemporary spin to bring this traditional flooring up to date. And thanks to its light colour, it's easy to stain with a host of colours. Over time, the natural ageing of oak gives your floors an authentic appearance.
Wood flooring size
With regards to the size of wood planks, parquet woodblocks unlike normal boards, have fixed width and height dimensions. This allows the blocks to be laid in repeating patterns to create the desired style.
For modern, open plan spaces, opting for wider blocks of wood in smoked/fumed effect on brushed oak boards creates a bolder impact visually. On the other hand, a smaller space (for example, a narrow hallway) can only fit in a certain number of 'arrows', so oversized chevron or herringbone may not be an ideal option.
Finished and unfinished boards
As the name suggests, finished parquet flooring are treated with an extremely durable, factory-applied wood finish. Unfinished flooring comes without any kind of wood finish and have to be sanded, stained, and finished in situ.
The advantage of unfinished parquet flooring is that it allows for a level of customization, which gives you a wealth of decorative options. However, factory-finished floors are pretty much ready to use, therefore quicker to install (because there's no need to allow for drying time).
Parquet pros and cons
It's important to carefully consider the advantages and disadvantages before investing the time and money in parquet flooring.
Pros:
Offers numerous designs, with dozens of complex patterns available.
Performs much like hardwood, with an appeal that creates a warm feeling in an interior space.
Perfect stylistic fit for mid-century modern home styles.
Cons:
Can be challenging to refinish.
Installation below ground may affect the floors shape and size due to moisture issues.
Not ideal for humidity areas such as bathrooms. However, engineered parquet is less susceptible to moisture and temperature fluctuations, and may prevent water penetration.
Conclusion
For decades, parquet flooring has been used to add a classic and contemporary twist to traditional or modern homes. More recently, the wide variety of wood shades, styles, dimensions, thickness and finishes offer a level of visual appeal that cannot be achieved with traditional strip flooring boards.
The vast selection of intricate patterns makes this timeless flooring suitable for a variety of spaces, including hallways, kitchens and lounges. Having an understanding of the different styles available, the type of wood used, as well as the size of wood planks will ensure that you find the perfect match for your unique preferences.