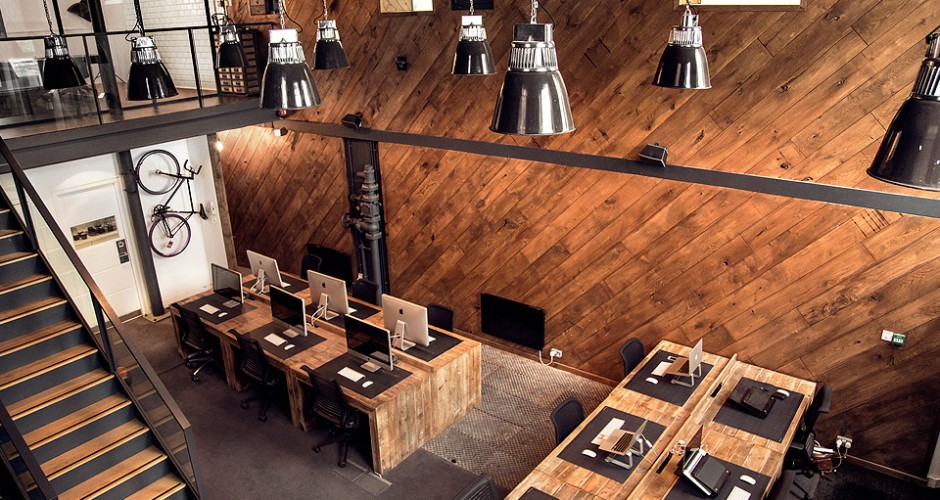 Office spaces have greatly changed over the years — moving beyond being a place we simply tolerate.
Each year brings something new and exciting to re-energize the workplace efficiency, wellness, productivity and creativity.
The office design of today is minimally defined, handcrafted and well polished; and the choice of flooring can reveal patterns and textures that often accentuate the style and character of the room.
Hardwood flooring continues to grow in popularity and we have five trends to look forward to in 2018
Wide Plank Floors
Hardwood floors will never go out of style and this year wide plank wood flooring remains in high demand.
Wider wood planks are becoming the new norm in the interior design industry; they make the room look larger, more open and less busy.
They also lend authenticity to many different styles and can make modern spaces look more contemporary.
We now see an increase in wider and longer planks, indicating that this trend is transitioning into a timeless staple.
These come in different species with oak being a beautiful choice to push forward this trend as it can be hand finished for a rustic and distressed look.
Reclaimed Wood Floors
Reclaimed wood, available in different species, remains popular even in office flooring.
It's attractive, sustainable, unique and durable — with each plank telling a story.
Reclaimed wood offers second life for material that comes from decking, factories, and barns; which then becomes unique timber that can be applied for interior purposes.
The use of reclaimed wood is a stunning way to introduce nature preservation and a responsible attitude towards green-focused efforts in the workplace. It adds character and warmth with its pronounced grains and rich tones — these combined enhance the design features of an office space.
Statement Stairs
Creating interesting stairs with flooring while mixing the old with the new, is a perfect way to add an eye-catching detail into your office space.
While there are so many inspiring designs out there, black stairs happen to be on the top of the list this year as it is a fantastic way to marry the classic design with currents trends.
Matte Finish Wood Floors
Matte finish hardwood floors are gaining popularity this year as they offer an authentic presentation as more consumers are craving a truly "natural", clean feel to their interior spaces.
Matte finishes are stylish, and more about showing off the wood grain.
They give off the illusion of raw wood and show less dirt, debris, and hide scratches and other imperfections much better than glossy floors.
The other upside is how tough and therefore low-maintenance they are, making them the best choice for high traffic flooring areas.