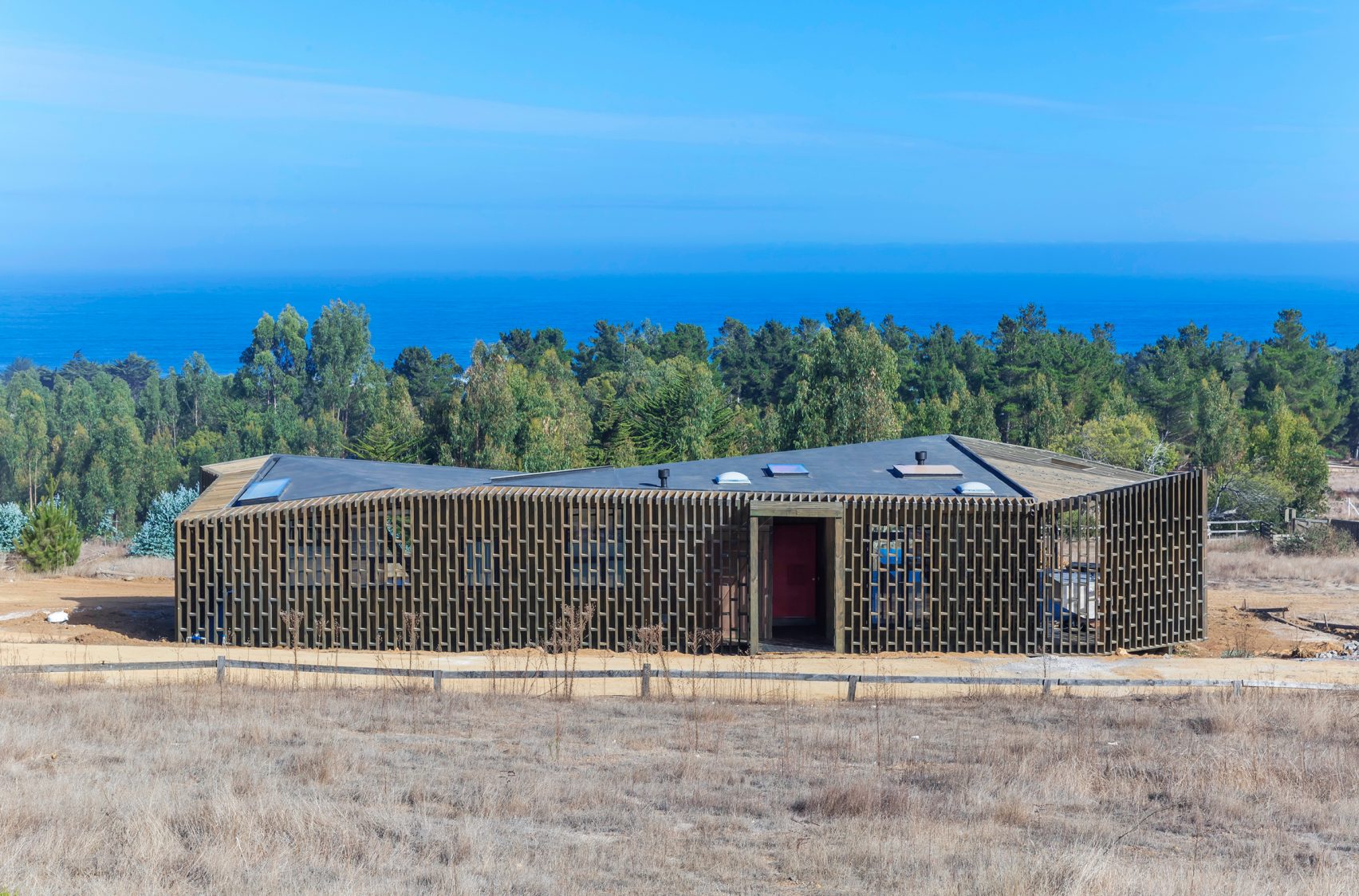 This beach house wrapped in a pavilion of slatted pine wood is located on a privileged western slope of the coastal mountain range in Punta de Lobos, Chile and presents amazing views of the South Pacific.
Designed by LAND Arquitectos, the idea of the house is to optimize the views of the sea, maximize northern sunlight and offer protection from the south wind.
Casa Casi Cubo, or the Almost Cube House — is named after its irregular shape, described by the architect as an "abstract deformation of a parallelepiped volume".
The volume and its spaces have been designed from a sectional viewpoint, prioritizing the heights in the main spaces of the house.
The deformed volume is completely structured in pinewood with a truss system that supports the roof criss-cross through the interior — the natural wood contrasting with the pale wood floors and white gloss kitchen and dining set.
All the spaces feel airy and vast and there's minimum use of furniture.
Everything is centered around the views, so nothing covers the glazed walls to fully enjoy the sunlight and views. Rooms that require privacy can be found on the other side of the house.
In developing the project, LAND Arquitectos recognized the wind factor — in this case the south wind.
The building does not seek to eliminate it, but to diminish it with a second skin of pine set back from the main structure, forming the pavilion on three sides of the building.
These slatted screens are designed to break the coastal wind while allowing light and breeze to reach the veranda that encircles all four sides of the building.
Light passing through the pinewood slats creates a pattern of shadows on the porches that change as the sun passes overhead throughout the day.
"This element configures an intermediate space that has a continuous circulation towards other zones of the house", explained the architects. "This circulation ends in the principal meeting zone where the fireplace and barbecue area are installed".
Images: Sergio Pirrone (http://www.sergiopirrone.com)