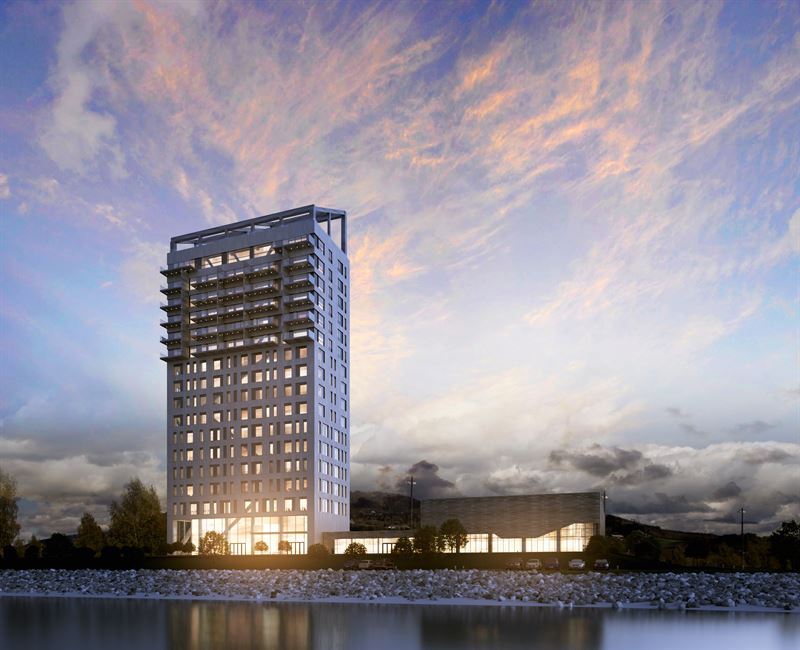 Norway is set to break the record for the tallest timber structure, which sits on the edge of a river in the small town of Brumunddal, an hour and a half drive north of Oslo.
Designed by Voll Arkitekter, the construction began in early September 2017 and is due completion in March 2019.
Mjøstårnet, named after its neighbourhood and Norway's largest lake will reach 80 metres high, and stands 30 metres higher than what is today considered the world's tallest timber building.
The 18 story high-rise building will include apartments, a hotel, offices, restaurant, communal areas and a 4,700-square-meter swimming hall.
Arthur Buchardt, investor and contracting client, has dubbed the construction "the closest we come to a skyscraper in timber" and believes "Mjøstårnet sets new standards for timber constructions".
Timber used to construct the tower and the swimming pool area will be sourced from local spruce forests by Moelven, a Mjøsa-local Scandinavian industrial group.
Timber structures are becoming increasingly popular, and its ability to create skyscrapers is a benchmark for sustainable construction.
"A project group established by Norwegian road authorities investigated the possibility of building the world's longest timber bridge across Lake Mjøsa. Their studies show that building with wood instead of concrete can reduce CO2 emissions by up to 30 percent," said Buchardt.
The construction of Mjøstårnet hopes to inspire more large wood structures. "Through Mjøstårnet we demonstrate that it is possible to construct large, complex wooden buildings. The planned construction of the Norwegian Government quarter can become a wooden landmark internationally. I want to help convey an important message with this project. To build with wood is to contribute to the world breathing better."
The lightweight property of the timber frame can sway up to 140 millimetres at the top when faced with strong winds of the region, which presents a challenge in the construction. A concrete floor slab will be used on the seven top floors to increase the weight towards the top and slow down the swaying. The building will also be anchored into the ground with piles up to 50 meters deep.
Images: Moelven Limtre (http://www.moelven.com)