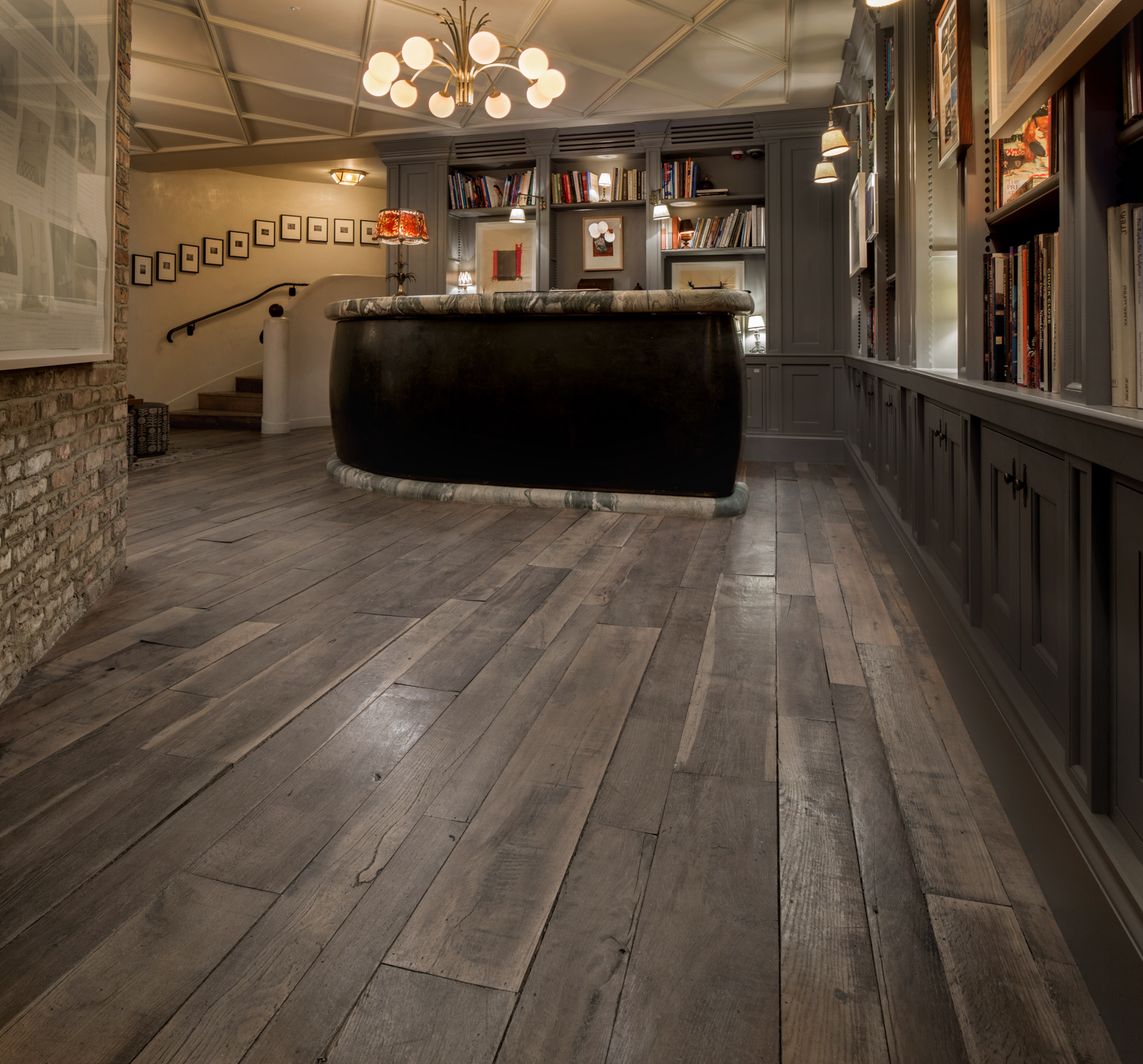 We are phenomenally proud to be the official supplier of the Original flagship Soho House on Greek Street. Not only is the project itself a source of pride, but the flooring we provided to the flagship West London private members' club, 600m2 of our finest 18th/19th century reclaimed European Oak flooring, is deservedly one of our most highly coveted products.
A Match Made in Design Heaven
The antique wood used to create our Reclaimed European Oak flooring, reclaimed from buildings across France, is an excellent material for domestic and commercial projects and has been used to magnificent effect throughout the extensive property. Made up of 5 Georgian townhouses, Soho House Greek Street is a place designed to inspire intense relaxation, and the biophilic development of our wood's deep patina and subtle colour tone sits comfortably with the traditional feel of each room, creating a space where the users can completely unwind.
Inspiring Creativity
It makes sense that this sumptuous material is used in a place famed for offering inspirational spaces for creative minds to meet worldwide. It is the canvas on which the rest of the design choices are built, offering a sense of cohesion throughout the various spaces. The reclaimed wood flooring is highlighted through the clever use of lighting, which adds a restful touch to each room and brings out the exquisite patina and grain of the wood.
A Unique Approach
The core look of the Soho House look is inspired by founder Nick Jones, who told Homes and Gardens in 2020: 'It's about creating relevant, comfortable places that people feel good in and that make you want to order a second bottle of wine,' he explains.
When a space calls for extreme comfort over any contemporary trends, using products whose provenance will respect the pace expected in its spaces makes sense. These relaxing spaces have been enriched by 600m2 of our finest 18th/19th century reclaimed European Oak flooring, which lets people feel so comfortable that their creativity can run free (with or without the second bottle of wine).
A Cut Above
Creating a space facilitating creativity was essential to Soho House Greek Street, whose founding ethos was that it should be "a place for like-minded people to come together, relax, share inspiration and ideas – and, ultimately, have fun".
This is especially important in Greek Street ass; unlike other members clubs, which can focus almost exclusively on "net worth and job titles", Soho House places a higher value on the morals of its members and values character over financial success. It is these treasured members who Jones wants to make feel welcome.
A Meeting of Minds
The design team have worked hard to achieve Jones' goal of creating an atmosphere of being welcomed into a generous home with a roaring fire, relaxed dining and comfortable seating. This goal to envelop and welcome has been achieved beautifully, first here and subsequently across the later additions to his Soho House family.
To fit their design brief, Soho House's in-house design team chose our Antique European Oak flooring for this project, which had begun as countryside barns and old wooden buildings in 18th/19th century France. The Antique French Oak flooring we supplied to this flagship venue was surface sanded by our expert craftspeople in our North of England workshops before being passed to Soho House, who had selected to finish and fit it themselves.
Our Antique European Oak
Unlike most of our salvaged and reclaimed oak flooring, the wood we used for this project is 18th and 19th-century Reclaimed Antique European Oak, made from boards carefully extracted from actual wood flooring installations from city homes or farmhouses across Europe. This provenance and the intricate process involved mean these floor planks epitomise the more luxurious side of our Antique wood flooring stories and design concepts.
Planning for Perfection
Because they are reclaimed from existing constructions, sourcing just the right boards, beams and products for each project is essential. This selection process is only possible when detailed project planning with floor plans and layout drawings are used. Where thoughtful design, stunning materials and expert craftsmanship intercept, we see the kinds of successful installations achieved throughout our Soho House, Greek Street project.
Enduring Appeal
The main difference between Antique French Oak and our other flooring is the scarcity and provenance of the materials; there is a limited supply of this flooring available, and we are always proud of the area that our experts take in preserving its unique character.
Each piece of antique wood undergoes rigorous inspection, grading, re-machining, and kiln drying to ensure stability and ease of installation. Whether a project needs refined parquet floors or larger format country-style boards, the unhurried processes are the same to make sure the resulting flooring is always beguilingly beautiful.
In Conclusion
Soho House Greek Street is a sanctuary for creative souls, nurtured by the elegance of our Reclaimed European Oak flooring. Its harmonious blend of historic charm and contemporary comfort is a testament to the power of design, craftsmanship, and a shared vision. As we reflect on this exceptional collaboration, we're reminded that true luxury lies not just in aesthetics but in the stories that the materials carry – stories of time, resilience, and the boundless potential of human creativity.
Sources