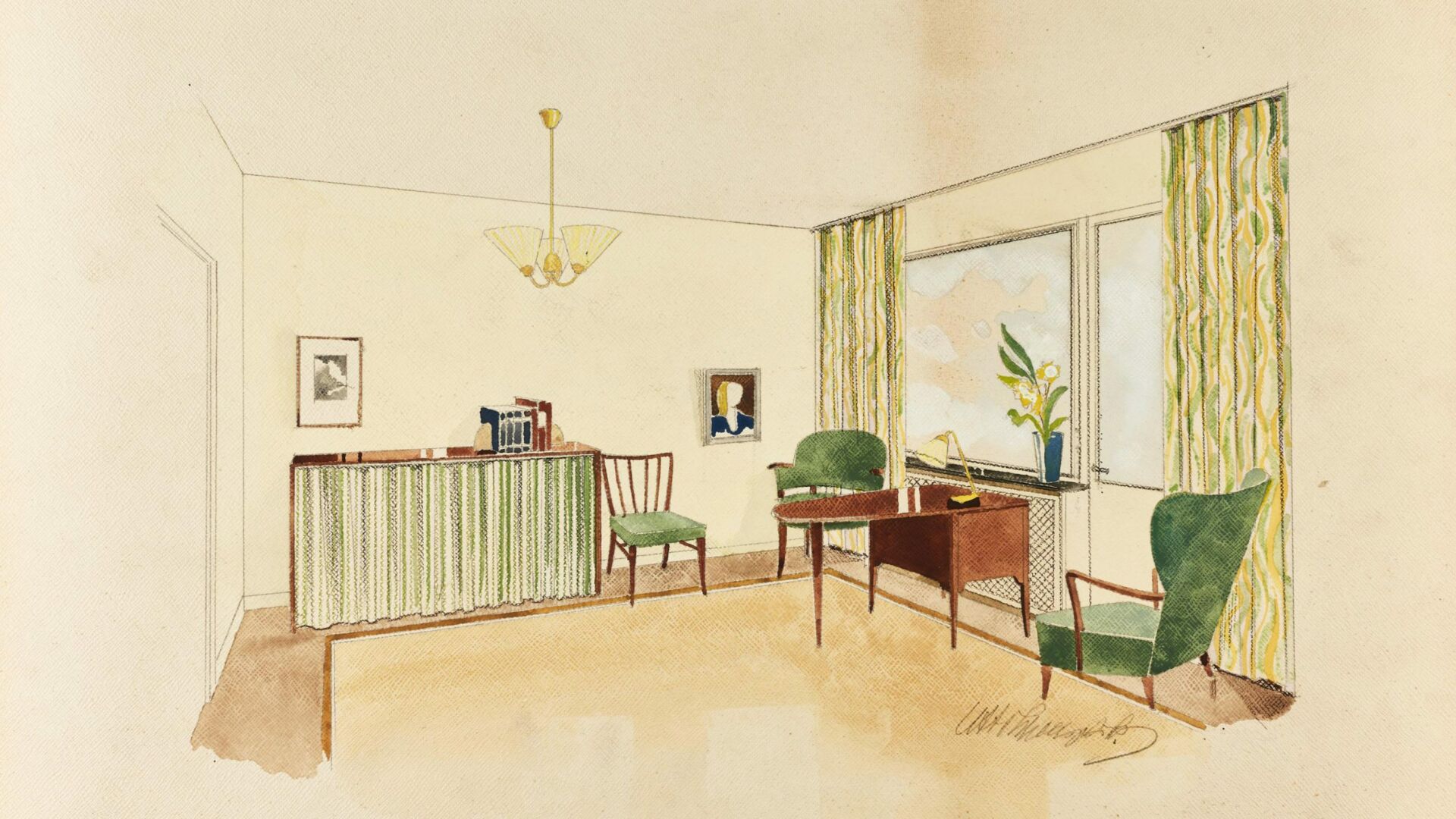 Otto Schulz (1882-1970) was a German-born furniture designer and interior designer in the early 20th Century.
After working for several years in design, Schulz established the renowned furniture and interior decoration firm Boet in Gothenburg, Sweden.
He owned and ran for 30 years, from the 1920s to the 1950s.
In its time, Boet was an inspiration centre as much as a store; its authority in the design world helped to secure Schulz's reputation as one of the forefathers of modern interior design.
Alongside his Boet store, Schulz branched out into publishing, creating a design magazine of the same name.
In sharing a name and founder with one of Sweden's most prestigious interior design names, Boet Magazine became a highly influential publication featuring reviews by high-profile designers and architects.
This design brand's momentum was further capitalised on with the publication of Schulz's book 'Möbler Och Inredningar 1910-1950' which gives a comprehensive look at Schulz and his work.
The book is about Schulz and Boet.
It illustrates the story of the design store and its owner with contemporary and historical pictures and many watercolours.
Schulz's Aesthetic
Schulz often used unexpected combinations of materials and techniques and developed a style that was sometimes traditional, sometimes modern, inimitable, and often striking.
Famous for his deep, wrap-around easy chairs and mid-century-looking cabinets, Schulz was a designer who made essential contributions both to Swedish Grace as well as Swedish Modern styles.
Schulz's designs are a mixture of modern and baroque styles.
His chairs are deep, with backs which curve around to envelop their users, creating snug spaces wherever they are placed.
These soft, deep chairs contrast fantastically with his sleek, slim-legged wooden cabinets.
Much of Schulz's cabinetry worked as modular pieces which could be converted or assembled in different combinations to suit any space.
Otto Schulz Biography
Schulz attended several architectural schools in Germany, including the Technical University in Charlottenburg and the Architectural School in Berlin.
From Berlin, he relocated to Gothenburg in 1907, when he had completed his studies. In Gothenburg, Schulz found work as a draftsman at the furniture company Selander & Sons, where he worked for three years.
After leaving Selander, Schulz worked as an independent consultant on various construction and interior design projects for hotels and restaurants.
As his name became synonymous with luxurious interiors, Schulz was employed to design interiors for several notable ships in the harbour town of Gothenburg.
It was in 1917 that Schulz's career turned the corner that would establish him as a design stalwart. After creating a gorgeous interior for the famous Bräutigams Patisserie, the head of Nordiska Kompaniet's design offices in Stockholm, Adolf Nordic Borg, set up a meeting with Schulz.
Together they established Boet in 1920. After parting ways in 1926, Schulz set up his innovative, fully furnished showroom at Boet and his monthly magazine to show off his work and that of contemporary designers.
As well as being published in his book, many of Schulz's inventive designs are archived at the Rhösska Museum in Gothenburg.
During his lifetime, Schulz patented some of his invented techniques to prevent imitation.
By far, the most famous of these was 'Bopoint.'
Bopoint is the use of decorative nails as part of a design.
Sometimes Bopoint was used as edging on side tables.
Still, some of its most impressive examples are where it has been used to create elaborate and intricate illustrations and designs on leather-covered cabinets.
Otto Schulz's pieces for contemporary homes
We would recommend seeking an Otto Schulz piece for a modern home for many reasons.
Schulz's unique blend of styles means his pieces will complement almost any interior design.
Schulz pieces are vintage and are, therefore, more ecologically sound than most newly manufactured furniture.
Buying vintage design allows you to own a piece of design history.
Schulz pieces are ideal for the current maximalist trend, especially in a snug or home office where they can ooze understated opulence.
Schulz's wooden pieces are available in all shades imaginable ranging from light to deep dark tones, with everything from simple finishes to incredibly intricate designs.
If you want to bring an Otto Schulz piece into your home, look at pamano.co.uk for pieces available in the UK or 1stdibs.com for worldwide shipping.