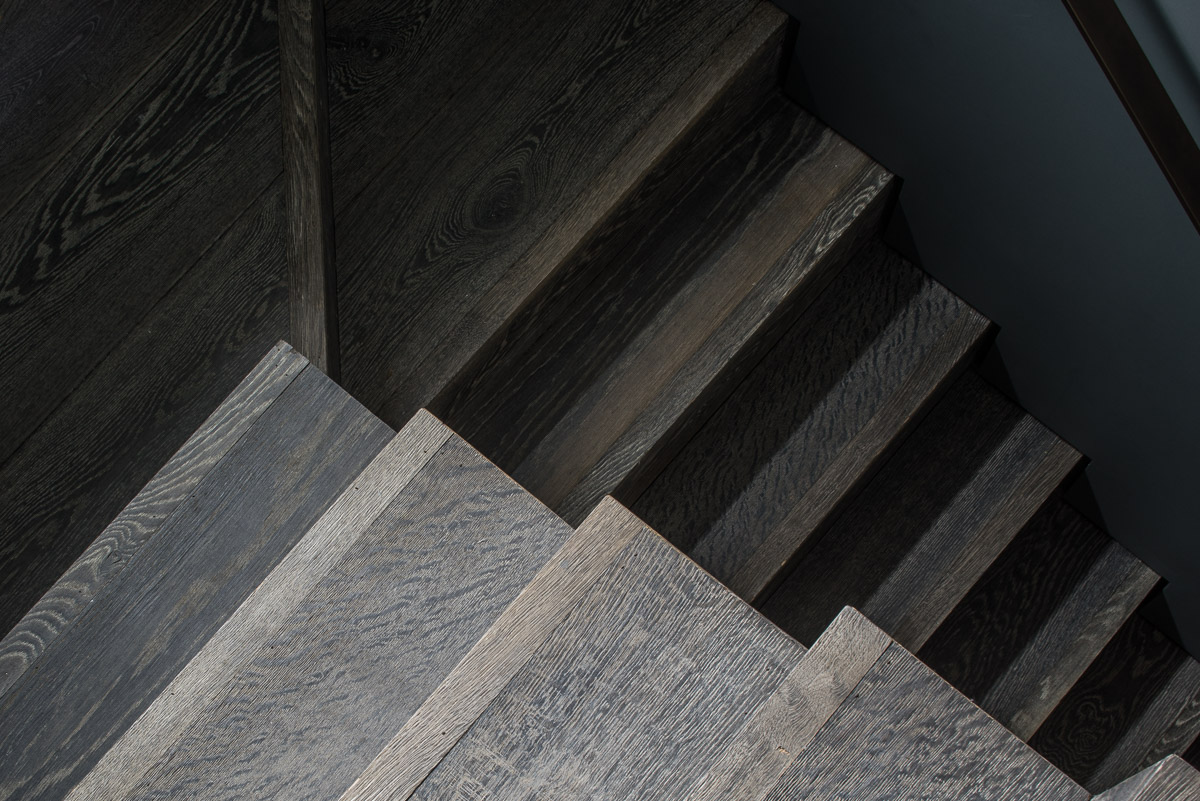 With wood floors sweeping through our homes, joining spaces, bringing warmth and breathing life into every corner, wooden staircases are now enjoying the same appreciation and desirability that wood flooring has been wanting over the past decades.
A wooden staircase can make an imposing focal point in any home.
The incredible versatility of wood means staircases can take a form as simple or intricate as the homeowner wishes, all at almost no cost to the environment.
No wonder any home's beautiful and practical features are being celebrated the way they deserve to be.
Connecting living areas to our more private spaces in no subtle way, the sheer size of a staircase makes it a dominant presence in a home.
If something draws the eye, we should do all we can to make the object of our gaze as beautiful as possible.
Glass and metal staircases have recently enjoyed a heyday. Not only are these materials less ecologically sound than their wooden counterparts, but they are also prone to dating more quickly.
As they are less adaptable than wood, generally, the style you choose is the style you will have until the piece is replaced.
That is not to say that there is no place for more modern materials on our staircases; some of our favourite architects make stunning use of glass features in their interiors, but nothing beats the feel underfoot of warm, aged wood, bringing its history and stories into our homes.
Combining wooden staircases and glass or metal balustrades can create a stunning focal point and highlight your home's spatial forms.
Incredibly ecological
Wood is almost endlessly reusable, but it is not just this that makes it such a climate-friendly choice.
It's the potential to be not just carbon neutral.
Still, carbon negative, the minimal disruption of many manufacturing processes, and its longevity in situ makes it one of the most environmentally safe materials to bring into our homes.
Styles and shapes
When in expert hands, wood can be crafted into any shape and style and match any interior landscape.
Our expert craftspeople can help you materialise any design in our specialist colours and finishes.
Wood has a timeless style that adds value to your home when beautifully crafted for the space it will inhabit.
Another glorious benefit of wood floors is that many can be refinished, should you wish to change the style of your home.
Maintenance
Wood staircases, like wood floors, are wonderfully durable.
They are hard-wearing enough for the highest traffic areas of our homes.
Unlike carpet, as wood ages, it becomes even more beautiful, with patinas deepening, colours becoming richer and telling the stories of our homes and lives.
Stairs made of wood are also refreshingly easy to clean.
They can be vacuumed and washed as often as you like.
Colour matching
Close collaboration is tremendously essential in all areas of project specification and design.
For this reason, we offer the opportunity to customise stairs and other bespoke joinery to complement or match our wood flooring.
Should you want your stair treads and risers to be colour matched to our wood floors, we can provide this service for you.
Our expert craftspeople carry out colour matching and use bespoke colours and hard wax oils, which are air-dried slowly to ensure they have a perfect finish to match the floors and joinery elsewhere in your home.
Design Process
Whether straight cut or curved, all stair pieces are templated on-site before manufacturing for maximum precision.⁠
Unlike other bespoke furniture pieces, a staircase can't simply be moved a few inches if it isn't quite right.
Our meticulous design process involves all of our client's requests, ensuring the piece they receive is everything they dreamed of.
In summary:
Wood staircases are hard-wearing, timeless and beautiful
They can be matched to other joinery in your home
The wood will stay looking beautiful and age along with your family.
Sources