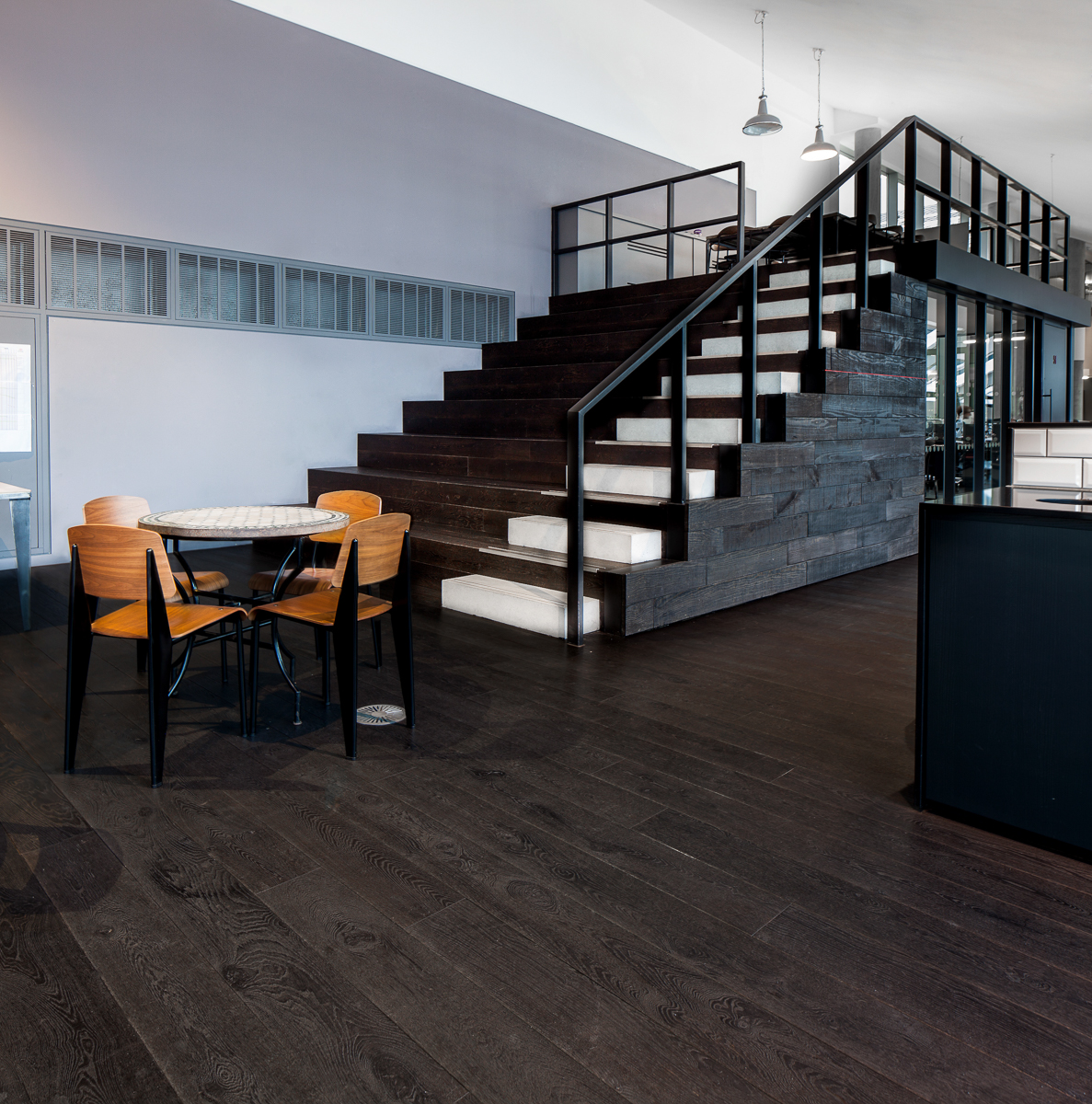 Far from being simply a way to transition between different areas in a residential and commercial property, designing a staircase to fit your interior style and deliver that finishing touch is an important consideration.
Whether you're building a new space or giving an existing one a makeover, fitting your internal environment with beautiful wood flooring can be a statement feature that guarantees a "wow factor".
But if you want to make space even more elegant and impressive, you can also upgrade your stairway with a wood surface, treads and risers.
And when centrally positioned opposite the dwelling's main entrance, this architectural feature can contribute enormously to that all-important first impression.
Because of the uniqueness of each individual staircase, there are a variety of woods available to choose from that will be most suited for your property.
The type of wood species you opt for can add different aesthetics to your décor — your stairs can dramatic, elegant, impactful, quirky and even multi-functional.
Some of the more popular and commonly used varieties of timber are oak, pine, reclaimed wood and distressed woods, along with the use of a variety of finishes.
So, whether it is a modern, contemporary, rustic or a traditional look that you desire, there're limitless possibilities to suit any period or style.
Even better, the timber stairs can be stained to match other wood fixtures and fittings in your home.
Reasons for wanting wood flooring for stairs
Aside from the visual magnificence of wood as a finishing material, sometimes the decision to replace stair flooring is born out of necessity.
In this case, maybe a worn carpet or damaged treads present danger and therefore need to be dealt with as soon as possible.
For this reason, many people tend to lean towards wood for a high-quality application that is long-lasting and looks great for many, many years.
1. Wood is hardwearing
Unlike other areas, the hall, landing and stairs undoubtedly take more foot traffic in a majority of residential properties. This is a crucial element to ponder upon when it comes to choosing between wood flooring and other available options for stairs and landing areas.
To start with; wood flooring is naturally strong and easily outlast other materials, particularly if you install a tough, hardwood floor. For example, European oak is around three times harder than most wood species available.
When it comes to the initial outlay of cost, it may be slightly more than expected. However, it pays to remember the longevity of wood floors when compared to carpet or laminate. It may well pay for itself in the long run as you most likely won't need to replace it within your lifetime.
2. Easily refinished
As mentioned previously, wood stairs stand strong despite heavy traffic, which allows them to hold up extremely well over time as opposed to materials such as carpet, which is prone to staining and collecting dirt.
What's more, wood stairs can withstand being refinished, painted, varnished and waxed — meaning you can give them a fresh look and feel with minimal effort virtually any time as your design preferences evolve.
You can also add handrails, balusters and other elements to wood stairs to suit any change to your interior décor through the years without having to worry about potentially damaging the stairs.
3. Adds value to your property
There is no doubt that an addition of a natural wood staircase can instantly reinvigorate your space, giving it a new, fresh angle and feel. If perhaps you're considering putting your property up for sale and are going for top-end prices or want to ensure that it stands out from the crowd, a wooden staircase can really deliver a significant visual and aesthetic impact that gives you the results you are after.
"Should I use the same wood from the floor on my stairs?" is a question we hear all too often. Many property owners have difficulty deciding, but matching stairs and flooring surface application is welcomed and encouraged.
Staircases (tread, riser, and noising) look especially best when they match the interior aesthetic of the rest of the house — this style is exact and precise. If you are one for making a statement, the opportunity to customise stairs from the same timber as your flooring and stain to match will certainly ensure an overall sense of continuity.
The uniformity of matching staircases to the rest of your interior flooring creates seamless transition and improves the overall symbiotic flow. Carrying the look throughout is how you connect the lower and upper level and create harmonious living.
If different levels of your interior space use wood, for example, carpeted stairs would look a little out of place or create an abrupt barrier that disrupts the overall flow and design of the space. However, that doesn't mean you can't switch things up a bit.
One point to keep in mind is that subtle design aspect like the grain direction, wood contour, and finish colours and textures can be the much-needed catalyst for softening things up and breaking up the monotony of everything being the same.
Understanding the difference between solid and engineered wood floors for stairs
To make an informed decision when it comes to choosing solid or engineered wood for stairs, it's important to first understand how the two differ. As the name suggests, solid wood planks are constructed from one single piece of wood, for example, oak; and Engineered wood floorboards are created from a top layer of real wood combined with bonded layers of plywood or HDF base.
Whichever way you decide to go, both solid and engineered hardwood flooring offers some gorgeous staircase effects.
If solid floorboards are your preferred selection; because of their structure, the edge of the tread can be worked to create a nice finish. The rounded effect on the edge of each step or tread can be easily shaped by machining the wood. Furthermore, solid wood gives you an opportunity to sand and refinish many times should the high staircase footfall cause damage.
On the other hand, the upside of using engineered wood is that it responds well to changes in humidity and temperature. It can be a challenge to machine the board to a bullnose (or similar) finish so a solid stair nosing will need to be introduced in order to achieve safety and stability.
Choose experienced professionals to fit your stair flooring
With any stairway design, a well-installed wood finish is one of the best ways to give your entire space depth and dimension. This happens when you ensure that your new staircase finish is properly and safely fitted. After all, the risk of injury from a trip or fall is far greater on a staircase than it is on a level floor.
When it comes to fitting, a quality manufacturer or professional fitter with a wealth of knowledge when it comes to design and installation will understand how to ensure the perfect fit and finish you are looking for.
If you can picture a wooden staircase in your home then it's a possibility for you — and there's absolutely no point in laying out money to buy your dream wooden floor if the finish ends up disappointing.
Conclusion
Suitable for both residential and commercial properties, timber lends a beautiful, natural appeal to any space that just can't be achieved with other kinds of materials.
Beautiful and stylish, elegant and classic, interesting and adding a lot of charm, a well-designed and finished staircase can promote a feeling of harmony and stability, and factor in elements that match the scale and quality of the rest of an interior environment.
The wide array of wood species on the market today allow you to meet your requirements and personal taste perfectly. In regards to achieving cohesion and seamless transition throughout your entire space, using the same wood from your floor on your stairs can provide an added touch of luxury and personalisation.