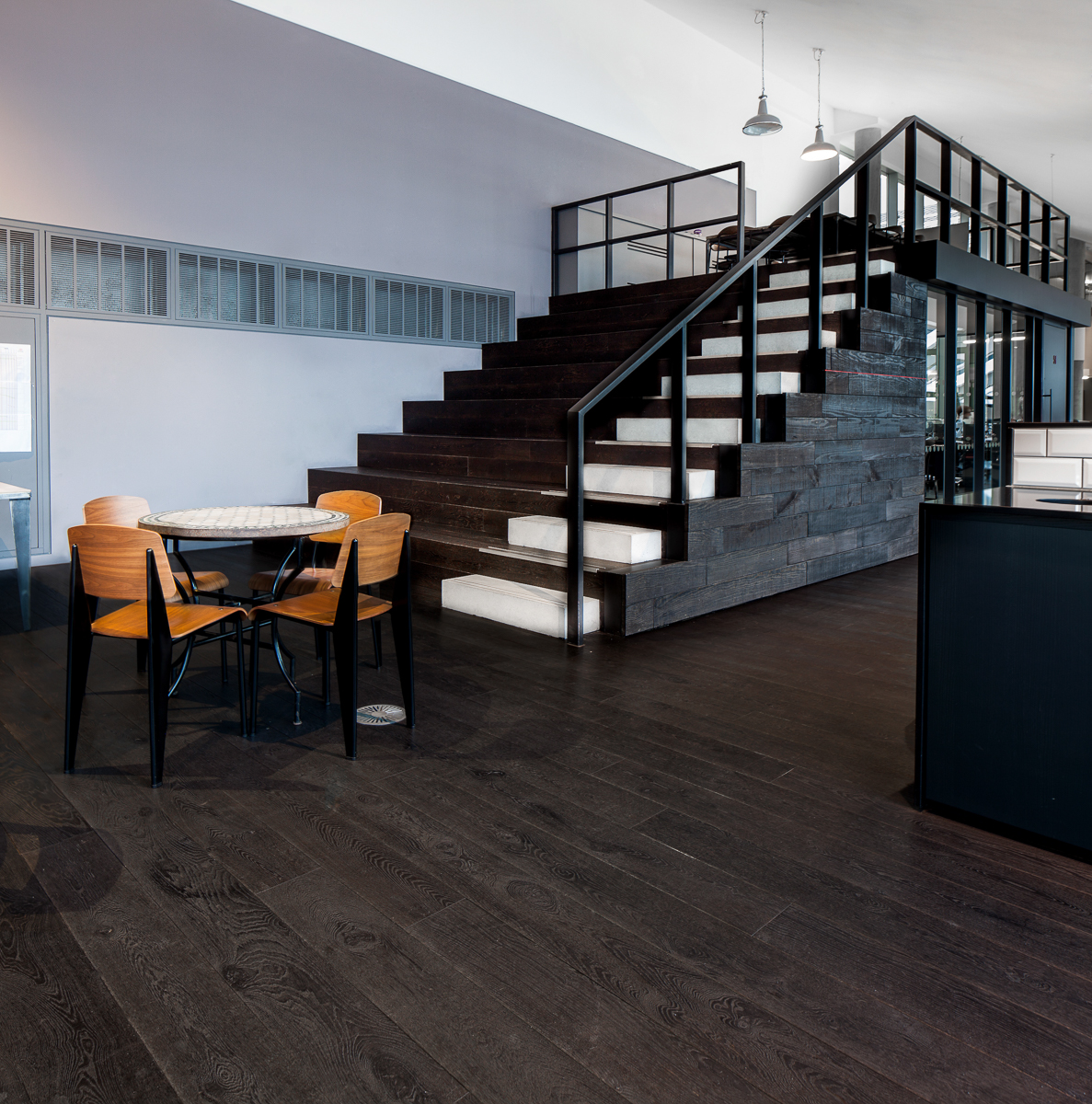 Wood flooring has a timeless aesthetic that seems to never go out of style. Besides its durability and low maintenance care benefits, it offers a great way to usher in an organic, biophilic feel into an office environment, coordinating different styles around its sophisticated and classic appeal
For a remodel or a newly built office, you may want to select material that balances function with beauty. If you're looking at hardwood flooring as a possible option, there are many reasons why you should go for engineered floor — it offers a wider variety of style options, easier installation and lasting peace of mind.
What exactly is engineered wood flooring?
With so much demand for long-lasting hard surface flooring today, one of these choices include engineered wood flooring. This type of flooring is made up of layers — the top layer being genuine hardwood, bonded over a substrate of 3-9 high-quality plywood.
The middle and back layers are positioned in different directions for dimensional stability and resistance to moisture, humidity and arid conditions.
Engineered wood flooring with a thicker wear layer can last 40-80 or more years before having to be replaced.
The hardwood veneer that sits atop comes in a variety of species including oak; with multiple finishes available in matte, semi-gloss and high-gloss; and in a number of surface effects such as hand-scraped for a time-worn appeal, distressed for a slightly rustic charm, or wire-brushed.
A sustainable choice
The construction process of engineered floors is highly resourceful and utilises less hardwood, making this type of flooring a more eco-friendly option.
Deforestation has become a worrying issue, and striving to choose "greener" products for an office project helps the environment around us.
It's important to purchase flooring through manufacturers that harvest from responsible forests. An easy way to ensure that you're playing your part is to check if the company is FSC certified.
Keep a clean, fresh office environment
High-quality engineered floor can be next to indistinguishable to solid wood flooring, even by a trained eye. And like solid hardwood, it has both aesthetic and positive health effects when used within an interior environment.
When you're building a space any employee would love to work in, you want the results to be as beautiful and useful as possible.
Well-documented research indicates that the naturalness, warmth and aspirational appeal of wood flooring can positively impact workers psychological and physiological well-being.
Engineered flooring is no different — it helps promote a clean, healthy and hospitable workplace for everyone.
According to a study conducted by HOK Architects, wood offers a sensory stimulation both visually and tactilely, which can contribute to employees' ability to rally their best in terms of productivity and performance.
Another study carried out by the University of British Columbia reveals a link between wood biophilic properties and stress reactivity in occupants of the built environment — a similar effect humans experience when their desire to connect with nature is fulfilled. These positive results promote improved health, happier employees and a reduction in sick days — a profound benefit to any company's bottom line in more ways than one.
Engineered wood flooring can also benefit air quality in an office setting. Unlike other flooring options such as carpet, dust and dirt don't cling to the floor due to its hypoallergenic properties. This solid foundation of knowledge reinforces the idea that this type of flooring is a sound investment choice for any corporate environment.
Easier installation
Engineered flooring is almost always sold prefinished, which eliminates the time-consuming step of sanding and finishing on-site.
Another advantage of using engineered flooring in the office is the ease of replacement should the boards get damaged for whatever reason.
Wide range of choices
Unlike classic wood, engineered flooring offers far greater styles, widths (from 3"-7" wide and 3/8" to 3/4″ thickness) and finishes that make it easier to find the perfect match for the office design of your dreams.
From the deepest charcoal to a light, natural finish — domestic and exotic species to hand-scraped and wire-brushed styles, your imagination can truly go wild when creating an aesthetic that you desire.
Engineered wood flooring boosts a prestigious and dignified aura that's well suited for any corporate space.
Conclusion
When searching for the perfect flooring material, it's important that you consider its durability, lifespan and how well it will complement your offices' overall aesthetics. Engineered wood flooring has become a favourite option in recent years because of these features and flexibilities.
When compared to other wood flooring material, it stands up exceptionally well in terms of the range of design choices available, durability, dimensional integrity, resilience to moisture and foot traffic with very little competition.
No matter how you look at it, the return on investment for engineered wood floors is incomparable.