Calculate your floor
Enter the maximum width and length of the room. You can then add features to accurately represent the space.
For every 10m2 you buy, we will plant 1 tree
Your total is
25
m
2
plus % wastage
What is this?
Room features are areas of your room that bisect the regular shape, anything from a fireplace to an alcove. Take a look at the graphic below to get an idea of how it works.
New Wood
Sourced from audited forests.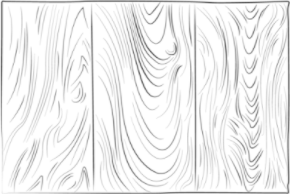 Planks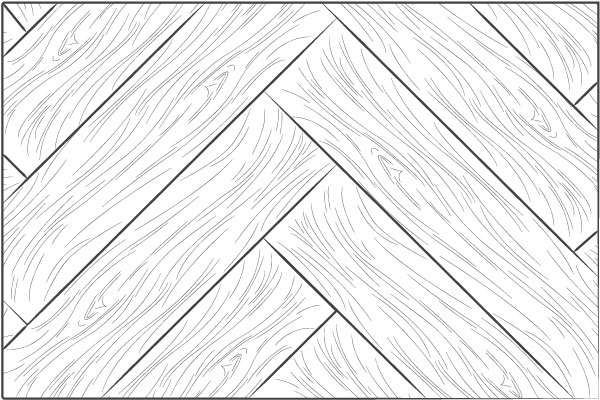 Herringbone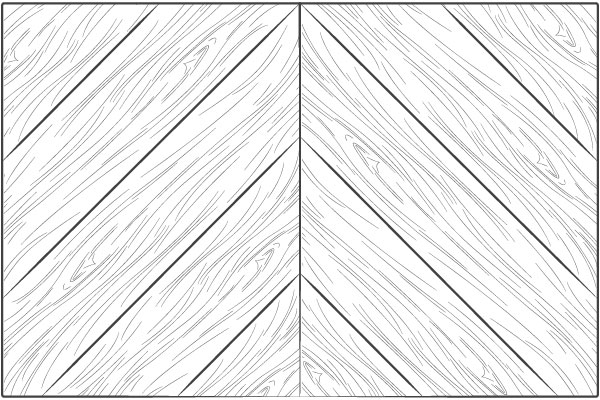 Chevron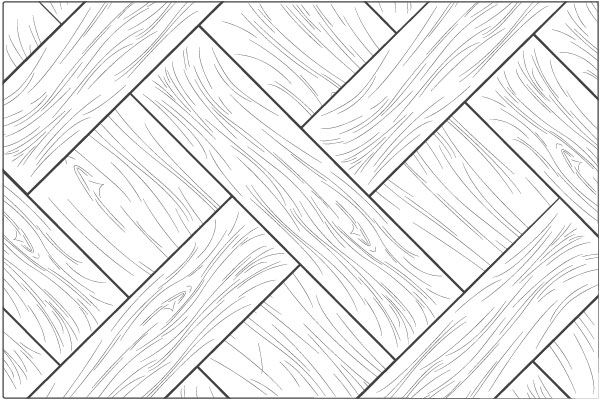 Bespoke
About: Hand Made French Oak
Colour
Our unique and much-loved Hand Made French Oak is the closest alternative to genuine 18th and 19th century and more consistent in colour distribution, a truly artisanal product and very limited in production capacity.
These boards have come from naturally felled trees, chosen for their consistent characteristics and their old-growth patterns, unlike today's farmed oak trees.
* Due to current events, this product has a 6 month lead time
Collection
In partnership with a family-owned wood flooring business in the North of France, we have developed an unparalleled understanding of wood flooring. This understanding has allowed us to create our 'Hand Made French Oak' range.
We employ techniques that are hundreds of years old, and modern kilning techniques to create a genuine replica of an original antique oak floor. We have honed-to-perfection a unique process which recreates the colour tones and undulating character of centuries-old oak floors without distressing and artificial staining. Our process recreates what time itself achieves by unlocking the natural variations of colour and undulations within the timbers themselves.
Alternative Platforms:
Stunning floorboards and really wonderful customer service, thank you so much Henry and Jo for contributing such a beautiful product to renovations and for making it such a smooth process. Really happy with the floorboards.
Amy Hubbard
We just ordered 4000m2 of hardwood for a development project in Hammersmith. The floor looks amazing, thanks for all your help. To be honest I didn't know the number of products you offer.
Daniel Mercker
This was my first experience with this company. And I am genuinely happy with the outcome of flooring as well as the staircase.
Akshay Sharma
Excellent service and far better quality than the Havwoods store down nearby
Van Men
I'm so happy with everything. The products are worth of price. Now my office looks fantastic with the new flooring.
Lisa Hall
The team is very easy to communicate as they replied with the email and phone calls within an appropriate time. We are so delighted with our flooring and recommend to everyone who wishes to renovate flooring.
Kim Stone
Ordering a sample was the best thing I did.
Nathan Simmons
I was fortunate to find what I was looking for at RF. They have the most amazing floorboards with unique finishes and feel.
Casa Botelho
Our flooring arrived on time and via a very helpful delivery driver. The flooring was laid by a professional which went very smoothly.
Cowen Garden Design
Having used the Reclaimed Flooring Company on a few projects over the last 12 months, they are a firm favourite of ours. The quality and beauty of the floors are fantastic and work perfectly in the period homes that we like to specialise in.
Cherie Lee Interiors
Hi Henry, both myself and the clients are extremely pleased with how the floors have turned out, and Philip was superb at the installation. Thank you for the manual. Would be great for someone to meet the client and discuss maintenance- will be in touch.
Logan Paul
They have been so friendly, very proactive in ensuring I knew when materials came back into stock, and the turnaround time from order to delivery has been consistently very quick. The materials they provide have also been of very high quality. I am already planning to place more orders with them.
Andrew Horton
Really enjoyed visiting the showroom and viewing all the different samples. Staff were excellent and had an in-depth knowledge of their products which helped us pick something that was just right for our house (we settled on the handmade French Oak). No problems with delivery and installation.
Stuart Mann
Their customer service was excellent from helping me to select the right product for the project, to the fitting of the floor. Before hiring them I have received samples from many other companies, but the quality of The Reclaimed Flooring Company's product was by far the best.
Greg
This company provided me with beautiful, authentic, aged French oak, on an engineered base that simply looks like a very old, reclaimed wood floor. They were courteous and helpful and nothing was too much trouble. The floor is stunning, and I only wish I needed more rooms decorating so that I could use them again!
Donna Meade
Great product – high-quality materials and finish. Well presented on your website. Very helpful and informative phone advice given by a young woman on the first call to London Showroom. Overall very good impression and ultimate service given was great.
Mike Parry
My experience with the Reclaimed Flooring Company has been amazing. I had been aware of their product but was worried about the cost and logistics of putting the flooring down. I found the staff at the Clerkenwell shop most impressive.
Patricia Taylor
Great selection in their showroom, including larger flooring samples, and they answered all our questions. Amazingly we could have taken delivery of the floor a few days later if required, as it was that was too early. Our builder installed the floor with no problems and we're delighted with the look and finish.
Ed Carlile
A friend of mine recommended me the Reclaimed Flooring co. So, I went along with it. We discussed it with the professionals and they are very knowledgeable and it was a great experience to work with. They have fulfilled all of my expectations.
Elizabeth Mason
The Reclaimed Flooring Company helped us source and choose an old herring-bone floor for our flat in London. We had no idea what we were after and they were very patient in advising us on the correct type of flooring that could be fitted into our home and with choosing colours and sizes etc.
New Bedroom London
The quality of the products from Reclaimed Flooring is exceptional. We have just laid a Rainshadow french oak and it exceeds our expectation. It makes the renovation of the kitchen and living area complete. The staff at Reclaimed Flooring are a pleasure to deal with.
Christopher Mills
Fantastic service, and very good after care. We had solid wood installed which technically requires a little more planning and thought.
Lucy Nadler
Great material, good advice, prompt delivery and good aftersales support for this slightly quirky flooring used in our beach side shack.
Paul Graville
Love my Chelsea Pier floorboards. Absolutely stunning. Jonathan was very helpful.
Anna Miralis
They have been so friendly, very proactive in ensuring I knew when materials came back into stock, and the turnaround time from order to delivery has been consistently very quick. The materials they provide have also been of very high quality. I am already planning to place more orders with them.
Andrew Horton
Order a Sample!
We recommend samples to be ordered to fully appreciate our natural colours and textures.
Approx 600mm

Approx 300mm

Mini Panel
Gain a better understanding of how the floor will look once fitted. You will see more surface variation such as colour, texture and grade when compared to a hand sample.
Custom-Made
We often make our bespoke sample panels to order and this takes time, kindly allow between 5-10 working days for our team to prepare, make and pack your genuinely artisanal mini-panel.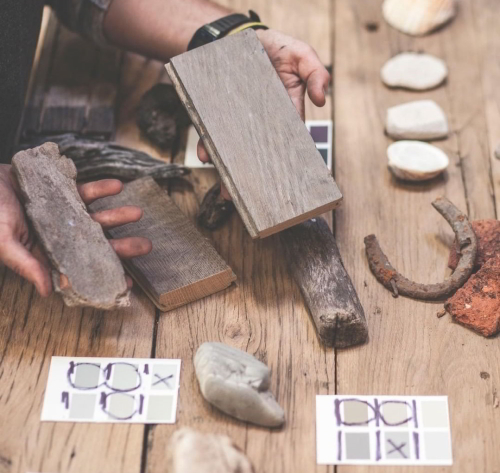 Do you have a Minimum Order Quantity?
30m2 for all our collections/products
Lead time for Orders
It depends on the product and stock. Please get in touch with us for specific lead times.
Lead time for Samples
Our Samples have a lead time of 5-10 working days for UK destinations. Please get in touch with us for International lead times
Do you export internationally?
We are an international company, we have sales representatives in the USA, UK and Scandinavia. For all other global markets, we are able to provide quotes F.O.B.
Should I be concerned about the colour variation within a product?
If you are concerned about colour variation you can order a sample panel for a refundable deposit. Please remember that we are not creating exact copies of floor panels or hand samples, we are creating individual floors with their own unique personality and charm.
Technical Specification
Edges
Straight Edge, no T&G
Suitable For Ufh
Yes (Extra £5m2 manufacturing cost)
Technical Specification
Edges
Straight Edge, no T&G
Suitable For Ufh
Yes (Extra £5m2 manufacturing cost)
Sizes may change, all specified criteria are to be taken as an approximation only. Custom-made alternatives are also available, please enquire.